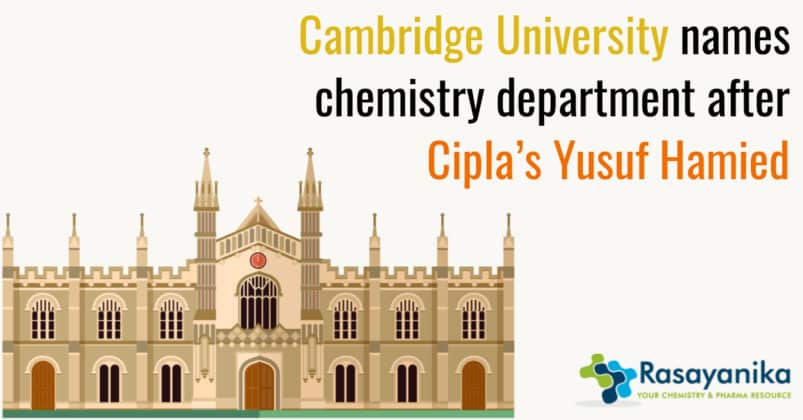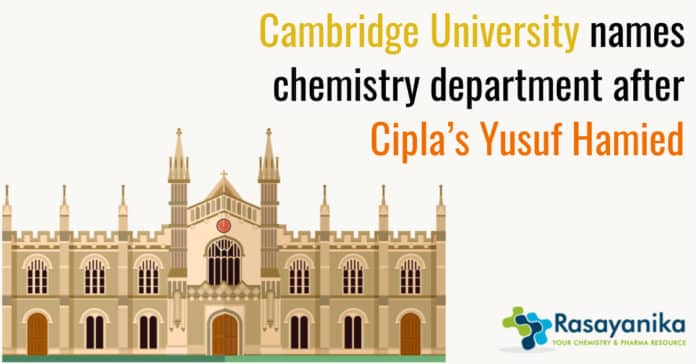 Cambridge University names after Dr.Yusuf Hamied of Cipla, it's Department of Chemistry
On Tuesday, the University of Cambridge revealed naming its chemistry department after Dr.Yusuf Hamied, the non-executive chairman of Cipla, India's major pharmaceutical company, until the year 2050.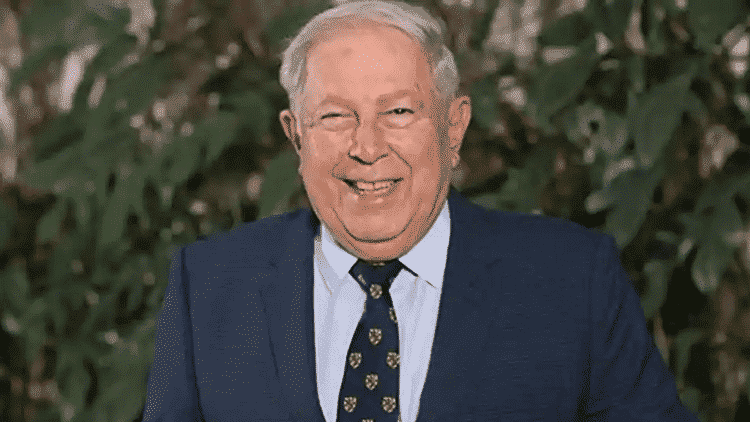 Dr.Yusuf Hamied (Image credits: National Herald India)
Dr.Hamied's contribution
This gesture by Cambridge University is to recognize its alumnus Dr.Yusuf Hamied's benevolent contribution to the department. His contribution grants fundings to the department. The funds aim to draw in and sustain the brightest scholastic talents in the field of chemistry from all over the world. The Hamied Scholars Programme will benefit scientists in areas like synthetic organic chemistry in the early stages of their career and exceptional doctoral students from the UK and worldwide.
The university will name the department Yusuf Hamied Department of Chemistry.
Dr.Hamied hopes to see his alma mater continue leading the world in both research and teaching. He expressed his gratitude to the University for laying the foundation for his knowledge in chemistry and the ways of living and doing his bit for society.
As a former scholarship student of Cambridge University himself, Dr.Yusuf Hamied is overjoyed to be sustaining students of future generations. He also admitted that he would forever be indebted to the university and all that it represents.
Gratitude to Dr.Hamied
Dr.Yusuf Hamied has been associated for 66 years with the University's chemistry department.
He graced one of the oldest Chairs in the Chemistry field. This chair has now been named Yusuf Hamied 1702 Chair. His scholastic advisor and supervisor in his undergraduate and Ph.D. years was Lord Alexander Todd, a Nobel laureate, who had graced the chair during Dr.Hamied's academic period.
The Chemistry Department Head, Dr. James Keeler, expressed his gratitude to Dr.Hamied for his thoughtful and generous contribution to enable the department faculty to suitably respond to opportunities in the future. He hopes that remarkable scholars whom the fund will attract will make significant contributions to solving the world problems.
Vice-chancellor Professor Stephen J.Toope of Cambridge University acknowledged Dr.Yusuf Hamied as an individual who has dedicated himself.to impact and transform lives positively
Dr.Hamied's achievements 
Cambridge University has listed Dr.Yusuf Hamied's achievements, among which, providing developing nations with HIV-AIDS medicine at cost-price has saved thousands of people. The university also notes Cipla's contribution to healthcare facilities during the pandemic, where they provided essential medication at lower prices.
Dr.Yusuf Hamied received an honorary fellowship in 2004 from Christ's College. The University of Cambridge awarded him in 2014 with an honorary Doctorate of Science. He is also a recipient of the Padma Bhushan (2005). Eight years ago, the Royal Society of Chemistry conferred him with an honorary fellowship. The Royal Society elected him as an honorary member in 2019. In the same year, he received the honor of becoming the Indian National Academy of Science.
Author : Deepthi Prakash
Upload your CV to Rasayanika Talent Pool