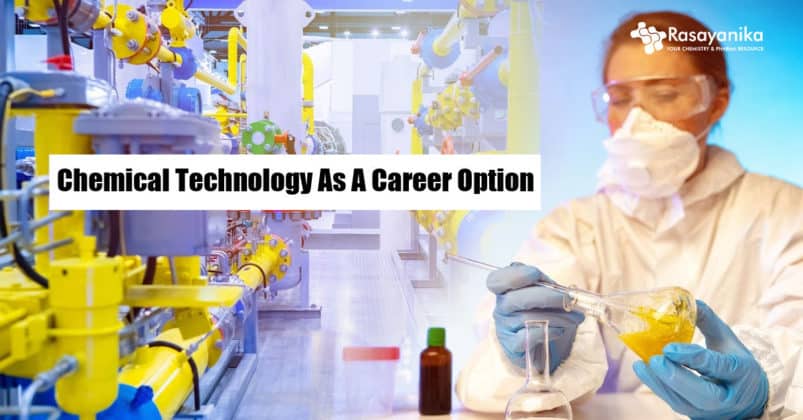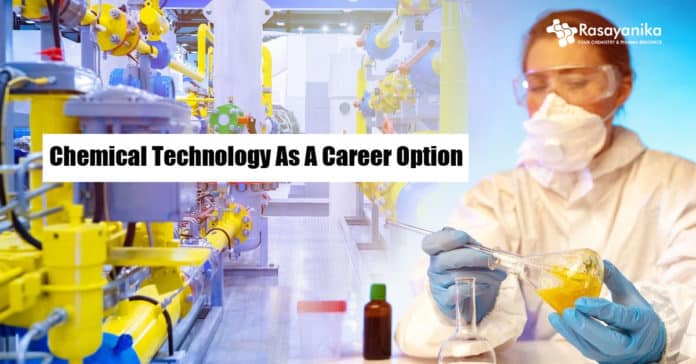 Chemical Technology as a career option
Chemical technology deals with every aspect of the chemical process industry from organic-analytical-inorganic chemistry, policies, and practices of the environment, system control of manufacturing processes, laboratory instrumentation, operations in the chemical units, and statistics understanding modern chemical industry operations. They play an important role in different industrial sectors and work closely with chemical engineers and chemists to test, develop, and manufacture chemical products.
Chemical technicians are skilled scientific professionals who contribute a major portion of the hands-on work in the team. They work closely with and assist senior researchers in the laboratory, but many works independently collecting critical information for review. Chemical technicians ascertain that safe, cost-effective, and highest professional standards are maintained during the laboratory processes.
Many accept a chemical technician position to decide if they want to take up industrial chemistry as a long term job. In contrast, others with an interest in chemical processes dive right in and enjoy a rewarding career.
Responsibilities of a Chemical Technician:
Chemical solution preparation
Maintain and Set-up laboratory equipment.
Maintain standards and specifications of the products while monitoring chemical processes.
Troubleshoot production procedures and malfunctioning instruments.
Ensure regulated compiling of hazardous waste.
Compile, interpret, and maintain databases.
Summarize results
Assist engineers in pre-manufacturing experiments.
Types of job profile in Chemical Technology:
Laboratory technicians: Monitor routine laboratory chemical processes and assist in complex research projects.
Process technicians: Conduct experiments to ensure performance & quality in manufacturing processes.
Educational Qualification:
Require an associate degree or 2 years diploma after higher-secondary education or after 12th grade/standard(In 10+2 system). On-job training is provided in some workplaces.
Industrial Training Institutes
Students should have knowledge of mathematics, physics, and basic biology, along with a strong base in chemistry. Statistical studies and computer knowledge is expected from a chemical technician.
Many institutes offer two-year associated degree courses designed to train an aspiring chemical technician.
Training
In on-job training, the experienced technicians acquaint the new trainees with designed methods and procedures for experiments and operating equipment. Training duration depends on the education and experience of the trainee and the type of industry.
Workspace
Chemical technicians handle various responsibilities and mostly work indoors, except for outdoor visits for the collection of samples or to take measurements. Chemical technicians are hired by chemical and related industries and government agencies, including academic institutions, and they form a vital part of the self-directed work team.
Technical Skills and job prospects
Technology friendly: Must have the ability to operate and troubleshoot sophisticated instruments used in chemical processes.
Analytical and critical thinking skills: conduct chemical experiments with accuracy, obtain results, and reach a conclusion with sound reasoning.
Interpersonal and communication skills: A chemical technician must report and receive data from different professionals like scientists, engineers, or people with no technical knowledge. A chemical technician should be skilled in communication and easy representation of data.
Observation and management skills: A chemical technician might be endowed with a variety of responsibilities. They must be skilled in time management and should be able to keep a complete record.
Few industries hiring chemical technicians include:
Industrial sector: 
Europe:
USA:
India:
Academic Sector:
Europe:
USA
India:
The employment growth of chemical technicians is projected to grow 2% from 2018-2028, which is slower than all occupation cumulative average. However, continued demand for chemical technicians considering their job profile is always available, and they form a vital task force unit. They will be in demand in scientific research and development to test new materials and products and assist chemists and chemical engineering.
With the development and the advent of sophisticated equipment for research and production, the demand for highly skilled professionals with experience will also increase.
The chemical technicians can further enhance their acquired skills by joining full-time professional training with their employers' assistance or independently and grow in this field.
Technicians manage the responsibilities that were previously handled by PhDs and engineers. Though slower, there is a definite expansion to this field, and chemical technicians will always be sought in the medical, environment management, biotechnology, and testing industry.
Chemical Technology as a career option.