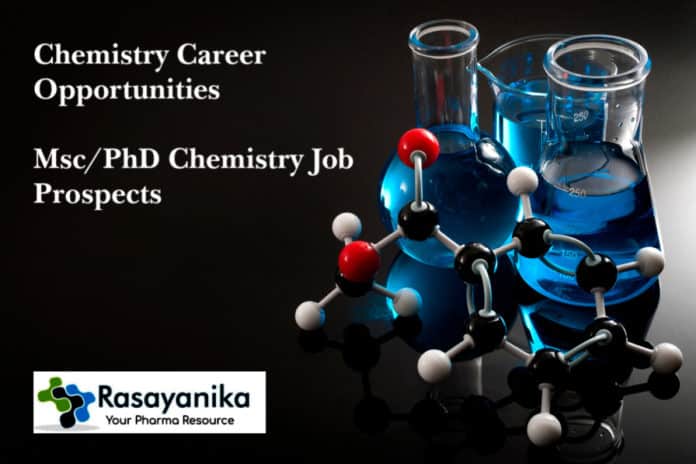 Chemistry Career Opportunities – Msc PhD Chemistry Job Prospects
The career path we choose has a major impression on various facets of our lives. Thus, it is important to choose a career wisely, but we are not prepared to take such a big decision at the correct time of our life. In earlier days, it was parents, teachers, and relatives who largely influenced our career choice, but nowadays students have become more aware of career options available– thanks to the dawn of the internet era. They can search the available career options as well as their prospects before making the final decision. However, one can also take advice from the elders as they are more experienced.
If we talk about Chemistry Career Opportunities, they are practically ceaseless.
Nevertheless, your employment options depend on how far you have taken your education in Chemistry field. A two-year degree in chemistry won't take someone very far. A college bachelor's degree in chemistry ensures more opportunities. A four-year college degree can be used to get entry to advanced degree programs. With the bachelor's degree, you can get a bench job, which would allow you to run equipment and prepare chemicals. A bachelor's degree in chemistry or education (with a lot of chemistry courses) is necessary to teach at the K-12 level. A master's degree in chemistry, chemical engineering, or a related field unlocks far more options. A terminal degree, such as a PhD leaves the field wide open for more options.
Chemistry is linked with biology, physics, and math but there are many career options in pure chemistry as well. Openings within science and technology are having exceptional growth across the world, and so those who study chemistry or other basic science can expect their career prospects to be bright. Chemistry encompasses the study of all things chemical such as chemical processes, chemical compositions, and chemical engineering – with the aim of better understanding the way in which materials are structured, how they change and how they react in a certain situation. Chemistry graduates may choose to apply the knowledge of chemical understanding in several ways. It can be used to analyze all matter and also our entire environment. Chemistry being the study of matter, the chief goals of studying chemistry is to understand what matter is made of, and what properties it has. We can feel the influence of chemistry from drinking water to the medicines to keep us alive. In that sense, chemistry is really a study of life processes. Chemists nurture the ways by which our physical world functions. Chemistry graduates can pursue a wide-ranging career path. So, if you are facing the question 'what can you do with a chemistry degree?' just keep scrolling.
Chemistry Career Opportunities in Research
Research careers are more diverse than they might first appear, as there are various purposes to conduct research in different sectors. It may be done in a university, where research is combined with teaching; in a public-sector research center, in a pharmaceutical company, working on the development of new drugs. With a bachelor's degree in chemistry enables you for a career in research as you are well-versed in key lab techniques and analytical methods, to conduct and report research, and to combine all the sciences, not just chemistry. Technician job is possible right after the college or you can utilize a chemistry degree as a first step for advanced studies in chemical research, biotechnology, nanotechnology, materials, physics, biology. Chemistry graduates have plenty of choices to utilize their knowledge within a range of research sectors such as chemical and related industries, chemical engineering, healthcare and more.
Though the job of a research scientist varies, chemistry careers in research mostly are based in laboratories, where research is conducted by teams following rigorous scientific methods and standards most of which you will already be acquainted with after completing a chemistry degree. The research topic may be based on new medicines and vaccines, forensic analysis, improving environmental issues, and development of new chemical products and materials.
While a bachelor's degree in chemistry will open many entry-level doors in this field, a master's or even a PhD in a related specialization will help you to stand firmly for particularly high-level research roles.
Chemistry Career Opportunities in Chemical Engineering
Many students opt for an undergraduate degree in chemistry to do a master's degree in engineering, especially chemical engineering. Engineers are highly employable, have opportunities to travel, are well-compensated, and have job security and benefits. An undergraduate degree in chemistry provides in-depth coverage of analytical methods, scientific principles, and chemistry concepts that goes well into advanced studies in process engineering, materials, etc. Chemical engineers ensure the efficiency and safety of chemical processes. They adapt the chemical make-up of products to meet environmental or economic needs, scaling up chemical processes for manufacturing them, and applying innovative technologies to improve existing ones.
Chemistry Career Opportunities in Healthcare
Healthcare careers for chemists are also largely based in laboratories. There is also an opportunity to take care of and investigate the patient's' situation. In clinical biochemistry or healthcare science, your tasks will be to analyze blood, urine, and other bodily fluids in order to diagnosis and treatment of different diseases. While some roles will require clinical expertise (and a medical qualification), many scientific roles in healthcare simply require scientists to link with clinicians in order to interpret patients' test results, acting as support in diagnosis and assessment. The chemists are unable to advise on medical treatment. Their work is vital in certifying the results' accuracy, in finding the root causes are found. If you go for healthcare careers in chemistry, you will probably be working as part of a team comprised of fellow chemists, biochemists, biologists, clinicians, and pathologists.
In medical or dental school one of the best undergraduate degrees in chemistry. You have to take biology and physics classes while pursuing a chemistry degree, which puts you in a position to clear the medical entrance exams. According to many med school students' point of view, chemistry is the most challenging of the subjects they need to master. So, taking courses in college prepares you for the severity of medical school and teaches how to be systematic and analytical when you practice medicine.
Chemistry Career Opportunities in pharmaceuticals
The pharmaceutical sector is closely related to the healthcare industry and can offer a large employment market. As the demand for new drugs is increasing, pharmaceutical chemists are relied upon to design, develop, analyze and evaluate developing and existing pharmaceuticals. They will also have a strong team, will have communication and management skills and have knowledge of areas such as mathematics and analytical thinking.
While synthetic pharmaceutical chemists, or medicinal chemists as they are also known, focus on researching and developing new, cost-effective drugs for market, analytical pharmaceutical chemists focus more on the testing and chemical analysis of new drugs, confirming each product is suitable for public consumption and in accordance with governmental regulations.
There is another developing field for careers in chemistry, which is toxicology in which specialists identify chemical risks and damaging toxins in any chemical which is to be used for public consumption.
Chemistry Career Opportunities in the field of Teaching
With a chemistry degree, you can opt for teaching in college, high school, middle school, and elementary school. But you should have a masters or doctoral degree to teach in a college. For elementary and secondary teachers, a bachelor's degree plus courses and certification in education are required.
Lab Technician Career
Lab technician work in a scientific team to afford technical support such as sampling, testing, measuring, recording and analyzing results. Working places may be Industry, hospitals, government departments, research institutions, and Schools/Colleges/Universities.
Senior and lead technicians are involved in more managerial work, including budgeting and ordering resources, risk assessments and staff supervision & training. Working in an educational place could include providing technical support to teachers and students, making sure the right materials are available for particular a lesson and aiding individual students on research projects.
Forensic Science
Chemistry students tend to work in the area of crimes against property (burglary and arson) This includes the analysis of contact traces in a lab like glass, paint, and chemicals, also fire investigation, accident reconstruction & serial number restoration. Patience and concentration are the two important things which are required in this profession. Evening and weekend call outs and some unsocial hours may also be there. Most of the work is tedious, meticulous, detailing oriented.
Patent Examiner
Here the role involves Searching through prior patents and examining the application to decide whether the alleged invention is sufficiently new. This area of work is on the surface as there is increasing demand due to the filing of new applications in China and Japan and growth in energy technology patents.
Chemistry Career Opportunities in Science communication and writing filed
In this role, you must work on manuals, patents, news media, and research proposals. A degree in chemistry polishes the organizational and writing skills needed for a technical writing career path. A chemistry major covers all the basic notions of science, as you take courses in biology and physics in addition to chemistry. You can work as a scientific journalist, editor or writer to help non-scientists understand science, e.g. the production of product manuals for cars and computer software.
Chemistry Career Opportunities in Management Fields
Many graduates with chemistry and other science degrees do not want to work in science, but willing to take positions in retail, at grocery stores, in restaurants, family businesses, or any of a host of other careers. The college degree helps the graduates to move towards management positions. Chemistry majors are detail-oriented and precise. Normally, they are hard-working, work well as part of a team, and are capable to manage their time. A chemistry degree can make you ready to succeed in any business scheme.
Veterinarian
It takes a lot of chemistry expertise to succeed in the veterinary field, beyond what most doctors require. The entrance exams for veterinary school emphasize organic chemistry and biochemistry, so a chemistry degree is a proper pre-vet major.
Software Designer
Chemistry majors not only spend time in a lab, but they also work on computers, both using and writing programs to help with calculations. An undergraduate degree in chemistry can be the catalyst for advanced studies in computer science or programming. You can hold a position to design software, models, or simulations straight out of school, depending on your skills.
Conclusion
By now you must be aware that there are loads of  Chemistry Career Opportunities awaiting. If you attain the right skills required for the field in which you want to get into then there is no looking back. You must choose your career cautiously as various aspects of your life are involved in it. Take your time, explore all the options, seek advice from those who are experienced and then take a decision. Once you choose a career, work hard so that you can get into the field of your choice. In the present scenario, students are open to so many options that choosing the right career can be a challenging task for them. You must evaluate your skills and interest, study the market, and consult an experienced person and combining all these factors take the final decision. Remember opportunities will not just appear to you; you must create them.
About the Author:
This article was compiled by Dr. Tuluma Das who is associated with Biotecnika & Rasayanika. A PostDoc with an educational background in chemistry, she is an ardent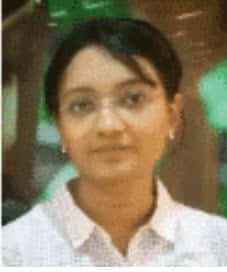 reader & writer. Loves to impart knowledge to students. Being from a Chemical science research background she is well aware of the opportunities available and has hared the same in the above article. Stay tuned for more such interesting articles from her which will be helpful for your career.
Wish you good luck for Your Career Ahead!