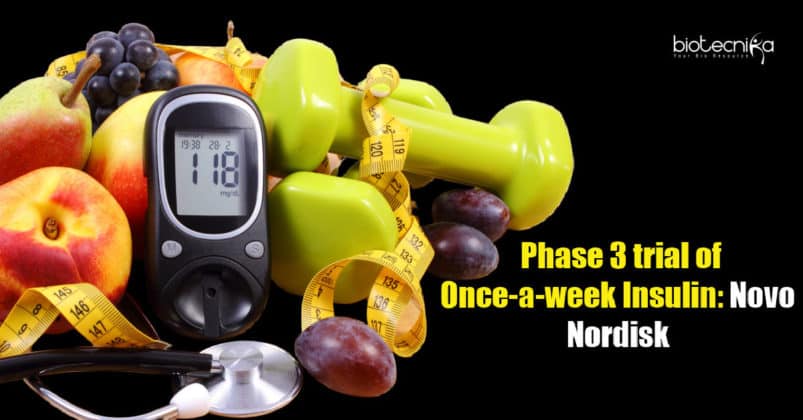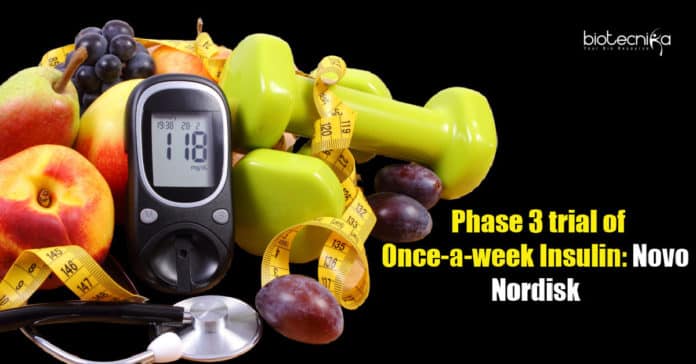 Novo Nordisk preparing for the phase-3 trial of once-a-week insulin
For maintaining Type 2 diabetes, regular insulin is a must. Some patients take bolus insulin after meals while others inject basal insulin once or twice daily, and some were doing both. Novo Nordisk is working in once-a-week administering insulin. This basal insulin would cut down on the frequent injections and the phase II data of this study looks promising.
The drug, dubbed insulin icodec, is tested in 154 Type 2 diabetes patients. Cases were considered where diabetes was not regulated with oral meds or could not be controlled with once or twice daily shots of basal insulin. Some were administered with a dose of insulin glargine, also known as Sanofi's Lantus.
Patients administered insulin icodec along with Lantus fared better than patients administered Lantus alone. The study was carried out for 16 weeks and in the last two weeks of the trial, the combination kept the blood sugar level in the range of 3.9 to 10.0 mmol/L about three-quarters of the time (73%), compared to 65% for patients alone on Lantus. 7.8 mmol/L is considered a normal blood sugar level. Patients administered insulin icodec (spent 66% time in the normal range) did about as well as the patients who were administered Lantus alone(spent 65% time in the normal range).
This study was presented on Tuesday at an annual meet of the European Association for the Study of Diabetes. The primary endpoint was met but not the secondary endpoint. It included the baseline hemoglobin A1C changes, i.e., the average blood sugar level is calculated over a period of two to three months, —or reduced occurrence of hypoglycemia, or low blood sugar. Although the insulin icodec regimen did not beat Lantus alone, Novo is considering the data as a win since the drug did not do worse on the existing condition of the patients.
Harpreet Bajaj, M.D., LMC Diabetes & Endocrinology, in Ontario, Canada, commented on how diabetes patients are looking for simpler drugs with fewer injections and more convenient insulin treatment regimens. The phase 2 trial demonstrates the potential of insulin icodec and the benefits it offers to patients with Type 2 diabetes who needs insulin therapy, providing a new treatment option with lesser daily burden and complexities associated with currently available therapies and potentially get more time in good glycaemic control and lower hypoglycaemia risk.
Novo also displayed data of 247 Type 2 diabetic patients who were given insulin icodec. These patients did not take insulin before. The data showed that the insulin given once a week lowered blood sugar at similar rates to Lantus with a similar safety profile.
The phase 3 trials for insulin icodec is planned to start by the end of the year. If the drug clears the trial, it could reduce the frequency of injections in the patients with Type 2 diabetes, as well as encourage more patients to take insulin in order to regulate their blood glucose levels.
Martin Holst Lange, Senior vice president, Novo Nordisk, in a video discussion commented that Many Type 2 diabetic patients are reluctant to initiate insulin therapy due to the need for daily injections and this drug may affect the regulation of their diabetes.
Author: Mayuree Hazarika
Novo Nordisk preparing for the phase-3 trial of once-a-week insulin
Upload your CV to Rasayanika Talent Pool