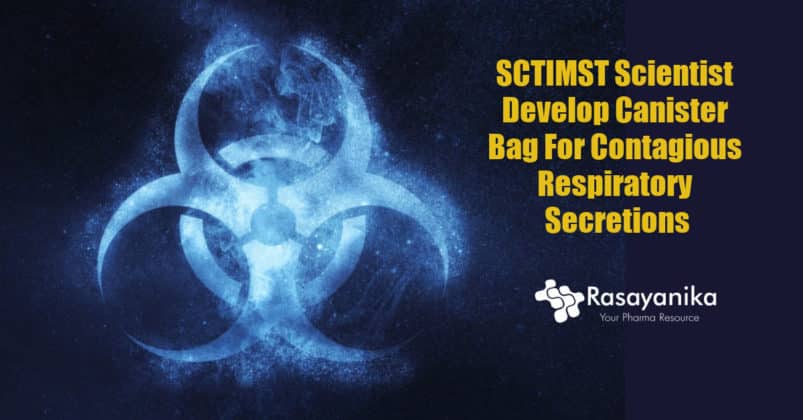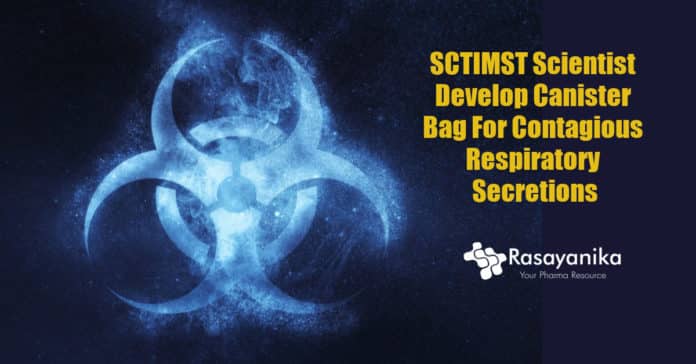 Scientist develop a Canister Bag named Acrylosorb to contain contagious Respiratory discards
Even before the advent of Covid 19, the world was already suffering from highly contagious diseases like tuberculosis, Influenza. Respiratory secretions of patients suffering from such contagious diseases can be of great concern as these secretions are likely to spread the disease more.
In the intention to bring relief to the healthcare professionals, Sree Chitra Institute of Medical Sciences, Thiruvananthapuram, developed canister bags. These bags have an effective disinfectant and is lined with super-absorbent material.
The disposal method is developed for the management of respiratory discards of patients in the Intensive Care Unit (ICU) and the patients in the general wards with the copious respiratory release.
The Institute put forward a statement saying, there is a high risk of infection amongst the health care workers when it comes to the disposal of respiratory secretions of patients suffering from contagious diseases like COVID-19, Influenza, and Tuberculosis (TB). They further explained the disposal method by the newly developed canister bag. In the bags, the secretions are sucked into bottles or canisters with the help of a vacuum line. Then the waste is subjected to the decontamination process and discarded through
the waste fluid disposal system. The disposal process needs well-facilitated sluice rooms with the disinfection provision. The Canister bag absorbs and solidifies 500ml of secretion immediately. The presence of the disinfectant decontaminates the entire system in no time.
The product design has been patented and the product itself has been tested as per internal standards. The suction canister liner bag has undergone field trials at the institute. The expected cost price of the bag is Rs.100 per bag.
The institute claims that the canister bag allows easy and spill-proof disposal of biomedical wastes. The institute states that the provision to solidify and disinfect the waste inside the bag eliminates the risk of secondary infections as there is minimal chance of spillage and aerosol formation. The canister bag enclosed in a customizable sealer bag can wrap it as a spill-proof decontaminated biomedical waste disposable and then incinerated.
The team behind the product consists of biomaterial scientists and clinicians, Dr. Asha Kishore, Director of the institute, Dr. Manju S, Dr. Manoj Komath, and Dr. Ajay Prasad Hrishi. The know-how of the product has been transferred to Romsons Scientific and Surgical Private Limited in Uttar Pradesh, a company that produces medical devices.
Scientists develop Canister Bag for contagious Respiratory discards
Author: Mayuree Hazarika