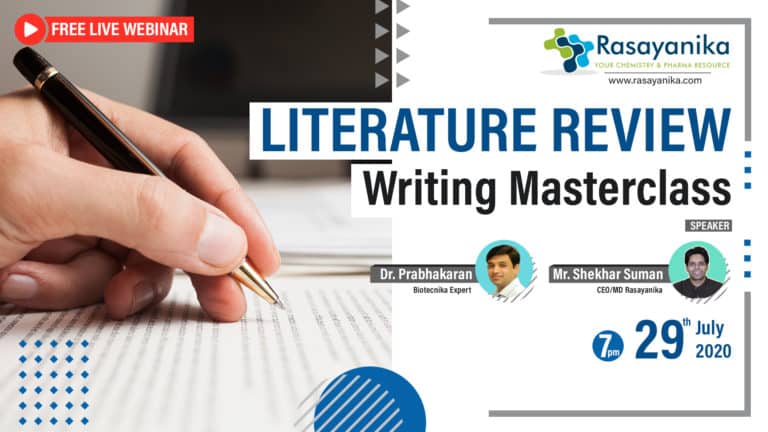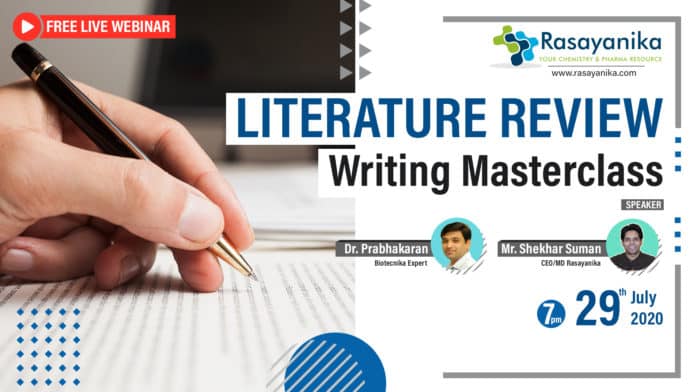 Free Webinar On Writing Literature Review
Rasaynika Free Webinar
How to write a Review of Literature?
Writing a thesis, dissertation, or a research paper is a nerve-racking process for every researcher or student. It requires immense effort, planning, and systematic execution. Writing a Literature Review is an important step in this writing process.
A literature review is a narrative review of previous research on a specific topic, which includes a systematic analysis of books, scholarly articles, and all other reliable sources relevant to it. The ultimate goal of a literature review is to provide basic knowledge on the topic of interest.
In any research activity, writing a literature review is a crucial step. A literature review demonstrates your knowledge on the topic and it guides you in developing a framework for your experiments. Plenty of publications are being released each day and it can be intimidating to update yourself with them and choose what is relevant for your work. A well- written literature review requires proper planning, expertise, and good guidance. Not every student or researcher is lucky to get proper guidance on writing a literature review.
That's why Rasaynika is bringing you an exclusive webinar on how to efficiently write a literature review by the experts from the research industry.
Register for the webinar today to get the tips from experts on writing a literature review and to Become a Pro in Scientific Writing.
Webinar agenda: Working Rules for Writing a Literature Review
Webinar Details:
Date: 29th July 2020
Time: 7 PM IST
Mode Of Webinar: Online
Registration Fee: Free of cost for all Rasaynika Members
Speakers: Mr. Shekhar Suman & Dr. Prabhakaran
REGISTER NOW
About the Speaker:
Dr. Prabakaran Ravichandran is an eminent scientist with more than 12+ years of experience in
the research industry. He holds a vast experience on how the industry works, with more than 13 publications and 15 Patents. He was also awarded by prestigious universities like Old Dominion University & Norfolk State University.
Who should attend?
Students, academians, research scholars, and any research enthusiasts who would like to publish their work as well as review articles in high impact journals are welcome to attend this webinar and benefit from it.
REGISTER NOW FOR THE FREE WEBINAR
Fill out the registration form given here to register.