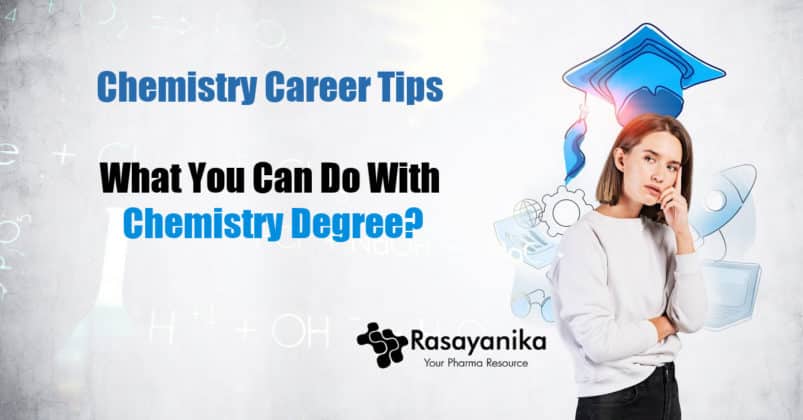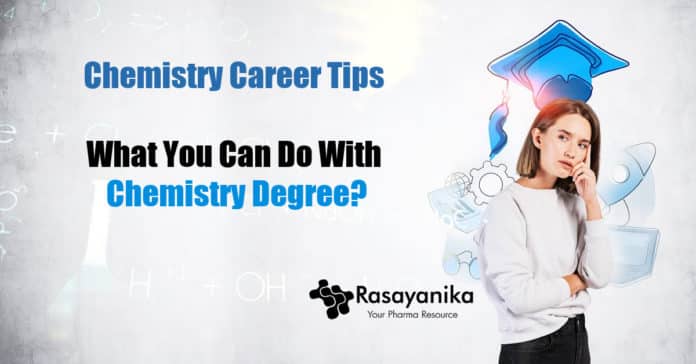 Career For A Chemistry Graduate 
Chemistry is known as the central science and students who majored in chemistry will leave college with knowledge in advanced mathematics and science concepts.
Chemistry involves the study of all things chemical – chemical compositions, chemical processes, and chemical manipulation – in order to better understand the method in which materials are structured, how they change as well as how they respond in specific situations. Having actually acquired chemical understanding at a molecular level, chemistry graduates might choose to apply this knowledge in practically endless methods, as it can be utilized to examine all matter and therefore our entire environment.
Career opportunities within science and technology are seeing unprecedented growth across the world, and during this COVID-10 pandemic not only biological science is seeing a boom but also chemistry or other natural sciences are definitely recognized and much more valued. Chemistry has a wide range of career prospects.
Chemist Skills & Competencies
Much of your individual training will be learned on the job, but a foundation of laboratory skills including technical and analytical skills and laboratory techniques could be learned in the lab during undergraduate.
As one progresses through college, you can gain specific knowledge in traditional chemistry that is useful in biology, medicine, physics, engineering, geology, and Earth science can be acquired as chemistry overlaps with many other subjects.
Few skills which you need to develop and refine to be a successful chemist
Problem-solving – As a chemist, you will have to identify problems and come up with possible solutions. However, prior to implementing those fixes, you will have to evaluate each one and then predict which one will be the most effective solution.
Analytical Skills – Just like any other scientist, a chemist will get to analyze a lot of data.
Time management & organization – Take any career, time management skills is a must for everyone. Managing time properly will help you meet the deadline and be stress-free.
Written and oral communication – As a chemist, you will have to interact with many senior scientists and other people as part of your work and for this, you will definitely need great communication skills.
Monitoring and maintaining records and data – All the data analyzed has to be timely monitored and recorded.
Teamwork – A chemist will have to work with many other people, most of the works done in the lab will be teamwork. So one should be fully prepared to work in a team and adapt to that environment.
Research and presentation – As a chemist, you will have to do a lot of research, and presenting these becomes a major part of your research.
IT and technology – Information technology is very important for chemical research activities such as molecular modeling, computational chemistry, chemical analysis, database searching, etc. It will be easier for you to succeed in your career if you are well versed in such skills.
Careers in chemistry
The employment world for chemical professionals can be divided into five main sectors: industry, academia, government, non-profit, and entrepreneurship.
Analytical Chemists – Analytical chemists determine the structure, composition, and nature of substances by examining and identifying their various elements or compounds. Additionally, they also study the relationships and interactions among the parts of compounds. Their research study has a vast array of applications, including food safety, drugs, and pollution control. A lot of analytical chemists work for private R&D firms, but many of them can be found at pharmaceutical companies too.
Chemical engineer – Chemical engineers work across a number of industries, including food, pharmaceuticals, water treatment, oil and gas, plastics, energy, and toiletries. Chemical engineers ensure the effectiveness as well as safety of chemical processes, adjust the chemical make-up of products to fulfill ecological or economic requirements, scale up chemical processes for manufacturing purposes, and use new technologies to enhance existing processes.
Healthcare scientists / clinical biochemistry – Healthcare scientists will have to help in the investigation, diagnosis, and treatment of disease and illness. Chemists can't advise on medical treatment, however, their work is vital in ensuring that the results are accurate, root causes are found, reports are accurately kept, and research is applied.
Forensic scientists – The work in this field includes the examination of substances such as paint or chemicals, including fire investigation and accident reconstruction and testing for restricted drugs, examining tissue specimens for poison detection, etc.
Pharmacologist – Closely related to the healthcare industry. Designing, developing, analyzing, evaluating, and regulating new and existing pharmaceuticals are dependent on pharmacologists.
Research scientist – The field of research is very diverse. There are a lot of opportunities in research. You can even do research and simultaneously build a career in teaching. As a research scientist, you can work on developing and trialing new drugs in a pharmaceutical company, or work in a public-sector research center, helping to ensure national healthcare provision keeps pace with new discoveries.
Few examples of the research done by chemistry experts include the forensic analysis for criminal cases, the discovery of new drugs and vaccines, improving understanding of environmental issues, and the development of new chemical products and materials (e.g. food, drink, cosmetics, plastics, and paints).
Toxicologist – Another fast-growing field for careers in chemistry is Toxicology. The role of toxicologists will vary depending upon the specific area of work, but generally, the work will include isolating, identifying, and measuring toxic substances or radiation and any harmful effect they have on humans, animals, plants or ecosystems, analyzing and evaluate statistical data and research scientific literature.
Medical and clinical laboratory technician – Lab technicians are needed in a range of sectors including but not limited to medical and clinical research, biotech, and environmental Lab Tech positions. This career option is one of the easiest ways for chemistry graduates to begin your career as a chemist. You can start from the bottom of the company and work your way up to senior positions.
Entry-level chemist – Entry-level chemistry jobs will often consist of working individually and as a team member to hypothesize tests and draw conclusions and they may collaborate with people who are specialized in other science-related fields.
Agro chemists – As an agro chemist, you would combine chemistry and biochemistry knowledge to improve agricultural practices like improved crop production or making the process of taking raw goods and turning them into consumable foods and beverages.
Inorganic chemists – Inorganic chemists would look at the structure and behavior of inorganic molecules and use this knowledge in mining, geosciences and the production of semiconductors.
Education, Training & Certification 
College degree: If you want to be a chemist, you will need to earn at least, a bachelor's degree in chemistry. However, a master's degree or, more likely, a Ph.D. is required in most research jobs.
Internships: Internship, fellowships, or work-study programs can help students gain experience and make them better job candidates.
Experience: What you'll notice in almost all chemistry job postings? Lab experience. Every company will require some amount of laboratory experience. In order to fulfill these criteria, you will need to find internships either at your university or private companies that you can develop these skills before you graduate.
Salary Structure
According to the U.S Bureau of labor statistics, in 2017, the annual median salary of medical and clinical laboratory technicians is $74,470. The bureau also predicted an 18% increase in employment for these technicians from 2014 – 2024, which is much faster than normal. In India, a chemist can get a salary from 25000 to 5 lakhs per month depending on the experience skills, geological location, and other factors.
Tips for a successful job
Study hard
Study with student smarter or more talented than you
Build relationships with your professors
Build a network with already working chemists
 Join an established lab with plenty of grad students to conduct your undergraduate research
Try to publish one or two articles
Seek an internship during your summer or winter vacations
Try to carry out some research work at your college
If you have a career services department in your college use it to extend your network and build relationships with potential employers.
Attend an on-campus career fair
Personality traits of a good chemist
Require creativity
Interpersonal communication
Self-confidence and motivation – to investigate and solve complex problems
Patience
Attention to detail
There are many different job sectors that chemistry majors fit into and it is important for you to do research and identify your interests as soon as possible.
Author: Sruthi S
Upload your CV to Rasayanika Talent Pool