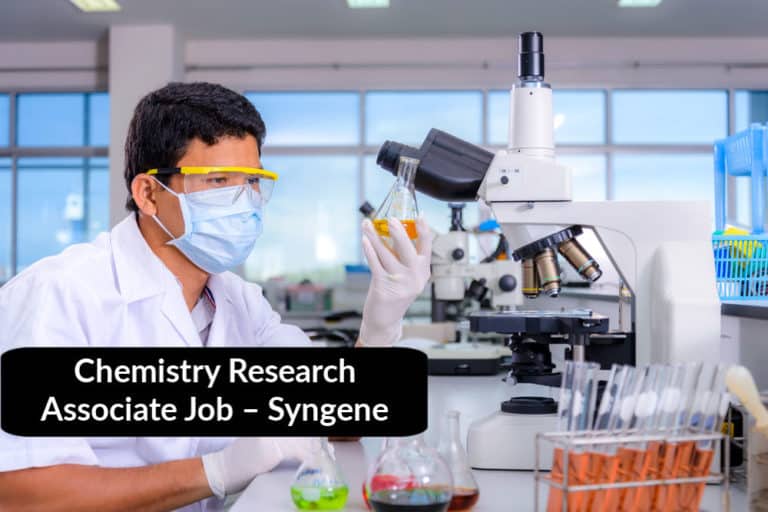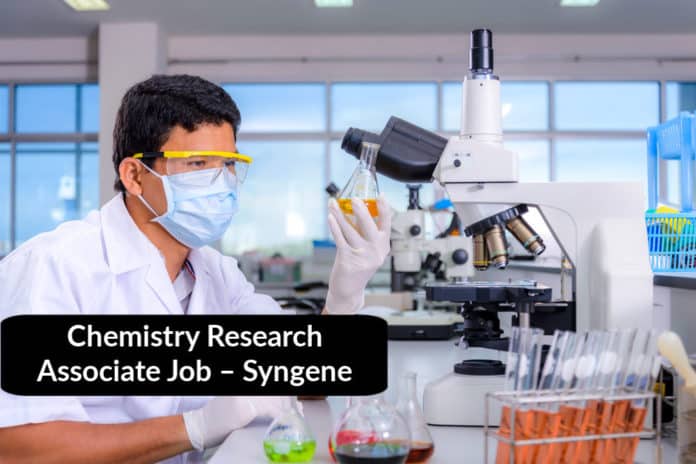 Syngene Chemistry Research Associate Job – Chemistry Jobs
Chemistry research associate. Chemistry Jobs. Syngene Hiring Chemistry candidates. candidates are required at Syngene. Interested and Eligible candidates may apply for the post via online mode. Check out all the details on Rasayanika.com. Chemistry jobs 2019.
Principal Accountabilities/ Responsibilities :
Scientific knowledge/technical skill: Design experiments and protocols on agreed experimental pattern. Complete experiments under supervision.
Lead strategically: Understand the goals: Displays basic understanding of the project and department goals
Drive performance: Deliver results with high integrity while focusing on execution. Take ownership of personal deliverables and behavior.
Innovate: Seize opportunity when they arise Highlight high priority issues and inform supervisor.
Embrace teamwork: Active participation in team meetings and activities. Build and maintain trust, Work cooperatively and respect others
Communicate directly: Communicate appropriate information, seek multiple and differing viewpoints and listen to others, escalate issues appropriately
Develop & Energize people: Develop self. Seek and incorporate feedback.
Qualification & Experience:
Master's in Chemistry 3 to 4 years of relevant experience / Computer literate (MS office application) Good oral and written communication skills. General knowledge of equipment.Fundamental scientific/technical knowledge.
Skills:
Advanced theoretical & experimental knowledge of Organic Chemistry has understanding of organic synthesis and the ability to interpret analytical data.
Demonstrates competence in relevant technical aspects of chemistry which allows to work independently. Expands knowledge by seeking out colleagues for expert advise and information. Communicates scientific ideas and information in an appropriate and timely manner, including small group discussions. Has proficiency in writing skills.
Clearly documents technical procedures and results. Has a basic understanding of organic synthesis and the ability to interpret analytical data.
Key behaviours to be demonstrated for success in the role :
Maintains safe laboratory practices.
Maintains laboratory notebooks in accordance with company policy and legal requirements. Possesses a good understanding of experimental design, the underlying scientific principles, and the significance of results. Proficient in variety of experimental techniques.
Designs, optimizes or adapts experimental protocols.
Interprets results and identifies, troubleshoots and solves technical problems. Draw a conclusion from the experiment and begin to apply theoretical knowledge to solve scientific problems. Actively seeks out opportunities to improve personal and group laboratory practices is proactive in troubleshooting technical problems.
Takes action to address problems beyond assigned responsibilities. Volunteers for team assignments on a regular basis. Begin to proactively seek assistance from another scientist to solve the problem.
Operate laboratory equipment independently. Shares responsibility and workload with other team members.
Communicates effectively with supervisor and co-workers. Develops and delivers a presentation and defends work.
Provides the benefit of experience to actively promote the development of lab colleagues. Provide constructive feedback as appropriate
Editor's Note: Syngene Chemistry Research Associate Job Syngene Research Associate Job Syngene Chemistry Research Job, Syngene, Job Opening, Msc RA Jobs @ Syngene. jobs, jobs 2019, Pharmaceutical Science jobs at Syngene. jobs at Syngene. Subscribe to Rasayanika for latest chemistry and Pharma jobs.
Upload your CV to Rasayanika Talent Pool