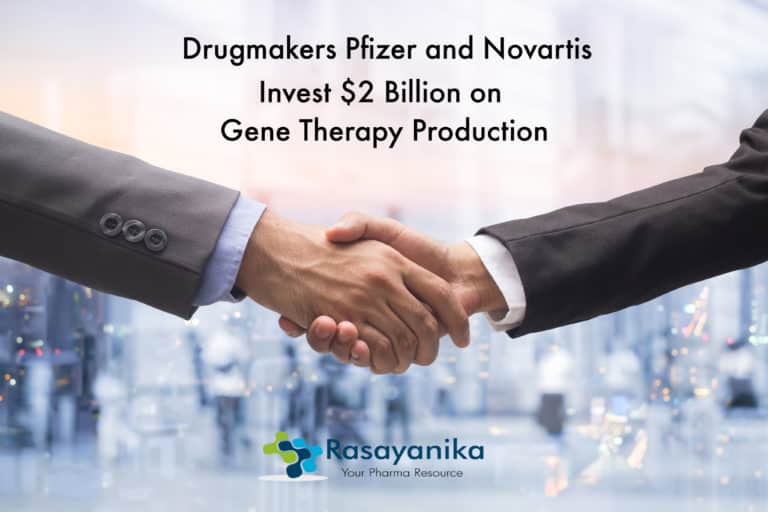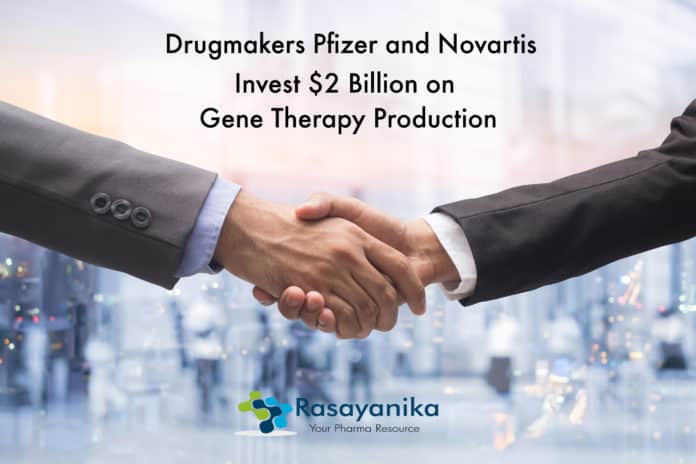 Pfizer Novartis Gene-Therapy Manufacturing with $2 Billion Investment.
Since 2018, Eleven drugmakers led by Pfizer and Novartis collaborated to invest in gene therapy manufacturing for having better control in producing the priciest medicines in the world.
In an interview with Novartis's gene therapy chief, the details about a $500 million plan were revealed. According to an interview with industry executives and filings, Pfizer has decided to invest $600 million for building its own gene therapy manufacturing plants.
The aim of gene therapies is to rectify specific diseases by replacing the mutated version or the missing gene in a patient. The cost of this treatment would be almost above $1 million per patient because of its high potential to cure the devastating diseases in a single dose, said the drugmakers.
The treatments involve the cultivation of living material which still has a risk of serious side effects and hence these treatments and very complex to make.
Pfizer and Novartis drugmakers decided to build their own manufacturing plants because of the increase in the prices and delays that occurred when relied on third-party contract manufacturers. Any concerns raised by the U.S. Food and Drug Administration (FDA) could be addressed more effectively by having their own facilities. It also helps in safeguarding proprietary methods of production.
The president of AveXis, Novartis's gene therapy division says, " For new gene therapy processes developed by companies, the contract manufacturers have little capability and capacity. Hence, there is a need for manufacturing abilities internally in the long run.
But this approach comes with risks.
Drugmakers like Pfizer and Novartis should take a "leap of faith" while making huge investments for treatments that are not approved before or n some cases, even produced data demonstrating a benefit said the senior vice president of Pfizer's global gene therapy business, Bob Smith.
Pfizer and Novartis PUSHING THE LIMITS:
The hottest areas of drug research include gene therapy, which has great possibilities and thus there is help from the FDA to speed treatments to the market.
So far, two treatments have been approved, including the treatment of Novartis's Zolgensma for a rare disorder in the muscles which is priced at $2 million. There are 40 new gene therapies are expected to reach the U.S. market within 2022.
For conditions like Duchenne muscular dystrophy, hemophilia and sickle cell anemia, around 30 drugmakers have various treatments under development. The existing limits of the industry's manufacturing capacity are being pushed by the proliferation of these treatments. To get a production slot, the gene therapy developers who require outsourcing manufacturing need to wait up to 18 months. According to RegenxBio, a gene therapy developer, the fees charged to reserve space runs into millions of dollars which is higher than the double of cost a few years ago.
Therefore, companies like PTC Therapeutics, Bluebird Bio, and Krystal Biotech have considered investing in the manufacturing of gene therapy just like Pfizer and Novartis. They follow the gene therapy developer of hemophilia, Biomarin Pharmaceutical Inc, who constructed one of the industry's largest manufacturing facilities in 2017.
Pfizer Novartis gene-therapy manufacturing REGULATORY SCRUTINY
FDA keeps a close eye on standards. The method for measuring the Zolgensma's potential in animals was changed by AveXis and this method's results did not meet the set expectations, the executives allegedly altered the data to cover it up, the FDA and Novartis said. While verifying this, Brian Kaspar, one of the former executives denied any wrongdoing while another executive could not be reached for any comment.
Long before becoming aware of data manipulation allegations, Novartis invested in gene therapy production.
Industry executives say that the scandal that happened highlights the importance of having a consistent process for gene therapy manufacturing.
In recent meetings, the FDA had stressed the need for continuous production processes right from the drug development all the way to its commercialization.
With in-house production, the pitfalls like switching to a larger facility if the contract manufacturer's capacity is limited can be avoided.
At the end of the year, new finalized guidelines for gene therapy manufacturing is expected from the FDA.
Stephanie Caccamo, FDA spokeswoman says, " The major concern for an agency is the manufacturing consistency."
A large outsourcing manufacturer, Sarepta Therapeutics, had delayed a clinical trial for Duchenne treatment in August claiming to avoid any questions from regulators in regard to the consistency in producing its therapy at a commercial scale. This highlights the pressure on the industry.
IS THERE ENOUGH GROWTH FOR ALL?
The chief executive of Krystal Biotech Inc., Krish Krishnan says, " Considering the cost schedules, trade secrets, and the time lag, building your own facilities makes a whole lot of sense and there are many companies who have started to facilitate their own gene therapy production."
Krystal Biotech has built a manufacturing facility for developing therapies for rare skin diseases and it has plans of investing more than $50 million for a new one in December.
Focusing on gene therapies for eye conditions, MeiraGTx estimates its current expenditure to about $25 million a year for manufacturing which includes process development.
Due to the strength of demand, contract manufacturers like Thermo Fisher and Lonza believe their businesses will continue to grow despite such moves by the drugmakers like Pfizer Novartis Krystal, etc.
The Brammer gene therapy manufacturing division could earn up to $500 million in revenue in a year, said Thermo Fisher to its investors. The CEO of Lonza, Marc Funk is also optimistic about their growth. He said as the demand in gene therapy has increased and this will continue in the coming years.
This article has Pfizer Novartis gene-therapy manufacturing investment details. Pfizer Novartis gene-therapy manufacturing collaboration.
Upload your CV to Rasayanika Talent Pool