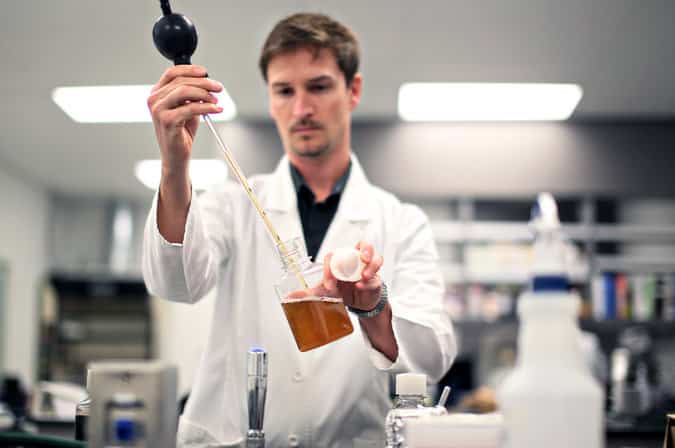 Newell Brands (NYSE: NWL) is a leading global consumer goods company with a strong portfolio of well-known brands, including Paper Mate, Sharpie, Dymo, EXPO, Parker, Elmers, Coleman, Jostens, Marmot, Rawlings, Oster, Sunbeam, FoodSaver, Mr. Coffee, Rubbermaid Commercial Products, Graco, Baby Jogger, NUK, Calphalon, Rubbermaid, Contigo, First Alert, Waddington and Yankee Candle. For hundreds of millions of consumers, Newell Brands makes life better every day, where they live, learn, work and play.
Job Title: Senior Chemist
No of Posts: 01
Salary: As per industry standards
Job Description:
The Senior Product Development Chemist will be responsible for new product development (NPD) projects for both new and existing products, while working within a cross-functional team. Some travel may be required. This position will:
• Lead the Ink and Writing System development efforts on NPD projects from conception through production launch, while following Newell's Product Development Process
• Ensure the product meets or exceeds expectations from a cost, timing, and specification standpoint
• Require the ability to work effectively with other disciplines including Engineering, Marketing, Industrial Design, Manufacturing, Quality, and Supply Chain
Tasks & Responsibilities
• Monitors project Profit & Loss (P&L) and key drivers that affect overall program financial health to ensure projects
meet established objectives (e.g., margins, costs, revenue, etc.).
• Partners with Marketing to develop robust CTQ (Critical to Quality) requirements relative to consumer needs.
• Examines program success requirements and drives path forward to achieve success in most timely and cost effective manner.
• Provides heavy testing and compliance support, working autonomously or on project teams with minimal guidance to complete required project validation.
• Reviews project proposals cross-functionally to develop technical project specifications.
• Recommends specific competitive products for benchmarking and reviews the results to gain competitive understanding,
• Participates in technical design reviews to ensure products are designed to specifications and will meet product safety requirements.
• Oversees the performance of the testing team informally to ensure product deliverables are being met.
• Implements existing testing methodologies on a program level to conduct product validation.
• Examines problems with a disciplined approach and uses the appropriate methodology to analyze and determine the preferred solution to technical challenges.
• Reviews test results summaries and recommends action plans to improve product design.
• Directs the development of optimal product test plans to ensure robust product safety performance.
• Prepares testing summary to manager with mitigation plans (if required) to communicate testing status and compliance activities.
• Investigates popular point of view when necessary to provide alternative recommendations.
• Translates complex technical concepts in simple, clear language appropriate to the audience to gain cross-functional alignment.
• Presents emerging compliance requirements to product development team to ensure awareness and understanding of the regulatory landscape.
• Participates as representative on cross-functional teams to work seamlessly across boundaries of company, culture, and geography for successful NPD.
• Partners with development and delivery organizations to balance the needs of compliance, NPD, productivity, and product derivatives.
• Incorporates an intermediate understanding of product specifications, material/chemical selection, manufacturing processes, cost constraints, and regulatory and legal landscape (intellectual property) to drive high quality, sustainable, and efficient new product development.
• Recommends intermediate chemical formulations of products and is accountable for a subset of the system to ensure robust end product designs.
• Recommends intermediate material selection/design of writing systems for products and is accountable for robust designs in collaboration with the Engineering team.
• Demonstrates a strong understanding of core discipline and basic knowledge of other disciplines relevant to business segment to drive effective program execution.
Qualifications:
Essential:
• Bachelor's degree in Chemistry or Chemical Engineering required
• 5 year Product Development experience required (10 years preferred)
Desirable:
• Preferred – Experience with consumer goods products
• Demonstrates expertise in problem solving techniques and methodologies
• Demonstrates strong prototyping/design validation model building skills
• Demonstrates strong Static/Dynamic analytical skills
• Demonstrates in-depth knowledge of relevant manufacturing processes
• Demonstrates strong interpersonal and project management skills
• Demonstrates excellent communication skills-verbal and written
• Demonstrates ability to perform in a team environment
• Demonstrates the ability to create formal, thorough reports
• Demonstrates the ability to lead intermediate projects from lab scale to full production
• Demonstrates evidence of strong problem solving skills with evidence of systematic approach for identifying problems, root-cause analysis, and implementation of the solution.
• Demonstrates proven track record of creativity and innovation
• Flexibility in communicating with US team (may be during off hours)
• Occasional travel locally and internationally