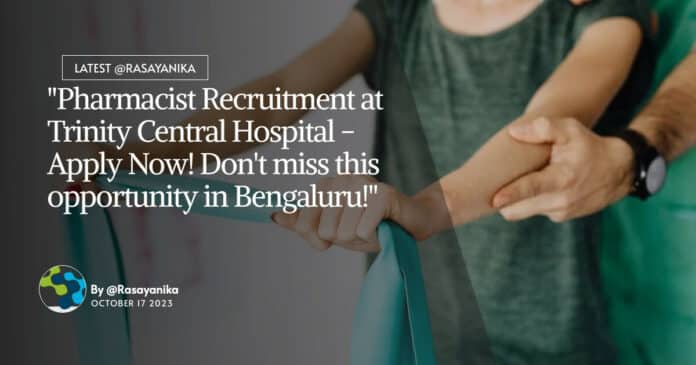 Pharmacist Recruitment at Trinity Central Hospital – Apply Now!
Location: Bengaluru, Karnataka, India
About the job
Trinity Central Hospital is a leading private hospital in Bengaluru with a comprehensive Accident & Emergency Department (A&E) for patient care. Our goal is to provide patients with a comfortable and high-quality healthcare experience.
Company Description
Role Description
This is a full-time on-site role for a Pharmacist at Trinity Central Hospital located in Bengaluru. The Pharmacist will be responsible for providing medications and ensuring proper distribution to patients. The Pharmacist is an integral part of patient care and will work closely with other healthcare professionals to ensure the best care possible. They will also be responsible for providing patient education and counseling related to medications and drug interactions.
Qualifications
Experience in dispensing medications and ensuring proper administration to patients
Knowledge of medications and their uses, side effects, and monitoring parameters
Familiarity with pharmacy software and technology
Strong communication and interpersonal skills
Attention to detail and ability to work in a fast-paced healthcare environment
Ability to work independently and as part of a multidisciplinary team
Bachelor's or PharmD degree in Pharmacy
Registered as a pharmacist with the State Pharmacy Council
Experience in a hospital or clinical setting is preferred
Certification in Advanced Cardiac Life Support (ACLS) or Basic Life Support (BLS) is beneficial
APPLY VIA YOUR LINKEDIN ACCOUNT HERE
Keywords: Pharmacist, Recruitment, Trinity Central Hospital, Bengaluru, Karnataka, India, Medications, Patient care, Pharmacy, Healthcare, PharmD degree, State Pharmacy Council