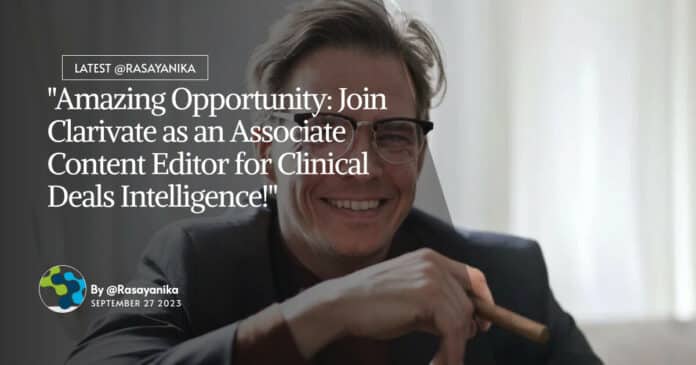 Post – Associate Content Editor – Clinical Deals Intelligence at Clarivate
We are looking for an Associate Content Editor/Content Editor to join our Deals team in Hyderabad/Chennai. This is an amazing opportunity to work on Cortellis Deal Intelligence and Cortellis Digital Health Intelligence. The team consists of 11 people and is reporting to Rosary L – Team manager. We have a great skill set in Deals, Drugs and Clinical trials and we would love to speak with you if you have skills in these areas.
Eligibility & Experience Required
Education (B Pharm/M Pharm/MSc in Biotechnology, Microbiology, Lifesciences)
Work experience (around 1 year of experience in analyzing and updating Deal information)
Knowledge, skills, or abilities (In-depth knowledge of pharmaceutical drug pipelines, drug development, clinical phases)
It would be great if you also had . . .
Experience in secondary research related to Drug information.
Excellent English written and verbal communication skills.
What will you be doing in this role?
Maintain Clarivate database with up-to-date and accurate Deal information from a range of information sources
Collect and analyze the Deals competitive intelligence from companies developing drugs, devices, cosmetics, nutritional and vitamin supplements.
Collect data from various sources such as press releases, annual reports, quarter and half-year reports, SEC filings, company websites, clinical trial reports, and NIH reports.
Ensure quality standards are observed.
Ability to understand and interpret complex Deal information & Drugs related information from source material.
About the Team
The team works for the product Cortellis Deal Intelligence and Cortellis Digital Health Intelligence. The team size is 11 which includes Principal content analyst, Senior content analysts, Content analysts and Associate content analysts.
Hours of Work : 9 hours per day (Full-Time, Permanent)
Mode of work – Hybrid
Keywords: Associate Content Editor, Clinical Deals Intelligence, Clarivate, job posting, Cortellis Deal Intelligence, Cortellis Digital Health Intelligence