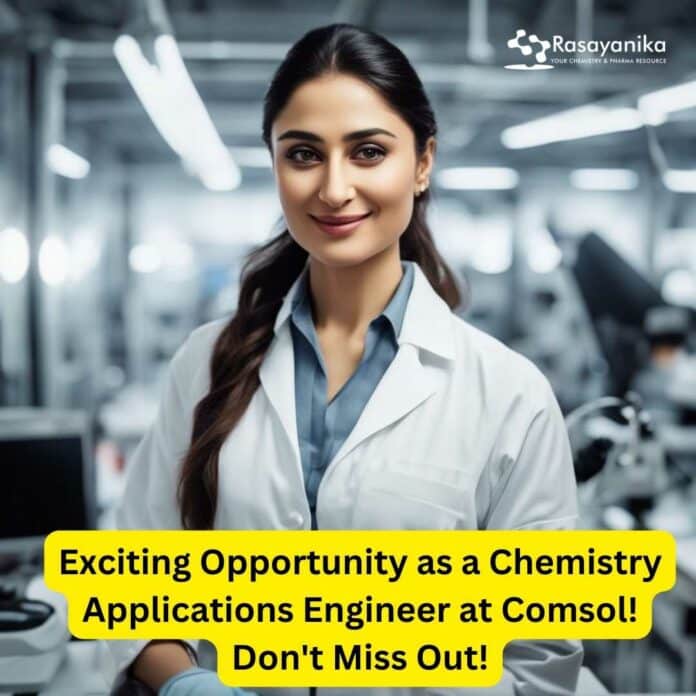 Chemistry Applications Engineer at Comsol
Job Posting | REF-7911
About the Company
COMSOL is seeking an Applications Engineer with expertise in electrochemistry, batteries, or fuel cells to join its Pre-sales and Applications team to work with pre-sales and post-sales support of users of the COMSOL® software.
Applications Engineer: Electrochemistry/Electrochemical Engineering
Be a Part of Simulating Future Innovations and Ideas Within the World of Electrochemistry
Location: Bengaluru, India
Primary Responsibilities
Pre-Sales Leads Qualification and Prospect Support
Demonstrate the building of clear and understandable simulation examples for prospective customers on simulations of their applications, primarily in the field of electrochemistry and electrochemical engineering.
Support prospective customers on the modeling of their applications with COMSOL Multiphysics®.
Demonstrate use of the COMSOL® software and summarize its features in web-based workshops and other marketing and sales events, along with customer meetings.
A willingness and ability to travel for limited periods of time to current and potential customers in order to run COMSOL-sponsored events and activities in India.
Post-Sales Technical Support
Support customers on use of the COMSOL® software for their electrochemistry-based applications, along with a variety of multiphysics applications involving other engineering and scientific disciplines.
Initiate and participate in subsequent sales opportunities to existing customers or the colleagues and other departments of existing customers.
Training and Mentoring
Develop your technical and simulation knowledge and abilities through working with sales and support cases, both independently and along with other sales and applications engineers.
Run introductory training courses along with courses related to chemical and electrochemical applications.
Develop and mentor new applications engineers, technical account managers, and sales engineers on the COMSOL® software and its uses in certain application areas.
Minimum Qualifications
A master's or higher degree in a field requiring a significant component of expertise in theoretical electrochemistry, material science, material physics, physical chemistry, or electrochemical, battery, or corrosion engineering with six months or more experience in modeling based on numerical methods, such as FEM, FVM, BEM or similar, that has been gained as part of project work at a commercial company, government research facility, or university.
An understanding and coursework experience within electrochemical reaction kinetics, corrosion reaction kinetics, or advanced chemical reaction kinetics principles and application of such principles.
Familiarity/experience with using COMSOL Multiphysics will be preferred.
Excellent communication skills on the phone, in person, and in writing.
This is an in-office position eligibility to work in India.
Personal Growth
Supporting your success in your role as an Applications Engineer will be other simulation engineers and software developers who occupy the top echelons of their areas of expertise. You will see and participate in the development and operation of many and varied cutting-edge new technologies. As an applications engineer, you will work with some of the most preeminent engineers and scientists in their respective fields, who are simulating innovations and ideas for the future.
---
To apply for this position click here
Keywords: Applications Engineer, Electrochemistry, Electrochemical Engineering, COMSOL, Pre-Sales, Post-Sales, Simulation Examples, Modeling, Customer Support, COMSOL Multiphysics, Technical Support, Training, Minimum Qualifications, Personal Growth