Exclusive Chemistry & Pharma Job in Dubai at MICROSYNERGY Pharmaceuticals
Microsynergy Pharmaceuticals, a part of the Trucare Company Group, is offering an exciting job opportunity in Dubai, UAE. They are currently seeking a Junior Analyst with experience in Pharmaceutical Manufacturing. This position presents a valuable chance to join a dynamic pharmaceutical company in the vibrant city of Jebel Ali, Dubai. If you have the required experience and are looking to advance your career in the pharmaceutical industry, this job at Microsynergy Pharmaceuticals might be the ideal opportunity for you.
MICROSYNERGY Pharmaceuticals – a Trucare Company Group
Job Title: Junior Analyst
Company: Microsynergy Pharmaceuticals FZCO
Location: Jebel Ali, Dubai, UAE
Experience: Must have 3-5 years of experience in Pharmaceutical Manufacturing.
Qualifications: B.Sc./ M. Sc. Chemist or D/B in Pharmacy
JOB DESCRIPTION:
Testing of Raw materials, Finished Product, In-process samples, validation samples and water samples with complete reporting and preparation of certificate of analysis.
Preparation of reagents, Indicator solutions and standard solutions. Preparation and standardization of volumetric solutions.
Testing and reporting of stability samples.
Preparation of stability protocols and stability summary reports.
How To Apply: Please send your CV to [email protected]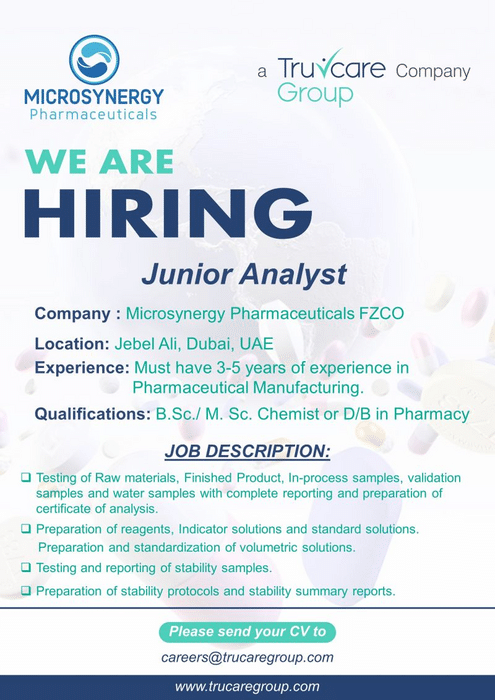 Keywords: Exclusive Chemistry & Pharma Job, Dubai, MICROSYNERGY Pharmaceuticals, Tru
care Company Group,
Junior
Analyst, Microsynergy Pharmaceuticals FZCO, Jebel Ali, UAE, Pharmaceutical Manufacturing, B.Sc./ M.Sc. Chemist, D/B in Pharmacy