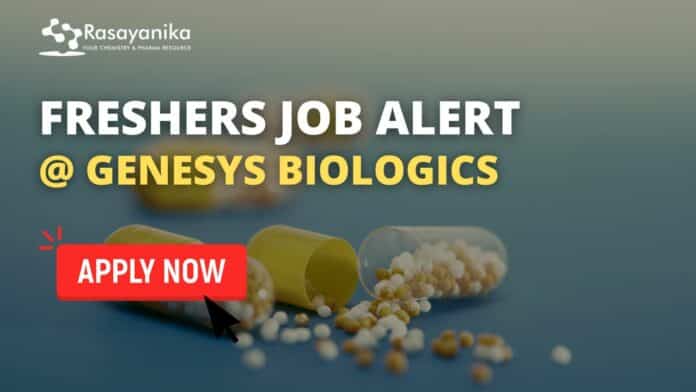 Pharma Freshers Job in Formulation
GeneSys Biologics explained that they had been founded with a mission to serve the extensive diabetic patient population worldwide by providing the most affordable insulins. They mentioned their specialization in producing insulin biosimilars with a patient-first approach and their sincere efforts to address a long-standing global issue. Their ultimate aim, they stated, was to create a meaningful impact in building a healthier society.
Job Title: Formulations Professionals (Biologics)
Company: Genesys Biologics Pvt Ltd.
Qualification:
M. Pharm in Pharmaceutics/Pharmaceutical Biotechnology/Pharmaceutical Analysis
Experience Required: Pharma professional with 0-5 years of experience in Biologics
Job Description:
Conduct and Assist with experiments in Formulation development
Lab compliance
Process Characterization studies
Must be willing to work in shifts
How to Apply: Interested candidates may please share your profiles on [email protected]
Company Location: 4th Floor, Bhaskar Plaza, Road No: 1, Banjara Hills (Adjacent to Care Hospitals), Hyderabad, Telangana, India

Website: www.genesysbiologics.com
Join Genesys Biologics Pvt Ltd. and contribute to groundbreaking work in the field of Biologics!
Latest Pharma Freshers Job in Formulation