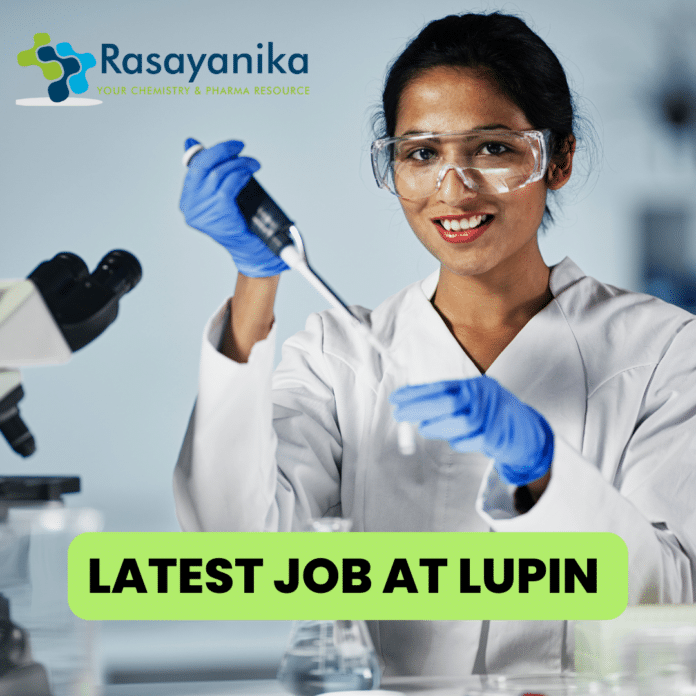 Research Scientist Job for M Pharm/PhD Candidates at Lupin
Lupin Limited is an Indian multinational pharmaceutical company. Scientist Job for M Pharm/PhD Candidates at Lupin. Interested Candidates can check out the details below and Apply Online.
Job Post: Research Scientist – Pharma Research, MA (LRP)
Job Location: Pune, RD, MH, IN
Job Company: Lupin
Job Category: Pharma Research, TVK (LRP)
Job Type: Full Time
Job Description:
 Formulation Development of Injectable Products like Solutions, Lyo Products, Suspensions and complex products like Peptides/ Iron based products and should also be familiar with advance analytical characterization studies understanding for regulated market. e.g. USA and Europe.
 To carry out product development trials, process optimization trials, scale up trials and exhibit batches at manufacturing plant.
 Literature search of new products, conduct pre formulation studies, other studies like tubing compatibility and filter studies.
 Preparation of product development protocols, Qb D/Risk Assessment documents, technology transfer documents and product development reports.
Ability to carry out investigations , trouble shooting exercises related to development , scale up and exhibit batches.
 Require good oral and written communication skills.
Education – M. Pharm or M.Pharm/PhD
Total Experience – 4 to 8 Years.
Here are five interview questions and suggested answers for the Research Scientist position in Pharma Research at Lupin, Pune:
1. Question: Can you describe your experience in the formulation development of injectable products, especially for regulated markets like the USA and Europe?
Answer: In my previous role, I had the opportunity to work extensively on the formulation development of injectable products. I have experience with a wide range of injectables, including solutions, lyophilized products, suspensions, and complex products like peptides and iron-based formulations. I understand the stringent requirements and analytical characterization studies necessary for regulated markets, and I have successfully developed products that meet these standards.
2. Question: Could you provide an example of a challenging product development trial or process optimization trial you have conducted in the past? How did you approach and overcome the challenges?
Answer: Certainly. In a previous project, we were developing a complex lyophilized product for the European market. We faced challenges related to stability and reconstitution issues. To address this, we conducted a systematic study, adjusted formulation parameters, and optimized the lyophilization process. By closely monitoring critical parameters and collaborating with a cross-functional team, we were able to resolve the issues and successfully scale up production while meeting regulatory requirements.
3. Question: How do you stay updated with the latest advancements in pharmaceutical research and product development?
Answer: I prioritize staying informed about the latest advancements by regularly reviewing scientific literature, attending conferences and seminars, and actively participating in industry-specific forums and networks. Additionally, I believe in continuous learning and seek out opportunities for additional training and education to stay at the forefront of pharmaceutical research and development.
4. Question: Can you provide an example of a product development protocol or a QbD (Quality by Design) document you have prepared in the past?
Answer: Certainly. In a recent project, I prepared a comprehensive product development protocol for a novel injectable formulation. This protocol outlined the entire development process, including formulation design, process optimization, analytical testing, and stability studies. It also included a detailed risk assessment and mitigation plan as part of the Quality by Design (QbD) approach, ensuring that all critical quality attributes were identified and addressed throughout the development process.
5. Question: Communication skills are essential in a collaborative research environment. Can you share an example of a situation where your communication skills played a pivotal role in a successful project?
Answer: In a cross-functional project, effective communication was crucial to ensure alignment among team members. We encountered a situation where conflicting priorities among team members were affecting project timelines. I initiated regular communication meetings, where everyone could express their concerns and priorities openly. Through active listening and negotiation, we reached a consensus and adjusted our project plan accordingly. This experience highlighted the importance of communication in resolving conflicts and keeping the project on track.
These interview questions and answers should help you prepare for an interview for the Research Scientist position in Pharma Research at Lupin, Pune, focusing on formulation development for injectable products.
Subscribe Rasayanika for more Chemistry and Pharma job updates.