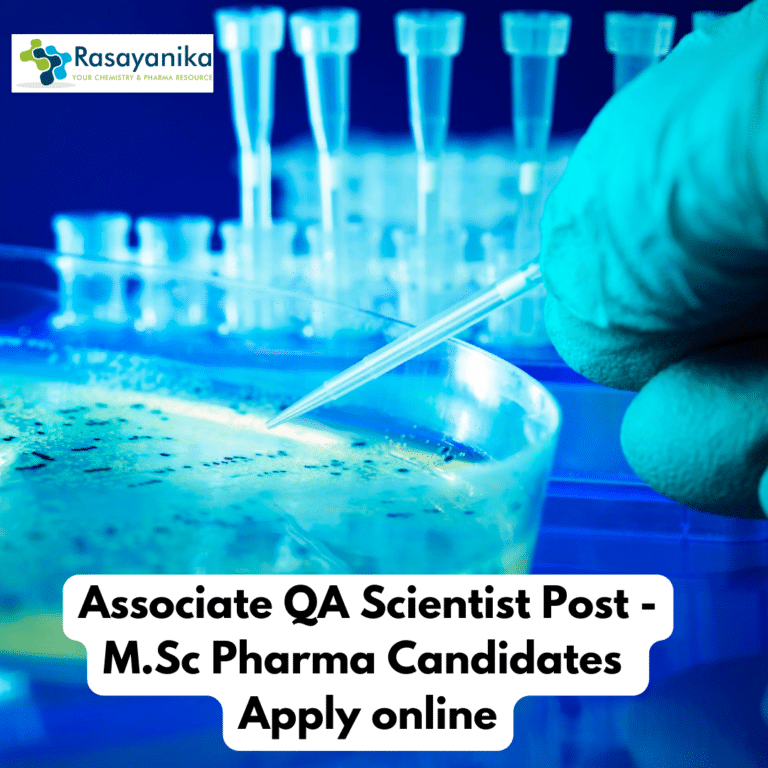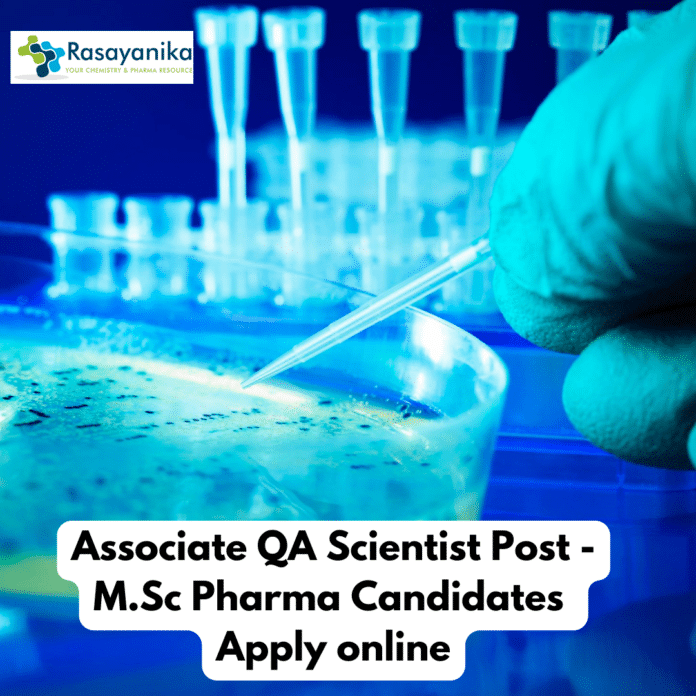 Associate QA Scientist Schrödinger – Pharma Candidates Apply
Associate QA Scientist Schrödinger – Pharma Candidates Apply. Schrödinger Associate QA Scientist – Pharma Candidates Apply online. Interested and eligible applicants can check out all of the details on the same below:
Job Position: Associate QA Scientist
Job Location: Hyderabad, India
Overview for Associate QA Scientist :
Schrodinger is looking for an associate for our Quality Assurance team based in Hyderabad. The team is responsible for ensuring the quality of different kinds of applications.
Key Responsibilities for Associate QA Scientist:
Responsibilities include working on the design, implementation, and administration of testing strategies to assess cutting-edge, Schrodinger's Qt-based applications and workflow management tools.
The candidate must be highly motivated, comfortable working under deadlines, pay significant attention to detail, and possess the ability to be both self-directed yet work well within a team.
This person should have exposure to Molecular Modelling or Chemoinformatics. Prior experience in software testing, exposure to Knime and automation with Squish would be an added advantage.
Skills Required for Associate QA Scientist: 
An impressive educational background, preferably with a Master's degree in Chemistry, Pharmacoinformatics, Pharmaceuticals, or Physics, with zero to two years of experience in a position offering high exposure to computers and software.
Thorough analytical, logical, and problem-solving skills, as well as excellent communication skills, both oral and written.
Any prior experience with Python and shell scripting will be preferred.
Exposure to Molecular Modelling approaches like Molecular Docking/Molecular Dynamics/Protein Structure Modelling etc, will be preferred
Prior exposure to Schrodinger software would be greatly encouraged.
Knowledge and experience with the software development life cycle and software quality assurance (and Squish or any other GUI testing tools) would be added advantage.
As an equal opportunity employer, Schrödinger hires outstanding individuals into every position in the company. People who work with us have a high degree of engagement, a commitment to working effectively in teams, and a passion for the company's mission. We place the highest value on creating a safe environment where our employees can grow and contribute, and refuse to discriminate on the basis of race, color, religious belief, sex, age, disability, national origin, alienage or citizenship status, marital status, partnership status, caregiver status, sexual and reproductive health decisions, gender identity or expression, or sexual orientation. To us, "diversity" isn't just a buzzword, but an important element of our core principles and key business practices.
We believe that diverse companies innovate better and think more creatively than homogenous ones because they take into account a wide range of viewpoints. For us, greater diversity doesn't mean better headlines or public images – it means increased adaptability and profitability.
Possible interview questions may be asked for Associate QA Scientist
1. Can you describe your educational background and any relevant experience in software testing or quality assurance?
 Answer: "I hold a Master's degree in Pharmacoinformatics, which provided me with a strong foundation in both chemistry and computer science. During my academic journey, I completed projects that involved software testing and quality assurance for pharmaceutical applications. Additionally, I have completed relevant courses in this field to enhance my skills."
2. How do you approach the design and implementation of testing strategies for complex software applications?
Answer: "When designing testing strategies, I start by thoroughly understanding the software's functionality and user requirements. I then create comprehensive test plans, including test cases, to ensure that all aspects of the application are evaluated. Automation is a key component to improve efficiency. Regular communication with the development team is essential to address issues promptly."
3. Can you provide an example of a challenging testing scenario you've encountered in your previous role and how you resolved it?
 Answer: "In my previous role, we had a complex workflow management tool with multiple integrations. Ensuring data consistency across these integrations was challenging. I addressed this by creating detailed test scenarios covering various integration scenarios. Automation scripts were developed to simulate these scenarios, allowing for efficient and consistent testing. This approach significantly improved our testing process."
4. What exposure do you have to Molecular Modeling or Chemoinformatics, and how do you see it benefiting your role in QA for Schrödinger's applications?
 Answer: "I have a solid understanding of Molecular Modeling and Chemoinformatics concepts from my educational background. This knowledge is beneficial because it enables me to better comprehend the scientific underpinnings of Schrödinger's applications. It helps me create more meaningful test cases that align with the requirements of scientists who use these tools."
5. How do you stay updated with the latest trends and technologies in software testing and quality assurance?
 Answer: "I'm committed to continuous learning. I regularly participate in webinars, workshops, and online courses related to software testing. I also follow industry-leading blogs and forums to stay informed about emerging trends and best practices. This proactive approach ensures that I can apply the latest knowledge to my work."
Editor's Note: Associate QA Scientist Schrödinger – Pharma Candidates Apply. Subscribe to Rasayanika for the latest chemistry and Pharma job openings, follow us on Facebook and Telegram and subscribe to our youtube channel for the latest updates on chemistry and Pharma jobs and much more.