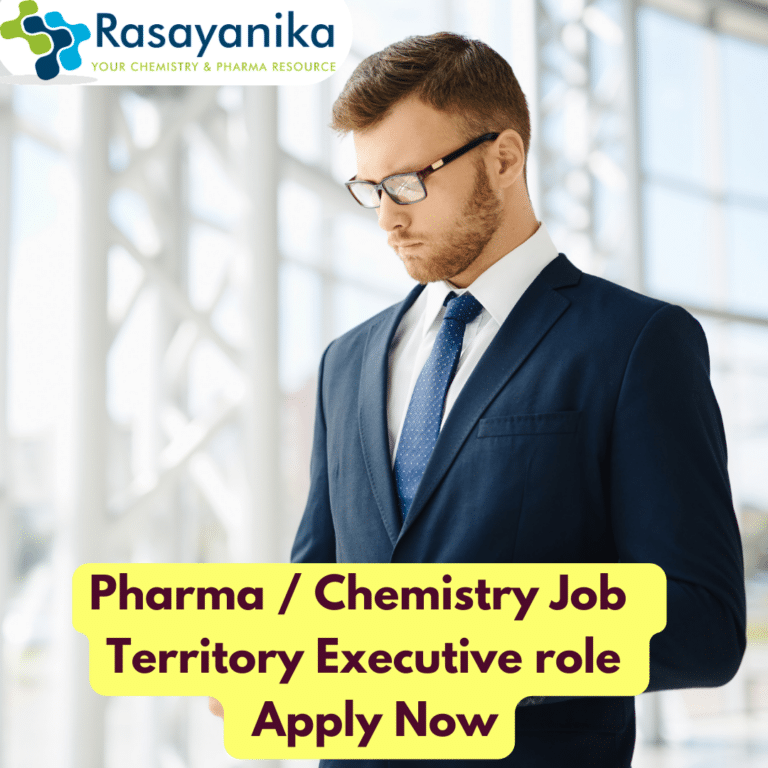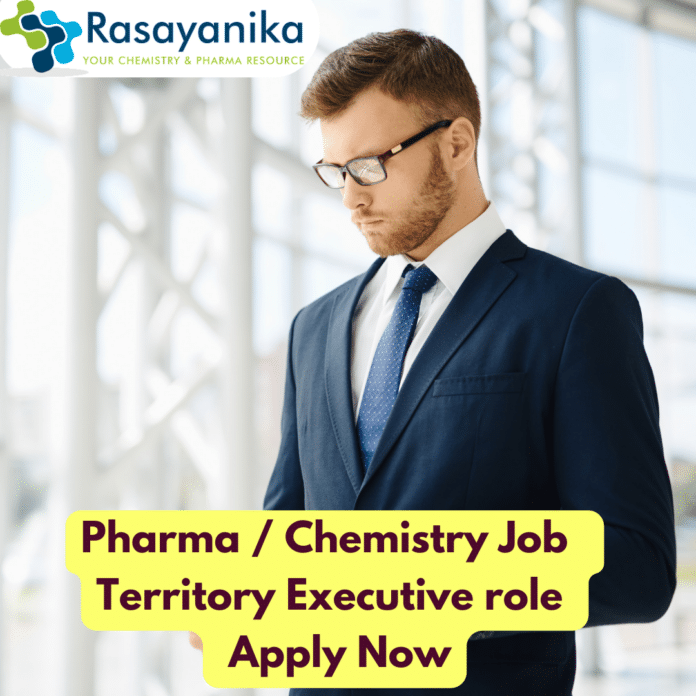 Pharma / Chemistry Job – Territory Executive role – Apply Now
Company : SREDSTVA REGIONALE CHEMIE PVT LTD
Role : Territory Executive (Technical Sales)
Eligibility : B. Pharma/ B.Sc. (Chemistry) + MBA (Optional)
Product : Pharma Excipients/API
Location : Mumbai
Roles & Responsibilities :
To be up to date on the product portfolio and their application for effective sales promotion and sell a variety of Pharma Excipients to be used in different industry segments. Meet Sales and collection targets as assigned.
Maintain appropriate customer database and profiling in the territory assigned on the CRM tool. Keep management informed by submitting activity and results reports, such as daily call reports, weekly work plans, and monthly and annual territory analysis.
Develop and grow the commercial relationships of assigned leading industrial customers while prospecting for new accounts to increase market penetration. Manage sales pipeline to drive new business opportunities to commercial success.
Monitor competition by gathering current marketplace information on pricing, products, new products, delivery schedules, merchandising techniques.
Service existing accounts, obtains orders, and establishes new accounts by planning and organizing daily work schedules to call on existing or potential sales outlets including the distribution channel. Effectively manage the Distribution network by implementing organizational guidelines.
Resolve customer complaints by investigating problems; developing solutions; preparing reports, and making recommendations to management.
Forecast sales to enable operations planning, introduce product innovations and maintain active memberships.
Maintains and update professional and technical knowledge by attending educational workshops; reviewing professional publications; establishing personal networks; benchmarking state-of-the-art practices.
Contributes to team effort by accomplishing related results as needed.
Observe SR Chemie values and ethical business practices.
Check out the Latest Pharma / Chemistry Jobs at Rasayanika
Here are some interview questions and sample answers for the Territory Executive (Technical Sales) role:
1. Can you tell us about your background and experience that makes you a suitable candidate for this position?
Sample Answer: "I have a Bachelor's degree in Chemistry, which provides me with a strong foundation in understanding chemical products. Additionally, I have an optional MBA, which has equipped me with valuable business and management skills. My previous role as a Sales Representative at XYZ Pharmaceuticals allowed me to gain experience in selling pharmaceutical products and maintaining customer relationships, which I believe aligns well with the responsibilities of this position."
2. How do you stay informed about the latest developments in pharmaceutical excipients and APIs?
Sample Answer: "I make it a point to regularly read industry publications and attend relevant workshops and conferences. I also follow reputable sources online and am a member of professional networks where I can discuss and exchange information with peers in the field. This helps me stay updated on the latest trends and innovations in pharmaceutical excipients and APIs."
3. Can you describe a successful sales campaign or project you've worked on in the past and the strategies you used to achieve the desired results?
Sample Answer: "In my previous role, I had the opportunity to work on a sales campaign targeting a specific segment of pharmaceutical manufacturers. To achieve success, I first conducted thorough market research to understand their needs and pain points. Then, I customized our product offerings to meet those needs and developed a targeted sales pitch. By leveraging my network and using a consultative sales approach, I was able to exceed our sales and collection targets for that campaign."
4. How do you manage your sales pipeline and prioritize leads to drive new business opportunities?
Sample Answer: "I prioritize leads based on various factors, including their potential value, the likelihood of closing the deal, and the alignment of their needs with our product offerings. I use CRM tools to track and manage the sales pipeline, ensuring that I follow up with leads at the right time and provide them with the information they need. By regularly reviewing and updating the pipeline, I can focus my efforts on the most promising opportunities and drive new business."
5. How do you handle customer complaints and resolve issues effectively?
Sample Answer: "When a customer raises a complaint, I first listen attentively to understand the issue fully. Then, I work collaboratively with the customer to find a solution that meets their needs and aligns with our company's policies. I believe in open communication and transparency throughout the resolution process. Once the issue is resolved, I ensure to follow up with the customer to ensure their satisfaction and maintain a positive relationship."
Explore the Latest Pharma / Chemistry Jobs at Rasayanika
All the best!