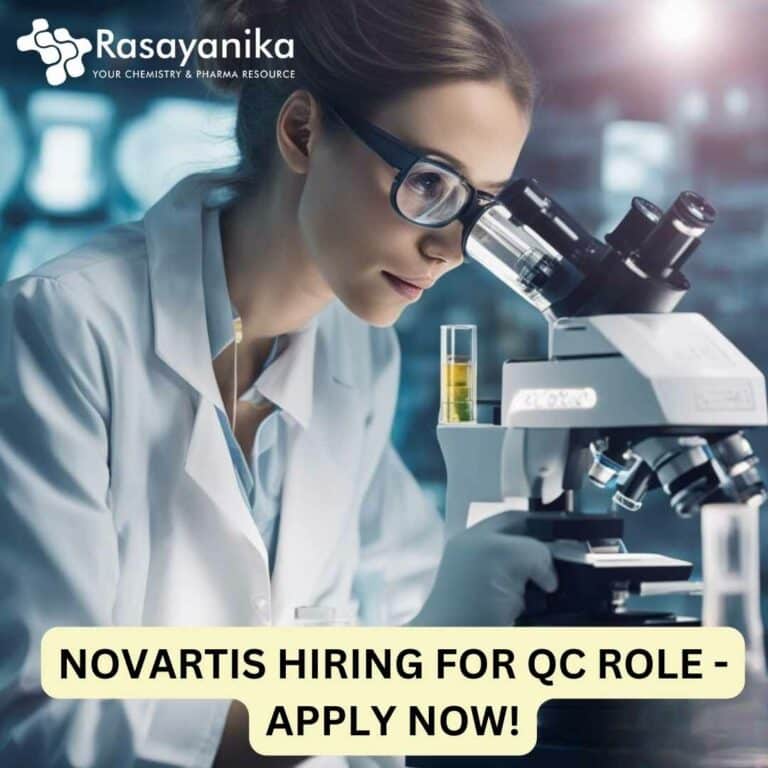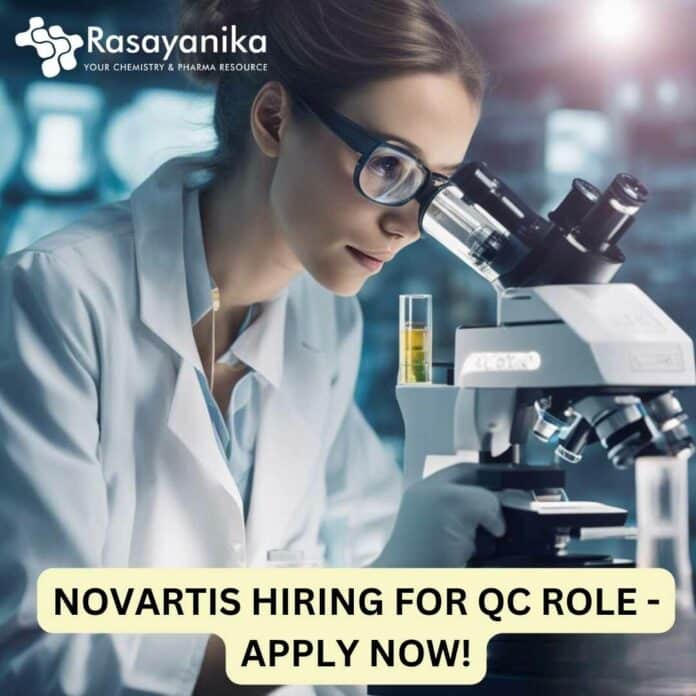 Novartis Hiring Healthcare Graduates
Job Title: Senior Associate QC Specialist

Company: Novartis
Location: India
Job Description: Responsible for providing source data verification and identifying content inaccuracies for preclinical and/or clinical documents, such as study reports, contained within New Drug Applications (NDA) and Marketing Authorization Applications (MAA) filed by Novartis Pharmaceuticals to governmental Health Authorities.

Roles & Responsibilities: Your responsibilities include, but are not limited to:
• Assess validity of clinical/scientific content in preclinical and clinical documents and identify deficiencies prior to finalization and promotion in the document management system.
• Provide independent source data verification of clinical or preclinical study reports and identify content inaccuracies, e.g.:
a. Verify accuracy (100% review) of all factual statements within summary document text compared to post-text sources cited.
b. Verify numeric accuracy (100% review) of all data cited throughout text and hand derived in-text tables compared to post-text sources cited.
c. Verify appropriateness of all internal/external citations noted within summary document.
• Develop and provide factual evidence to support all discrepant findings for review and approval by Submission Team or document authors.
• Provide cross-divisional support through quality review of divisional specific documents such as CSRs, CERs, Tabular Listings, etc.
• With oversight, provide
clinical/scientific review of clinical summary documents, such as CERs, SCE, SCS and CO.
Qualification & Skills:
• Minimum university higher degree in life sciences/healthcare or equivalent ≥ 3 years' experience in clinical research with proven proficiency in global clinical development.
• Ability to understand, interpret complex clinical/scientific and statistical data and effectively communicate inaccuracies in clinical summary documents to authors.
• Demonstrates strong medical/scientific communications (oral and written)
• Proven ability to work independently to deliver results within defined timelines (e.g. 4 working days).
• Previous experience in clinical development of CSRs and NDA/MAA deliverables preferred.
• Solid computer technical skills (Word/Excel/PDF development) and ability to learn new systems quickly.
Novartis Hiring Healthcare Graduates. Here are Some Possible Interview Questions and Answers:
1. Can you explain the importance of source data verification in the context of NDA and MAA submissions to Health Authorities?
Answer: Source data verification is critical because it ensures the accuracy and integrity of the data presented in NDA and MAA submissions. Health Authorities rely on these documents to evaluate the safety and efficacy of new drugs. As a Senior Associate QC Specialist, my role is to meticulously review and verify the source data to identify any inaccuracies or inconsistencies, helping to maintain the credibility of our submissions and ensuring that the drugs meet regulatory standards.
2.What method and tools do you use to perform source data verification effectively?
Answer: To perform source data verification effectively, I use a combination of manual review and specialized software tools designed for document analysis and data validation. Manual review involves carefully checking data against source documents to ensure accuracy, while software tools assist in identifying potential discrepancies or inconsistencies in large datasets efficiently.
3. How do you handle situations where you discover content inaccuracies in clinical documents?
Answer: When I discover content inaccuracies in clinical documents, my approach is to follow Novartis' established quality control procedures. I would document the specific inaccuracies, assess their impact on the overall submission, and collaborate with the relevant teams to address and rectify the issues promptly. Clear communication with stakeholders and adherence to regulatory guidelines is crucial in resolving such discrepancies.
4. Can you describe your experience in working with New Drug Applications (NDA) and Marketing Authorization Applications (MAA)?
Answer: In my previous role, I gained valuable experience working with NDA and MAA submissions. I have reviewed and validated various preclinical and clinical documents, including study reports, to ensure they align with regulatory requirements and Novartis' quality standards. This experience has allowed me to become proficient in understanding the specific nuances and expectations associated with these applications.
5. How do you stay updated with the latest regulatory changes and guidelines in the pharmaceutical industry?
Answer: Staying updated with regulatory changes is vital in the pharmaceutical industry. I regularly monitor updates from relevant Health Authorities, such as the FDA and EMA, and subscribe to industry publications and newsletters. Additionally, I participate in training programs and conferences to ensure that I am well-informed about evolving regulatory requirements that may impact our submissions.
Follow Rasayanika for more updates!