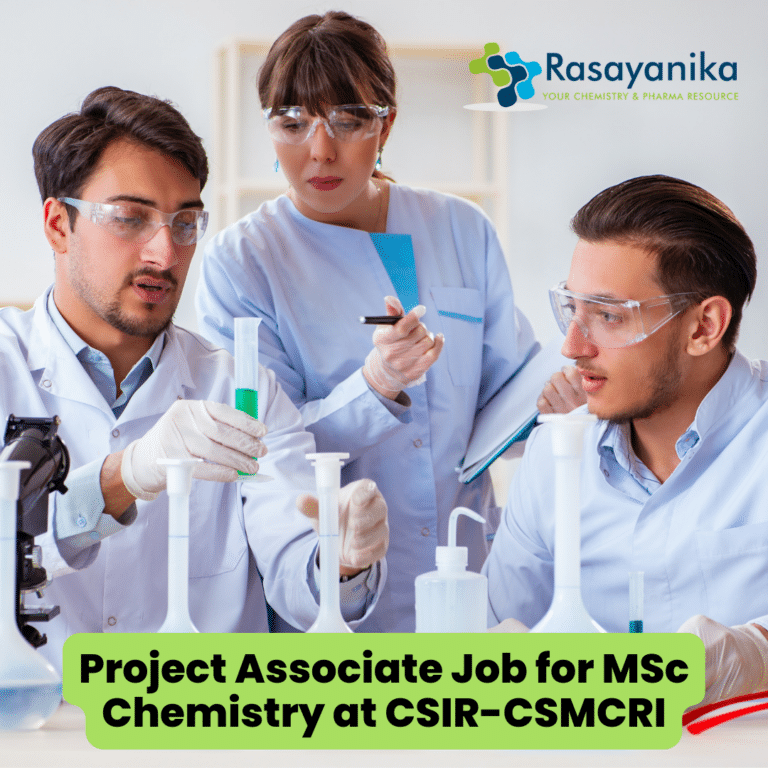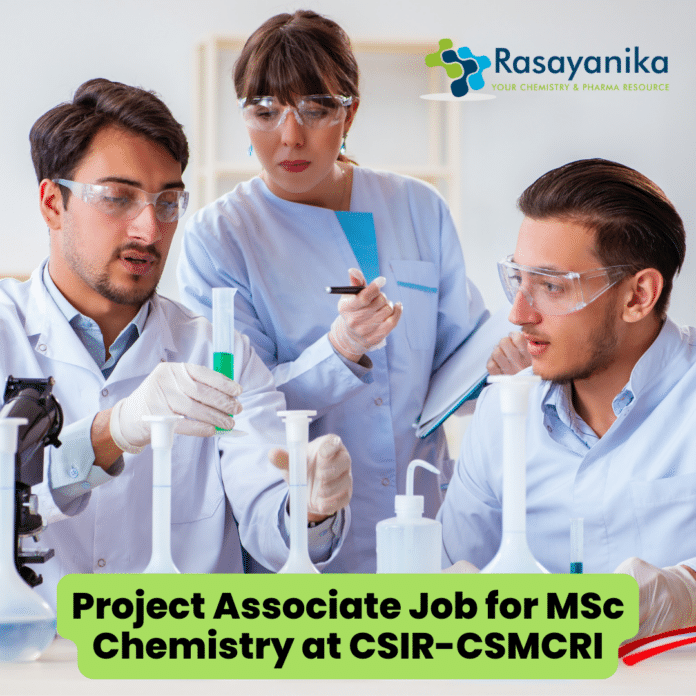 Project Associate Job for MSc Chemistry at CSIR-CSMCRI
Applications are invited for Project Associate -I (PA-I) Job for MSc Chemistry at CSIR- CSMCRI. Interested Candidates can check out the details below and Apply Online.
Name of the Post: Project Associate – I
No. of Post: 01 posts.
Project Entitled : Materials and Catalytic Process for Fine and Specialty Chemicals from Marine and Biomass Resource (MLP-0077)
Fellowship: Rs. 25,000/- p.m. (consolidated).
Age: As on the last date of receipt of the application, maximum 35 years. Age relaxation is applicable as per Institute rules.
Duration of the project : This position is purely temporary for a period of one year. Therefore, it would not confer any right/claim, implicit or explicit, for any candidate for extension or absorption in CSIR-CSMCRI.
Desirable: Candidates having research experience in the area of catalysis/inorganic/organic synthesis.
Essential Qualification(s): M.Sc. in Chemistry.
Job Description: Selected candidates will work on research project entitled "Materials and Catalytic Process for Fine and Specialty Chemicals from Marine and Biomass Resource". The candidate would be working on the extraction and conversion of polysaccharides derived from marine resources using catalytic route. This includes catalyst synthesis, characterization and process optimizations for the production of high value
chemicals from polysaccharides of marine origin, pertaining to some ongoing industrially relevant research endeavor.
How to Apply: Prescribed format for application is available with this advertisement. Interested candidates are requested to send the filled application form with relevant documents in support of their age, educational qualifications and experiences (if any) through email to [email protected]. The last date of receipt of e-mail is 15.10.2023. Applications received by e-mail will be scrutinized based on job requirement, candidate's academic and research background and any such shortlisted candidates as eligible as per the criteria will be asked to attend the interview in online mode (i.e. Skype or MS- TEAMS). The details of the interview will be sent to such candidates by e-mail only.
No TA/DA is admissible for attending the test/interview. Please refer their website https://www.csmcri.res.in/node/9238 for details.
Project Associate Job for MSc Chemistry at CSIR-CSMCRI. Here are five Possible interview questions along with their answers :
1. Question: Can you provide details about your educational background and how it aligns with the requirements of this Project Associate – I position?
Answer: I hold a Master of Science (M.Sc.) degree in Chemistry, which is directly relevant to the role of Project Associate – I in this research project. My educational background has equipped me with a strong foundation in chemistry, including theoretical and practical aspects, making me well-prepared to contribute to the research activities related to catalysis and chemical synthesis.
2. Question: The project involves working with marine resources and catalytic processes. Could you share any prior experience or coursework that demonstrates your familiarity with these areas?
Answer: While pursuing my M.Sc. in Chemistry, I had the opportunity to engage in coursework and laboratory work related to catalysis and organic synthesis. Additionally, I participated in a research project during my academic tenure, which involved the synthesis and characterization of novel catalysts. Although my previous experience did not specifically involve marine resources, my strong foundation in catalysis and synthesis principles can be applied effectively to the project's goals.
3. Question: The job description mentions that the selected candidate will work on the extraction and conversion of polysaccharides from marine resources. Can you discuss any experience or skills you have that would be relevant to this aspect of the project?
Answer: While I haven't worked directly with marine resources before, I have experience in handling various organic materials and conducting chemical conversions. I have a strong theoretical understanding of the principles of organic chemistry and catalysis, which will be valuable in designing and optimizing processes for the extraction and conversion of polysaccharides. I am eager to apply my knowledge and skills to this specific aspect of the project.
4. Question: Collaboration and communication are essential in research projects. Can you share an example from your previous experiences where you successfully collaborated with a team or communicated research findings effectively?
Answer: During my academic journey, I actively participated in group research projects and collaborated with fellow students and professors. One notable example is when I worked with a team to investigate the catalytic properties of a newly synthesized compound. We conducted experiments, analyzed data collectively, and presented our findings to the department. This experience enhanced my teamwork and communication skills, which I believe are crucial for a collaborative research environment like the one at CSIR-CSMCRI.
5. Question: This position is temporary and for a duration of one year. How do you plan to make the most of this opportunity, and how might it contribute to your long-term career goals?
Answer: While this position is temporary, I view it as an excellent opportunity to gain hands-on research experience and apply my knowledge in a practical setting. I am committed to actively contributing to the project's objectives, particularly in the area of catalysis and chemical synthesis. This experience will not only enhance my research skills but also provide valuable insights into the field of marine resources and sustainable chemistry. Ultimately, I aim to leverage this experience to pursue a long-term career in research and contribute to innovative solutions in the field of chemistry.
Subscribe Rasayanika for more Chemistry and Pharma job updates.