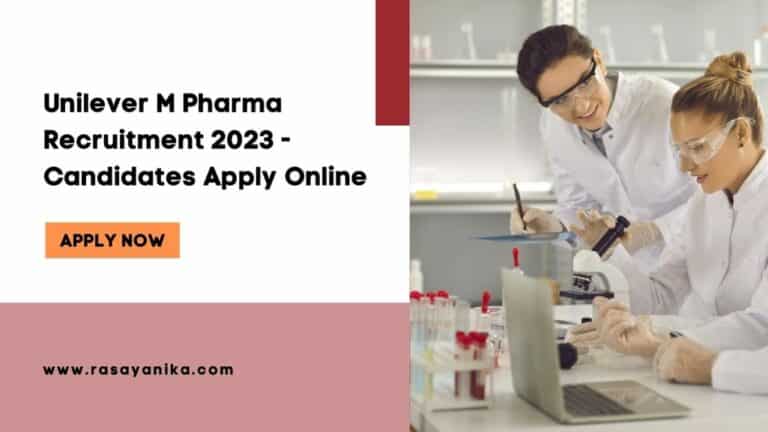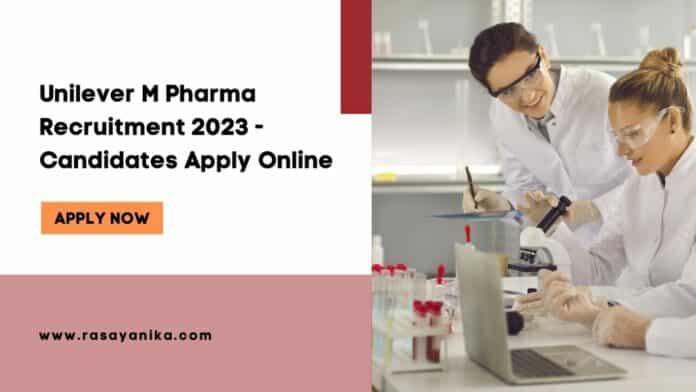 Unilever M Pharma Recruitment 2023 – Candidates Apply Online
Dont forget to check out possible interview questions for this job below
Unilever recruitment 2023, M Pharma and chemical engineering job opening 2023, Pharma job opening 2023, PhD Chemical engineering job opening 2023, Chemistry job opening 2023, PhD Chemistry job opening 2023. Check out all the details on our website Rasayanika.com
Job Title: Senior Product Development Manager – PNDS BG Design
Location: Mumbai HURC
Key Skills:
Cross Category (BPC) Technology development expertise. Skin Care experience is preferred.
M pharm, PhD. Chemistry/Chemical Engineering background with strong Processing and formulation understanding and expertise.
Strong Claims creation and defence strategy skills
Communication, mentoring and training skills.
Open Innovation and Partnerships
Excellent influencing ability, both internal as well as external
Ability to actively drive R&D agenda within a complex Unilever context.
Strong networking, organization, planning skills and information management.
Required Skill Sets:
Key Experience
Experience in leading multi-country/cluster projects in any category (preferred within
BPC and preferred in Skin Care) and landing with impact especially on large projects is a MUST.
Strong experience in BPC formulations, with proven in-market delivery of new technologies and innovations along with claims creation and defense is highly desirable.
Solid understanding of skin care benefits, claims, and strategy
Cross Category or Cross functional experiences and exposure to various functions is desirable.Clear evidence of leading and driving R&D's contribution to category growth agenda
Evidence for managing and developing of both WL1 and WL 2 talent and strong stakeholder management skills.
Multiple stakeholder management and strong networking skills
Deliverables of work:
Drive PNDS BG innovation projects Technical Project Leader and work seamlessly with BU teams, supply chain & marketing organizations, to deliver the project with high qualities. Drive the holistic superiority targets for PNDS and land the consumer preferred winning mixes. Help to land the BG targets on 5S and people/planet positive for PNDS in South Asia Collaborate with Science & Technology to ensure delivery of brand technology roadmap. Manage interdependencies, risks and trade-offs across functions / stakeholders. Work seamlessly with BU teams to improve the efficiencies & speed of responses. Coach / mentor key R&D team members (both BG & BU) and work closely with other senior R&D WL2s to build and retain key talent. Ensure compliance to Internal Unilever protocols, External regulatory environment while developing product solutions with respect to commitment to safety, environment, claim support, specification management etc. Lead work on understanding competitor formulation strategy, with a focus on South Asia and develop insights for us to derive competitive advantages.
Background and Scope
Pond's is one of the biggest Unilever skin care brands globally, and being one of few face care brands, contributing significantly within Skin Care Category globally. Pond's has its footprint in South Asia, Africa, SEA, North Asia and LATAM. And the ambition is to build Pond's the leading brand for category preimmunization, with strong technical & product pipeline to support.
Purpose & Context:
This position is for Senior Product Development Manager(2c) for PNDS BG Design team
 incumbent will partner the BG brand team as well as the BU brand team to deliver the ambitious & challenging agenda of growth for PNDS in South Asia, from end to end.
The primary task will be to deliver the innovation pipeline for PNDS in South Asia, addressing the unique consumer needs and business ambitions, to help to transform the brand as a future fit engine for the category.
The incumbent will also help to shape the long-term brand technology strategy, claims & technology roadmap for PNDS, partnering with cross function BG teams based in other sites, including S&T, SEAC, Regulatory and legal teams.
This role will also take the leadership to consolidate BG R&D cross function teams based in Mumbai, building the right level of capabilities, for speed & excellence.
Important Interview Questions and Answers for the above job role:
What prior experience do you have in leading multi-country/cluster projects within the BPC category, particularly in skin care, and what was the impact you had on these projects?
Answer: In my previous role, I led a team to develop and launch a new skin care line in multiple countries. We conducted extensive research on consumer needs and preferences in each market and developed unique formulations and claims to meet those needs. The project was a success, resulting in a significant increase in sales and market share for the brand in each market.
2. Can you share an example of a situation where you had to manage interdependencies, risks, and trade-offs across different functions/stakeholders to deliver a project successfully?
Answer: In a previous project, we faced challenges in sourcing a key ingredient needed for the formulation of our product. I worked with our supply chain team to identify alternative sources and conducted tests to ensure that the quality and effectiveness of the product were not compromised. I also worked with our marketing team to adjust our launch plans to accommodate the delay caused by the sourcing issue. By managing these interdependencies and trade-offs, we were able to launch the product successfully and meet our sales targets.
3. How have you managed and developed talent in your previous roles, particularly in terms of coaching and mentoring key R&D team members?
Answer: In my previous role, I made it a priority to provide regular feedback and coaching to my team members, both formally and informally. I also created opportunities for them to take on new responsibilities and lead their own projects to develop their skills and capabilities. Additionally, I provided training and development opportunities for my team members to help them grow and advance in their careers.
4. Can you provide an example of a time when you had to work with cross-functional teams to improve efficiencies and speed of responses, and what was the outcome?
Answer: In a previous project, we identified an opportunity to improve the efficiency of our formulation process by collaborating with our supply chain team to optimize our raw material sourcing and procurement processes. We also worked with our marketing team to streamline our product development timelines. As a result of these efforts, we were able to reduce our time to market by 20%, which allowed us to be more responsive to consumer needs and gain a competitive advantage.
5. How have you contributed to driving R&D's contribution to category growth agenda in your previous roles, and what were the results?
Answer: In my previous role, I led a team to develop a new technology platform that addressed a key consumer need in the skin care category. We conducted extensive research and developed unique formulations that delivered superior benefits and claims compared to our competitors. This technology platform became the basis for several successful product launches, which resulted in a significant increase in market share and category growth for our brand.
Editors Note: Unilever M Pharma Recruitment Subscribe to Rasayanika for the latest chemistry and Pharma job openings, follow us on Facebook and Telegram and subscribe to our youtube channel for the latest updates on chemistry and Pharma jobs and much more.