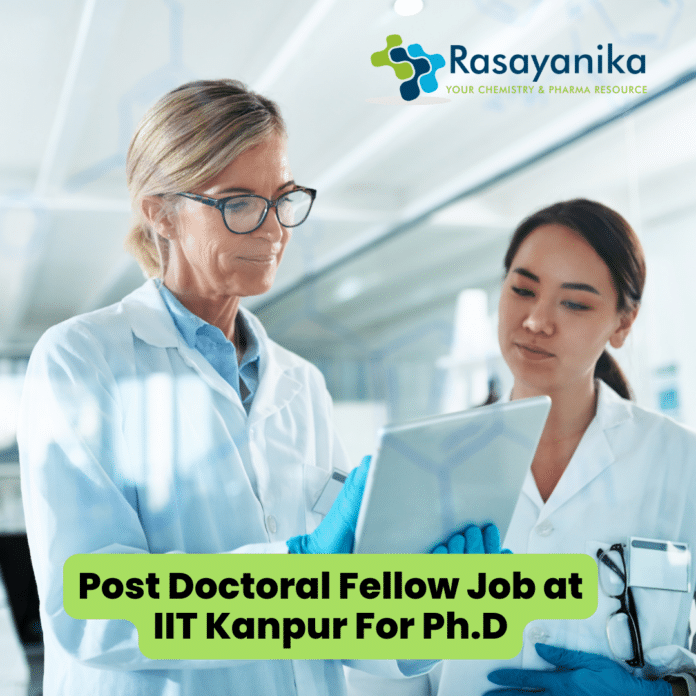 Post Doctoral Fellow Job at IIT Kanpur
Post Doctoral Fellow Job at IIT Kanpur For Ph.D. in Physical Chemistry/Chemical Engineering. Interested Candidates can check out the details below and Apply Online
INDIAN INSTITUTE OF TECHNOLOGY KANPUR
Department of Chemical Engineering
Advertisement Number: P.Rect./R&D/2023/202
IIT KANPUR invites application for the post of Project post-Doc fellow in the project
Name of the post: Post Doctoral Fellow(PDF)
Nature of Work
We are looking for an enthusiastic and qualified candidate with a deep interest in clean energy and a strong background in interdisciplinary research, for the role of project postdoctoral fellow. The primary objective of this position is to utilize and advance machine learning techniques in the field of catalysis, with the aim of identifying novel materials for electrochemical CO2 capture and reduction. Exceptional communication abilities are essential, along with the capacity to collaborate efficiently with the industry. While theoretical in nature, but this position will involve the application of both theory and experiment and the ideal candidate will bring experience in both areas. The ideal postdoc will have the opportunity to guide the Ph.D. student and assist the PI in other research activities.
Desirable qualification
A strong command of programming, particularly in Python
and Fortran, is essential. Additionally, expertise in high-performance computing would be advantageous.
Familiarity with experience/expertise in computational catalysis, adsorption mechanism and structure-property analysis.
Essential Qualification: Ph.D. in Physics/Physical Chemistry/Chemical Engineering/Materials Science. The candidate should have a significant experience on density functional theory codes (e.g. VASP, Quantum Espresso) as well as most common machine learning tools and techniques (e.g. Scikit-learn, TensorFlow) Ability to work independently and in a team environment, good communication skills, and strong interest in computational catalysis are essential.
Duration of Appointment
The appointment for the above posts initially will be for 1 year, which will be extended with mutual consent if performance of the candidate is good,
The post is purely temporary and on a contractual basis.
Salary Range: 60,000-5000-85,000
The department reserves the right to fix suitable criteria for short listing of eligible candidates satisfying qualifications and experience. Only short-listed candidates will be called for interview.
No TA/DA will be paid for attending the interview
Last date for receipt of application: Sep 30, 2023. Interested candidates should send their application along with the resume to:
Dr. Jayant K. Singh
Department of Chemical Engineering
IIT Kanpur
E-mail: [email protected]
Ph. 0512 259 7017
Post Doctoral Fellow Job at IIT Kanpur. Here are five interview questions along with their answers : 
1. Question: Can you elaborate on your experience with density functional theory (DFT) codes such as VASP or Quantum Espresso and how you have utilized them in your previous research?
Answer: I have a significant background in using density functional theory (DFT) codes like VASP and Quantum Espresso in my research. During my Ph.D. and subsequent work, I employed these codes to simulate and analyze the electronic structure and properties of materials. This included calculating energy profiles, understanding adsorption mechanisms, and predicting material behaviors at the atomic level. These simulations were instrumental in guiding experimental efforts and providing valuable insights into the materials I studied.
2. Question: Could you provide examples of specific machine learning tools and techniques you have used in your research, particularly in the context of catalysis and materials science?
Answer: Certainly. I have a strong proficiency in utilizing machine learning tools and techniques, particularly in Python and Fortran. In the context of catalysis and materials science, I have applied machine learning for tasks such as predicting catalytic activity, identifying potential catalyst candidates, and optimizing material properties. I have used libraries like Scikit-learn and TensorFlow to develop predictive models based on data from both theoretical calculations and experimental datasets.
3. Question: How do you plan to integrate both theoretical and experimental approaches in your role as a project postdoctoral fellow, especially in the context of electrochemical CO2 capture and reduction?
Answer: Integrating theoretical and experimental approaches is crucial in achieving the goals of this project. My plan is to collaborate closely with the experimental team to design experiments that complement the theoretical work. For instance, I can provide guidance on selecting materials for synthesis based on theoretical predictions. Furthermore, I will use machine learning techniques to analyze experimental data, enhancing our understanding of the catalytic processes involved in electrochemical CO2 capture and reduction.
4. Question: Can you share an example of a complex interdisciplinary research project you have worked on, highlighting how your skills and expertise contributed to its success?
Answer: Certainly. In a previous project, I collaborated with researchers from diverse backgrounds to design and optimize catalysts for a clean energy application. My expertise in both DFT simulations and machine learning played a pivotal role. I used DFT calculations to predict the catalytic activity of various materials, narrowing down the list of candidates. Subsequently, I employed machine learning to develop a model that accurately predicted the catalytic performance of these materials, enabling us to select the most promising catalyst for further experimentation. This integrated approach significantly expedited the catalyst development process.
5. Question: How do you plan to mentor and guide the Ph.D. student and assist the Principal Investigator (PI) in other research activities as part of your role?
Answer: As a project postdoctoral fellow, mentoring the Ph.D. student and supporting the PI is a responsibility I take seriously. I intend to work closely with the Ph.D. student, providing guidance on their research, helping them develop their experimental and computational skills, and fostering a collaborative research environment. Additionally, I will assist the PI by actively participating in research discussions, contributing to project planning, and taking the lead on specific research tasks. My goal is to contribute to the overall success of the project and the development of the research team as a whole.
Subscribe Rasayanika for more Chemistry and Pharma job updates.