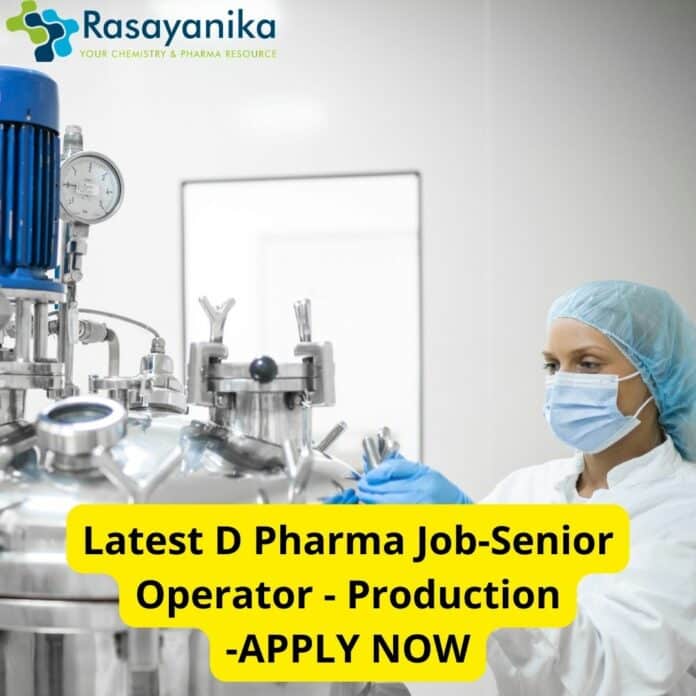 Latest D Pharm Job -Apply Now 
Latest D Pharm Job- Senior Operator – Production At Cipla -Apply Now
Job role: Senior Operator – Production
Job ID: 75927
Job location: Goa
Division: Manufacturing
Department: Manufacturing
Employment Type: Permanent
Job Purpose
Execute the production operations in line with safety and GMP requirements to meet the manufacturing targets in shift
Accountabilities
Operate the equipment efficiently without error and deviation as per SOP to meet shift targets
Provide suggestions for optimization of processes to manufacture quality product
Execute and update online documentation to meet cGMP requirements
Deliver training to workmen and adhere cGMP and safety guidelines in production process to ensure smooth operations
Education Qualification: Diploma in Pharmacy / Mechanical Engineering
Relevant Work Experience:
5 years of experience in a manufacturing organisation preferably in pharmaceutical industry
Competencies/Skills:
Communication Skills (clarity of thought, comprehension)
Likely potential for growth
Job / Product / Technical Knowledge / Pharma domain knowledge
Presentation & Interpersonal skills (If applicable)
Managerial or People Management skills
Safety awareness (If applicable)
Relevance of Previous Experience
Comprehension, Analytical & Problem solving abilities
Productivity & Result Orientation (If applicable)
Attitude
Qualification fitment
Sales drive (If applicable)
Personality traits (Individualistic / Team player, Out spoken, Maturity level etc.)
Shift Hours
Here are four interview questions along with sample answers for the Senior Operator – Production role:
1. Can you describe your experience in operating production equipment in a manufacturing environment, and how do you ensure strict adherence to safety and GMP (Good Manufacturing Practices) requirements?
Answer: In my previous role as a Senior Operator in a pharmaceutical manufacturing organization, I operated various production equipment. To ensure safety and GMP compliance, I meticulously followed Standard Operating Procedures (SOPs) while operating equipment, conducted regular equipment checks, and promptly addressed any deviations. I also actively participated in safety training and continuously reinforced safety protocols among my team. Safety and GMP compliance are non-negotiable in pharmaceutical manufacturing to guarantee product quality and patient safety.
2. How have you contributed to process optimization and product quality improvement in your previous manufacturing roles?
Answer: I have actively contributed to process optimization by closely monitoring production processes and identifying areas for improvement. For instance, I initiated process adjustments that reduced production cycle times and minimized waste. Additionally, I provided valuable input for process enhancements that resulted in higher product quality and reduced variations. My goal has always been to optimize operations while maintaining product integrity and compliance with quality standards.
3. Can you share an example of a situation where you had to deliver training to fellow workers in a production setting while ensuring adherence to cGMP and safety guidelines?
Answer: Certainly. In my previous role, I was responsible for training new team members in production processes. During one such training session, I emphasized the critical importance of adhering to cGMP and safety guidelines. I conducted hands-on demonstrations, provided detailed explanations of safety protocols, and encouraged open communication. By the end of the training, the new team members were well-versed in safety procedures and understood the significance of compliance in ensuring a smooth production process.
4. How do you approach problem-solving and maintaining a result-oriented mindset in a manufacturing environment, especially when facing challenges in meeting production targets?
Answer: When facing challenges in meeting production targets, my approach is to first identify the root causes of the issue through a systematic analysis. I collaborate with team members to brainstorm solutions and prioritize actions that will have the most significant impact on achieving our targets. I maintain a result-oriented mindset by setting clear goals, regularly tracking progress, and adjusting strategies as needed. This approach has helped me consistently meet and exceed production targets in my previous roles.
Latest D Pharm Job
Follow RASAYANIKA for more chemistry and pharmacy job updates.