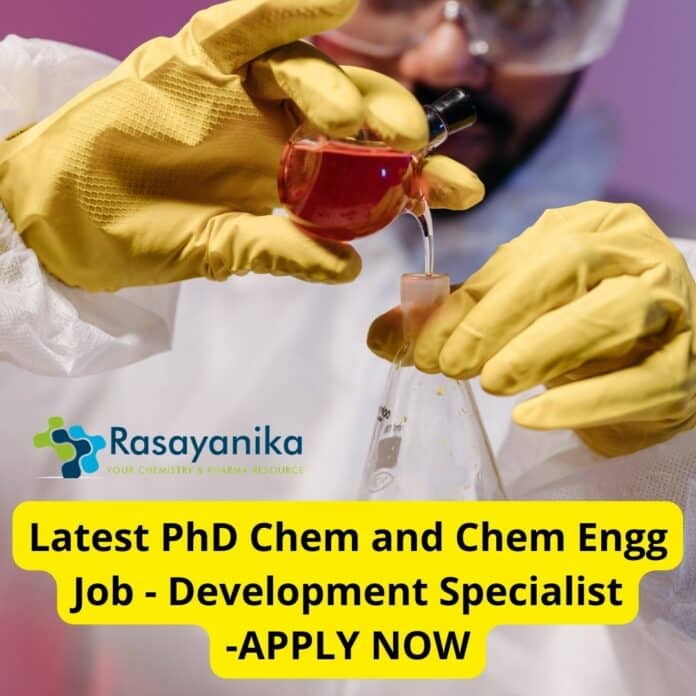 Latest PhD Chem Job At Buckman
PhD Chem Job opening- Developmental Specialist-Apply Now
Job role: Developmental Specialist – Global Water Treatment R&D
Job Location: Chennai, India
Required Language : English
Employment Type : Full Time
Seniority Level : Associate
Travel : 10 %
Buckman is a privately held, global specialty chemical company with headquarters in Memphis, TN, USA, committed to safeguarding the environment, maintaining safety in the workplace, and promoting sustainable development. Buckman delivers exceptional service and innovative solutions to our customers globally in the pulp and paper, leather, and water treatment sectors to help boost productivity, reduce risk, improve product quality, and provide a measurable return on investment. Buckman is in the middle of a digital transformation of its businesses and focused on building the capabilities and tools in support of this.
Position Summary
The Developmental Specialist will be responsible for delivering innovative products and technologies for industrial water treatment applications. The successful candidate will support and contribute to leadership of research projects in a fast-paced international environment that will cross multiple industries. You will play a hands-on and consultative role in the chemical product/technology development, working closely with other researchers and team members from regulatory, digital, marketing, and
sales organizations to develop solutions that benefit our customers globally.
Competencies Needed for Success
A track record of creative contributions in one of several aspects of the industrial water treatment industry, including cooling water, boilers, membranes, wastewater treatment, corrosion and deposit control, functional formulation development, sensors, IoT, and others.
Demonstrated ability to develop testing methods for simulations of customer unit operations, such as membrane systems, pilot cooling towers, flow loops, on-line chemical treatment systems, etc.
Competency with the use of a wide range of modern instrumentation.
Planning and executing product/technology development from lab scale to commercialization, including field trials at customer sites.
Strong organizational skills, self-management, and ability to work well in global cross-functional teams.
Excellent MS Office skills, ability to conduct data analysis and draw data-driven conclusions.
Excellent verbal and written communication skills, strong documentation, and report
writing skills.
Minimum Requirements to Apply
Ph.D. in Chemistry, Chemical Engineering, Material Science, Applied Surfactant Science, Physical Chemistry, Analytical Chemistry, or Physics, or M. S. degree with 4+ years of experience in relevant industry, or Bachelor's with 7+ years of experience in relevant industry.
US or European based PhD preferred with the folks with "exceptional background and highly relevant industrial experience" being exceptions.
Ability to provide hands-on support of field trials at industrial locations.
#LI-SS1
Here are four interview questions along with sample answers for the Developmental Specialist – Global Water Treatment R&D position at Buckman:
1.Can you describe your experience in developing innovative products or technologies for industrial water treatment applications?
Answer: Of course. In my previous role, I actively contributed to the development of innovative solutions for industrial water treatment. For instance, I led a project where we developed a novel corrosion control formulation that significantly improved the longevity of pipelines in a major industrial facility. I also worked on membrane system optimization, which resulted in a 20% increase in water recovery rates. These experiences showcase my ability to innovate and contribute to the water treatment industry.
2. How do you approach the planning and execution of product/technology development, from lab scale to commercialization, including field trials at customer sites?
Answer: I approach product/technology development systematically. It begins with thorough lab-scale testing to ensure feasibility and optimize performance. Once we achieve promising results, I plan field trials at customer sites to validate real-world effectiveness. Throughout this process, I maintain close collaboration with cross-functional teams, including regulatory, digital, marketing, and sales, to ensure seamless commercialization. My goal is to bridge the gap between innovation and practical application.
3.Can you provide an example of a situation where you had to collaborate with global cross-functional teams to achieve a common goal in your previous role?
Answer: Certainly. In my previous position, we embarked on a project to develop a cutting-edge IoT-based monitoring system for water treatment processes. This required collaboration with teams across multiple geographic locations, including researchers, engineers, and digital experts. We conducted regular video conferences, shared data and insights, and collectively addressed challenges. This collaboration resulted in a successful product launch, demonstrating my ability to work effectively in global cross-functional teams.
4. How do you stay updated with the latest developments and trends in the industrial water treatment industry, and how do you apply this knowledge to your work?
Answer: Staying updated is crucial in the dynamic field of industrial water treatment. I regularly participate in industry conferences, subscribe to relevant publications, and network with professionals in the field. I also encourage continuous learning within my team, organizing knowledge-sharing sessions. Applying this knowledge to my work involves identifying emerging trends and technologies that can enhance our product offerings and improve customer solutions, ultimately driving innovation and growth.
PhD Chem Job
Stay tuned on RASAYANIKA for more chem and pharma related job updates.