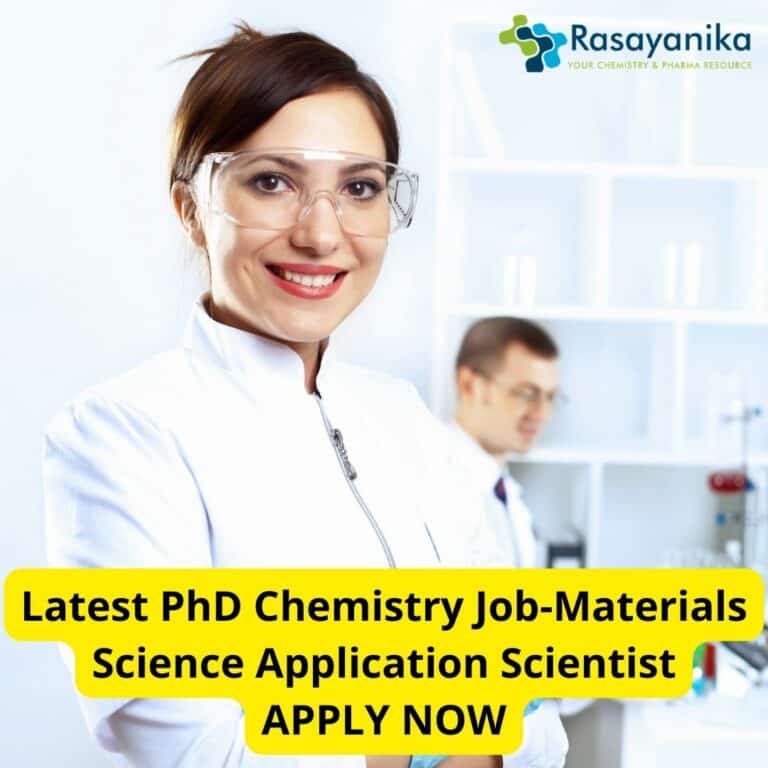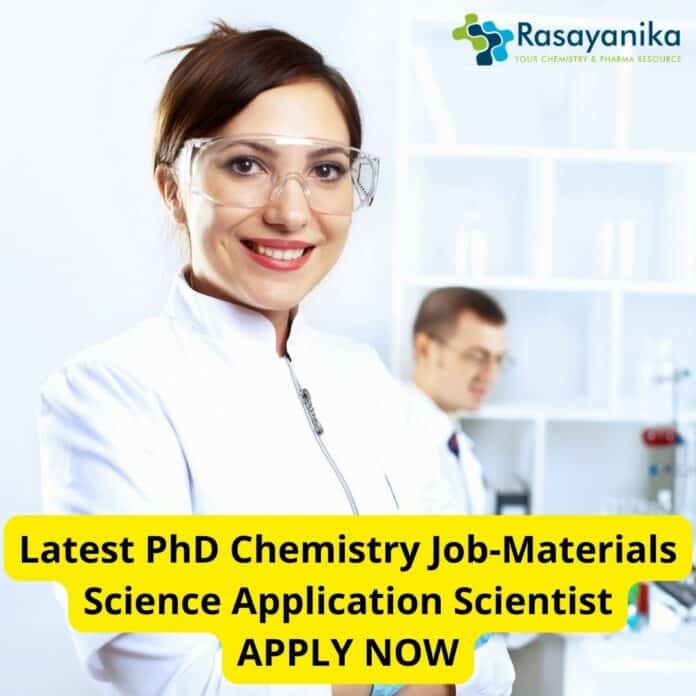 Latest PhD Chem Job
Schrödinger Hiring-Latest PhD Chem Job-Materials Science Application Scientist – Latest Chemistry Job Opening-Interested candidates can check the details below and apply online.
Job role: Materials Science Application Scientist
Job location: Bangalore
We're seeking a Materials Science Applications Scientist to join us in our mission to improve human health and quality of life through the development, distribution, and application of advanced computational methods.
Schrödinger is a science and technology leader with over 30 years of experience providing solutions for atomic-scale modeling and physics-based chemical simulations.
As part of our Materials Science Applications Science team, you'll work closely with our industrial and academic and help solve challenging scientific problems.
Who will love this job:
A computer-aided materials science enthusiast (both in theory and application) who has solid experience in design and analysis of materials or complex chemicals based on atomistic simulations
An excellent communicator and presenter with superb organizational skills
A dedicated scientist interested in advancing materials science research
A creative collaborator who enjoys helping others solve problems
A self-motivated team player who can also conduct independent research
What you'll do:
Provide scientific support to current and prospective customers, which includes scientific presentations, demonstrating our materials science modeling platform, training, and working with customers to enable them to solve challenging scientific and engineering problems
Act as a critical link between our customers and Schrödinger software developers, sales, and marketing by providing feedback on technology requirements, feature enhancements, and use-case scenarios
Publish scientific papers and present at conferences
Educational qualification:
PhD in Chemistry, Materials Science, Engineering, Physics, or a related field
A broad knowledge of molecular modeling theory and applications; extensive experience with the application of at least one of the following groups of simulation methods for materials or complex chemicals:
Quantum mechanics
Classical molecular dynamics
Coarse-grained simulations
Enthusiasm for traveling to meetings at customer sites
Excellent English language skills (both verbal and written)
Preferred skills and background:
Experience with applying machine/deep learning, chemical informatics, and data analysis in materials science research
Post-doctoral research and/or relevant experience in the commercial sector
Python programming experience
As an equal opportunity employer, Schrödinger hires outstanding individuals into every position in the company. People who work with us have a high degree of engagement, a commitment to working effectively in teams, and a passion for the company's mission. We place the highest value on creating a safe environment where our employees can grow and contribute, and refuse to discriminate on the basis of race, color, religious belief, sex, age, disability, national origin, alienage or citizenship status, marital status, partnership status, caregiver status, sexual and reproductive health decisions, gender identity or expression, or sexual orientation. To us, "diversity" isn't just a buzzword, but an important element of our core principles and key business practices. We believe that diverse companies innovate better and think more creatively than homogenous ones because they take into account a wide range of viewpoints. For us, greater diversity doesn't mean better headlines or public images – it means increased adaptability and profitability.
Here are interview questions with answers for the Latest PhD Chem Job-Materials Science Application Scientist role at Schrödinger:
1:Can you provide an example of a challenging scientific problem you've encountered in your previous work, and how did you approach solving it?
Answer: In my previous role as a Materials Science Researcher at [Previous Company], I encountered a complex problem related to designing a new catalyst for a chemical reaction. The initial catalysts were not efficient enough, and we needed to optimize the material's structure for better performance. To tackle this, I conducted extensive quantum mechanics simulations to understand the atomic-level interactions involved. I then systematically modified the catalyst's structure, performing multiple simulations to predict the outcomes. After several iterations, we identified a promising catalyst with significantly improved performance, which we confirmed experimentally. This experience taught me the value of computational modeling in materials science problem-solving.
2:How would you handle a situation where a customer is struggling to use our materials science modeling platform effectively, and they need your assistance?
Answer: When faced with such a situation, my approach would involve effective communication and support. I would start by actively listening to the customer's specific challenges and goals. Then, I would provide tailored training sessions to address their immediate needs, making sure to explain the platform's features and functionalities clearly. Additionally, I would work closely with our software developers to understand any technical issues the customer is facing and provide timely feedback. My goal would be to ensure that the customer gains the necessary expertise and confidence to utilize our platform effectively, ultimately enabling them to solve their scientific and engineering problems.
3:How do you stay updated with the latest advancements in materials science, and how would you apply this knowledge in your role?
Answer: Staying updated in materials science is crucial to delivering value in this role. I maintain my knowledge through continuous learning and engagement with the scientific community. I regularly read research papers, attend conferences, and participate in webinars related to materials science and computational methods. This ensures that I am aware of the latest developments, methodologies, and emerging trends. To apply this knowledge at Schrödinger, I would actively incorporate new insights into our materials science modeling platform, helping our customers leverage cutting-edge techniques and stay at the forefront of scientific advancements.
4:Can you provide an example of a time when you had to collaborate with a cross-functional team to solve a materials science challenge, and what was the outcome?
Answer: At my previous position at [Previous Company], I worked on a project where we needed to develop a new polymer material for a specific industrial application. It required expertise in materials science, polymer chemistry, and engineering. I collaborated closely with colleagues from different departments, including chemists and engineers. We started by defining the material's properties and specifications, and then I used computational simulations to guide the design process. Through effective teamwork and communication, we successfully synthesized the polymer and validated its performance through experiments. The outcome was a novel material that exceeded our expectations in terms of strength and durability, showcasing the power of interdisciplinary collaboration in materials science innovation.
Latest PhD Chem Job
Stay tuned on Rasayanika for more chemistry and pharmacy related job updates.