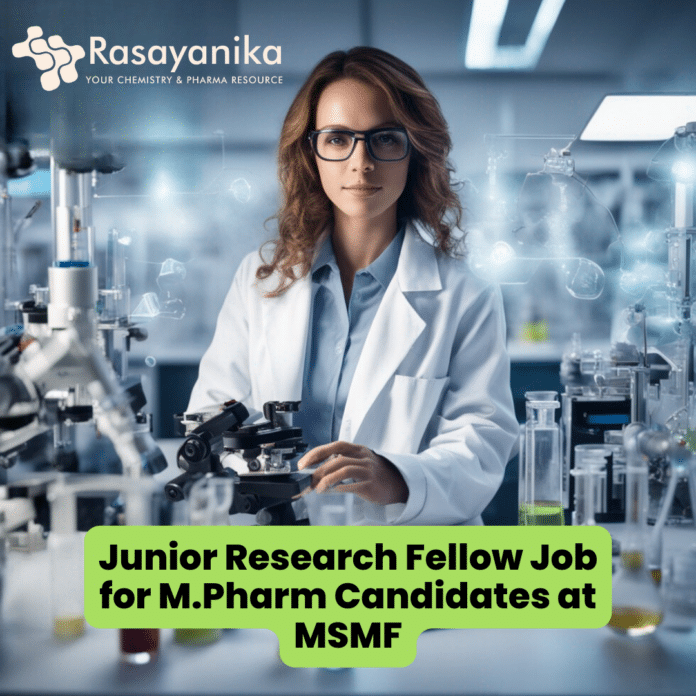 MSMF Hiring M Pharm Candidates for JRF Position
Mazumdar Shaw Medical Foundation (MSMF) Hiring M Pharm Candidates for JRF Position. Interested Candidates check out the details below and Apply Online
Applications are invited from the research-focused candidates for one post of JRF in the following project. The role of the JRF provides the opportunity for eclectic engagements and inspiring interactions with neuroscientists, clinicians, engineers, data scientists, artists, poets, social workers and entrepreneurs. They look forward to applications from bright, growth-loving minds in associated fields and with relevant skillsets.
Job Post : JUNIOR RESEARCH FELLOW (JRF)
Job Location : Neuroscience Research Lab, Mazumdar Shaw Medical Foundation (MSMF)
Bangalore-560099, India
Funding Partner : SKAN Research Trust
Working Team : Neuroscience Research Group
Job Title : Junior Research Fellow (JRF)
Job Type : Contractual
Emoluments : As per Government of India guidelines
Duration : The initial appointment will be for the duration of six months, extendable based on the performance in the first six months.
Eligibility :
Desirable:
1. Motivation to work in neuroscience and/or regenerative medicine
2. Available to work in MSMF onsite regularly
Experience needed : Candidates with experience in
cell culture will be preferred.
Essential Qualification: MSc/MPhil/MTech/MD/MPharm or equivalent in any branch of Life sciences. Age no bar. Candidates yet to receive their final certificate can apply too.
Mode of Application :
Drop an email Dr. Debprasad Dutta at [email protected] with the following documents with subject-line "JRF Application at MSMF":
1. CV (docx or pdf or ppt presentation)
2. Statement of Research Interests (docx or pdf or ppt presentation)
Selected candidates will be informed through emails about subsequent steps to be followed.
Selection Procedure : Through online or offline (for Bangalore-based candidates) interviews of shortlisted candidates.
Responsibilities :
List of roles of the candidate includes:
 Participation in carrying on assigned experiment and analysis work as per the defined project plan.
 Assisting seniors in developing research protocols for experiments and standardization of assays.
 Participate in team meetings and take action to attain project goals.
 Research-related documentation, record-keeping and presentation.
How to Apply:
Interested candidates are requested to submit their updated resume/CV to [email protected]
Webpage: https://www.msctr.org/integrated-research-on-neuroscience/
MSMF Hiring M Pharm Candidates for JRF Position. Here are five interview questions and sample answers :
1. Question: Can you tell us about your motivation to work in neuroscience and/or regenerative medicine, and how your educational background aligns with these fields?
Answer: I've always been deeply fascinated by the intricacies of the human brain and the potential for regenerative medicine to address neurological disorders. My educational background includes an MSc in Life Sciences, which has provided me with a strong foundation in biology and research methodologies. Additionally, I have pursued coursework related to neuroscience during my academic journey, which has fueled my passion for this field. I am enthusiastic about contributing my skills and knowledge to furthering research in neuroscience and regenerative medicine.
2. Question: The job description mentions that candidates with experience in cell culture will be preferred. Could you describe your experience with cell culture and any specific projects or techniques you have worked on in this area?
Answer: Certainly. During my academic and research experiences, I have gained hands-on experience in cell culture techniques. For instance, I have cultured various cell lines, maintained cell health, and conducted experiments involving cell-based assays. One notable project involved establishing primary neuronal cell cultures for a study on neuroprotection. I am proficient in maintaining sterile conditions, subculturing cells, and performing various assays within a cell culture setting.
3. Question: The position emphasizes the opportunity for interdisciplinary collaborations. Can you provide an example of a past project where you worked with individuals from different backgrounds, and how did you contribute to the success of that project?
Answer: I believe that interdisciplinary collaboration is crucial in research. In a previous project, I collaborated with researchers from diverse fields, including biophysicists and computer scientists, on a study involving neural network modeling. My role was to provide biological insights and data from cell culture experiments, which were essential for validating the model's predictions. This collaboration resulted in a comprehensive understanding of the biological mechanisms under study and contributed significantly to the project's success.
4. Question: Could you share your experience with research-related documentation and record-keeping, particularly in the context of maintaining accurate and organized research records?
Answer: Maintaining accurate and organized research records is vital in any research setting. I have a strong track record of documenting experimental procedures, protocols, and results in lab notebooks and electronic databases. I understand the importance of thorough record-keeping for reproducibility and scientific integrity. In my previous roles, I consistently followed established documentation procedures, ensuring that all research-related information was readily accessible for analysis and review.
5. Question: The job posting mentions that the initial appointment is for six months, extendable based on performance. How do you plan to ensure your contributions meet or exceed expectations during this initial period?
Answer: During the initial six months, I plan to immerse myself in the project, working closely with the Neuroscience Research Group. I will actively participate in ongoing experiments, collaborate with team members, and ensure that I meet project milestones. Additionally, I will seek feedback from senior researchers to continuously improve my performance and contribute effectively to the project. My goal is to demonstrate dedication, adaptability, and a strong work ethic, which I believe will contribute to the success of the research and justify an extension of my appointment.
These sample questions and answers should help you prepare for an interview for the Junior Research Fellow position at Mazumdar Shaw Medical Foundation. Customize your responses based on your specific experiences and qualifications.
Subscribe Rasayanika for more Chemistry and Pharma job updates.