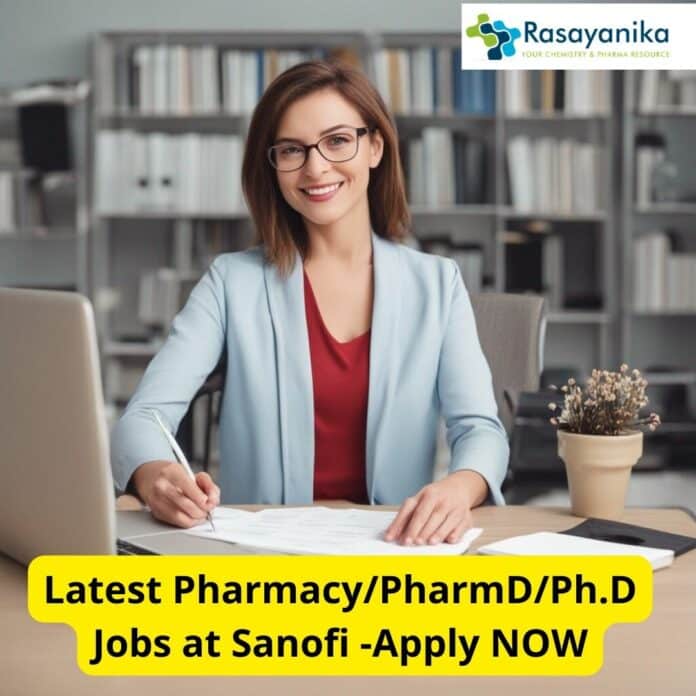 Latest Pharmacy/PharmD/Ph.D Jobs
Latest Pharmacy/PharmD/Ph.D Jobs @ Sanofi-Senior Medical Information Writer-Interested candidates can check the details below and apply now
Job role: Senior Medical Information Writer

Job ID: R2699591
Job location: Hyderabad and Mumbai
Job type: Full time
About the job
Our Team:
Sanofi Global Hub is an internal Sanofi resource organization based in India and is set up to centralize processes and activities to support Specialty Care, Vaccines, General Medicines, CHC, CMO, R&D, Data & Digital functions. Sanofi Global Hub strives to be a strategic and functional partner for tactical deliveries to Medical, HEVA, and Commercial organizations in Sanofi, globally.
Main responsibilities:
Responsible for research and authoring of scientific response documents under the direction of the Global Medical Information (GMI) team in support of global and local medical information activities.
Responsible for the execution of activities as required in alignment with GMI colleagues.
Achieved through a combination of product knowledge, along with editing, writing, and document management proficiency.
Essential Job duties and responsibilities:
Conducts literature searches and reviews, and extracts/summarizes complex data from the scientific literature
Generates evidence-based, accurate, current, and fair-balanced summaries of data for the creation/maintenance of scientific response documents for products in designated therapeutic area(s)
Adapts global scientific response documents for assigned countries
Develops responses to escalated inquiries for assigned countries
Develops contributions to US NDA Annual Reports
Contributes to US compendia reviews
Contributes to peer reviews
Demonstrates resolve and urgency to accomplish tasks without direct authority or control. Participate in cross-functional project teams as needed. Ensure that assigned projects are completed on schedule
Develops and maintains Therapeutic Area expertise.
Reviews the content created by peer writers
Collaborates effectively with Global Medical Information teams to execute content plans
Maintain effective relationships with the end stakeholders (Medical scientific community) within the allocated Global business unit and product – with an end objective to develop medical information content as per requirement
Interact effectively with stakeholders in medical and pharmacovigilance departments
Constantly assist other medical information writers in developing knowledge and sharing expertise.
Performance: Provide deliverables (scientific response documents, US NDA Annual Reports, US compendia reviews) as per agreed timelines and quality
Process:
Act as an expert in the field of medical information writing and maintain on the regulatory requirement for countries supported.
Assist the assigned medical information team in conducting a comprehensive medical writing needs analysis
Implement relevant elements of content plans and associated activities for the year identified for the assigned countries
Work with selected vendors within the region to deliver the required deliverables as per the defined process. Design an overall plan of action basis end-customers feedback & improve course content and delivery.
Work closely with medical teams in regions/areas to identify medical writing needs and assist in developing assigned deliverables.
Liaise with the Medical department to prepare relevant & customized deliverables.
About you
Experience: >5 years of experience in medical writing for the pharmaceuticals/ healthcare industry or equivalent experience in a clinical setting; At least 2-3 years of direct medical information experience in a pharmaceutical company
Soft skills: Stakeholder management; communication skills; and ability to work independently and within a team environment
Technical skills: As applicable (Including but not limited to Medical operational excellence, time, and risk management skills, Excellent technical (medical) editing and writing skills, Knowledge about literature evaluation and multilevel response development)
Education: Advanced degree in life sciences/ pharmacy/ similar discipline, or medical degree or doctorate degree (PharmD, Ph.D, Master in science, MBA or equivalent)
Languages: Excellent knowledge of the English language (spoken and written)
Pursue progress, discover extraordinary
Better is out there. Better medications, better outcomes, better science. But progress doesn't happen without people – people from different backgrounds, in different locations, doing different roles, all united by one thing: a desire to make miracles happen. So, let's be those people.
At Sanofi, we provide equal opportunities to all regardless of race, colour, ancestry, religion, sex, national origin, sexual orientation, age, citizenship, marital status, disability, or gender identity.
Watch our ALL IN video and check out our Diversity Equity and Inclusion actions at sanofi.com!
At Sanofi diversity and inclusion is foundational to how we operate and embedded in our Core Values. We recognize to truly tap into the richness diversity brings we must lead with inclusion and have a workplace where those differences can thrive and be leveraged to empower the lives of our colleagues, patients and customers. We respect and celebrate the diversity of our people, their backgrounds and experiences and provide equal opportunity for all.
Here are few interview questions with answers for the Latest Pharmacy/PharmD/Ph.D Jobs of Senior Medical Information Writer:
1:Can you describe your experience in conducting literature searches and summarizing complex scientific data? Provide an example of a challenging research project you've worked on and how you managed to extract and present the relevant information effectively.
Answer: Certainly. In my previous role as a Medical Information Writer, I frequently conducted comprehensive literature searches to gather scientific data for various projects. One particularly challenging project involved gathering information on a rare adverse event associated with a pharmaceutical product. I began by conducting an extensive literature search across multiple databases and journals. After identifying relevant studies, I meticulously extracted and summarized the data, ensuring accuracy and relevance. The final document I produced provided a concise and evidence-based summary of the adverse event, which was crucial for the medical team's decision-making process.
2:How do you stay updated on regulatory requirements for medical writing in different countries, and how do you ensure that your content complies with these regulations?
Answer: Staying updated on regulatory requirements is paramount in medical writing. I consistently monitor regulatory updates, guidelines, and requirements for countries where our products are marketed. I rely on reliable sources such as regulatory authorities' websites and industry publications to gather this information. Additionally, I maintain a network of colleagues and contacts in the pharmaceutical industry who can provide insights and updates on regulatory changes. To ensure compliance, I incorporate these requirements into my writing process and collaborate closely with regulatory and compliance teams for thorough review and validation of content before dissemination.
3:Can you provide an example of a situation where you had to manage competing priorities and tight deadlines while maintaining the quality of your medical writing deliverables?
Answer: Certainly. In my previous role, I often encountered situations where multiple medical writing projects with tight deadlines overlapped. One such instance involved the simultaneous preparation of scientific response documents for different products within our therapeutic area. To manage this, I established a prioritization framework based on the urgency and criticality of each project. I allocated dedicated time blocks for research, writing, and editing while maintaining open communication with team members and stakeholders. By efficiently managing my time, setting clear priorities, and collaborating effectively with colleagues, I successfully met all deadlines without compromising the quality of the deliverables.
4:How do you approach adapting global scientific response documents for specific countries? Can you share an example of your experience in tailoring content for a specific region or audience?
Answer: Adapting global scientific response documents for specific countries requires a deep understanding of regional requirements and cultural nuances. In a previous role, I was tasked with adapting a global document for a product launch in a European market. I began by conducting extensive research on the specific regulations, market dynamics, and medical practices in that region. I then customized the content to align with the local language, terminology, and regulatory guidelines. Additionally, I collaborated closely with the local medical and regulatory teams to ensure accuracy and relevance. This tailored approach ensured that the document effectively addressed the needs of the specific audience while complying with regional regulations.
Latest Pharmacy/PharmD/Ph.D Jobs. Latest Pharmacy/PharmD/Ph.D Jobs at Sanofi.
Follow RASAYANIKA for more chemistry and pharmacy related job updates.