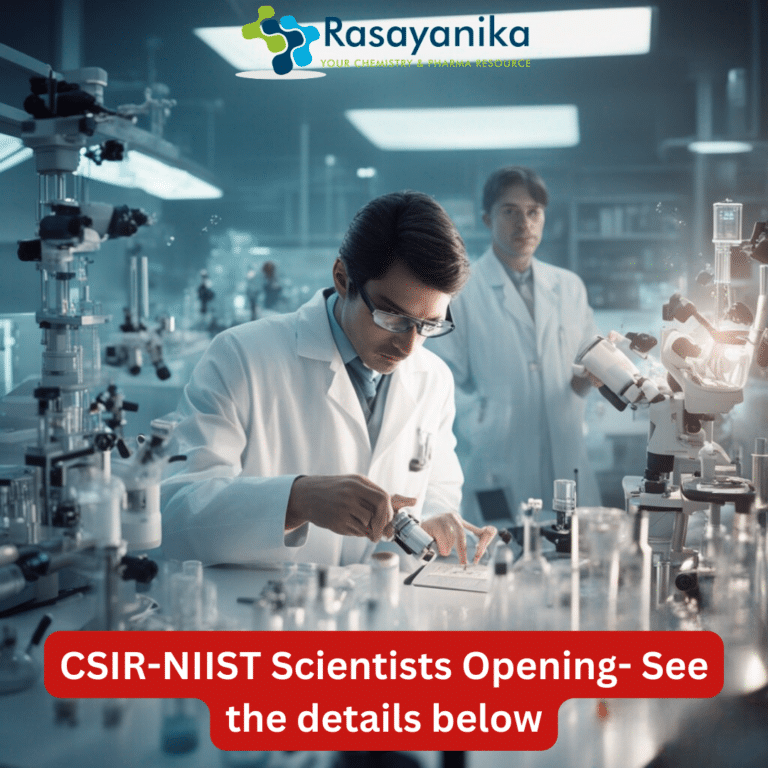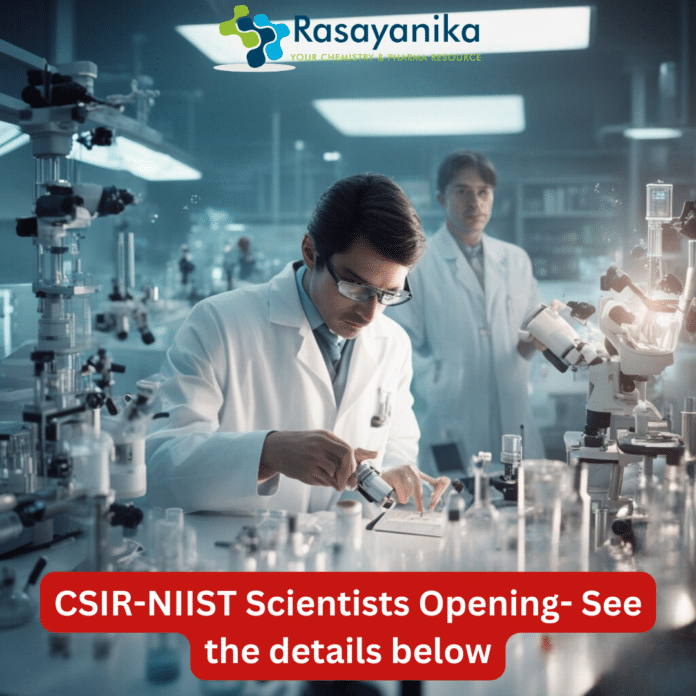 The National Institute for Interdisciplinary Science and Technology(NIIST), Thiruvananthapuram, is a premier Institute of the Council of Scientific & Industrial Research(CSIR), involved in multidisciplinary R&D programmes of both basic and applied nature across scientific disciplines for economic, environmental and societal benefits for the people of India. On-line applications are invited from enthusiastic, young Indian researchers to fill up the PhD MTech Scientist Job. Apply now after going through the details. PhD MTech Scientist Job at CSIR NIIST.
Designation – Scientist
Pay Level & Pay Matrix – Level-11 ₹67700-208700
Total Emoluments – ₹1,13,432/-
Upper Age Limit not exceeding (as on 10/10/2023) – 32 years
No. of position & reservation category – 1 post , UR
Essential Educational qualification – M. Tech in Chemical Engineering. OR PhD (submitted) in Chemical Engineering.
Desirable Qualification & Experience – Post qualification experience of working in a production plant , involved in the design of reactors, calculations related to mass and energy balances and expertise in fermentation and downstream technology
Job Specification – The selected candidate has to work with the biofuel pilot plant and must also work on scale up and downstream of various bioprocesses
Note – Candidates involved in Product Development / Technology Innovation
/ Applied Technology etc. will be given due weightage.
Selection procedure- Shortlisted candidates will be invited to appear for an interview before the Selection Committee
How to Apply –
Eligible candidates are required to apply on-line through CSIR-NIIST website
http://www.niist.res.in. and send a hard copy (print out) of the same by post. No other mode of application will be accepted.
Online application will be available on CSIR-NIIST website up to 10/10/2023 (5.30 pm)
The candidate has to remit application fee of Rs.100/- (wherever applicable) only through SBI Collect using the link provided in the online application and fill up the transaction details in the prescribed columns of on-line application. In case application fee (wherever applicable) is not paid, the application will be summarily rejected.
Candidate should keep a copy of the print out of on-line application for their record.
e. The duly signed print out of the computer generated application form (hard copy) along with self attested copies of certificates, mark-sheets, testimonials in support of age, educational qualifications, experience, re-prints of publications, caste certificate, if applicable, and proof of application fee remittance should be sent in an envelope superscribed "Application for the post of Scientist (Post Code………)" by post so as to reach The Administrative Officer, CSIR-NIIST, Industrial Estate P.O, Pappanamcode, Thiruvananthapuram-695019, Kerala on or before 5.30PM on 25/10/2023.
Following documents must be attached along with hard copy of application sent by post:
Proof of remittance of application fee of ₹100/- wherever applicable.
Self attested photocopy of Date of Birth Certificate/SSLC Certificate.
Self attested photocopies of certificates in proof of educational qualifications.
Self attested photocopy of caste certificate, wherever applicable. For OBC candidates, the GoI format is provided below.
Self attested photocopy of EWS certificate, if applicable, in the prescribed format attached below.
Self-attested photocopies of experience certificates, if any.
Greetings, everyone! We'd like to assist you in your interview preparation by sharing some commonly asked interview questions along with their answers. This will help you to be well-prepared and perform impressively during your interview for PhD MTech Scientist Job. Please take advantage of this resource to enhance your chances of success in the interview. Good luck!
Question 1: Can you briefly describe your educational background and your current status regarding the M. Tech or PhD in Chemical Engineering?
Answer 1: Certainly. I hold an M. Tech degree in Chemical Engineering. I have also submitted my PhD thesis in Chemical Engineering and am in the final stages of my doctoral research. I anticipate completing my PhD in the near future.
Question 2: What relevant experience do you have in working in a production plant and dealing with the design of reactors, mass, and energy balances?
Answer 2: I have gained valuable hands-on experience during my previous roles in production plants. I have been actively involved in the design and operation of reactors, ensuring efficient mass and energy balances. My experience includes optimizing processes for increased efficiency and productivity while adhering to safety and environmental regulations.
Question 3: Can you discuss your expertise in fermentation and downstream technology and how you have applied this expertise in your previous work?
Answer 3: I have a strong background in fermentation processes and downstream technology, which I've utilized in my previous roles. I have successfully optimized fermentation processes to maximize product yields while maintaining product quality. Additionally, I have experience in developing and implementing downstream processes for the purification and recovery of valuable bio-based products.
Question 4: How would you approach working with a biofuel pilot plant and contributing to scale-up and downstream processes?
Answer 4: Working with a biofuel pilot plant is an exciting opportunity. I would begin by closely studying the existing processes and identifying areas for improvement. I would collaborate with the team to scale up processes, ensuring a seamless transition from the laboratory to production scale. My experience in process optimization and technology transfer would be invaluable in this role.
Question 5: Can you provide an example of a project or challenge related to bioprocessing that you've faced and how you tackled it?
Answer 5: Certainly. In a previous role, we encountered a challenge in achieving consistent product quality in a bioprocess. I led a team to investigate the root causes, conducted thorough data analysis, and implemented process modifications based on our findings. Through continuous monitoring and adjustments, we not only achieved consistent product quality but also increased the yield by 15% over a span of six months. This experience reinforced the importance of data-driven decision-making and process optimization in bioprocessing.