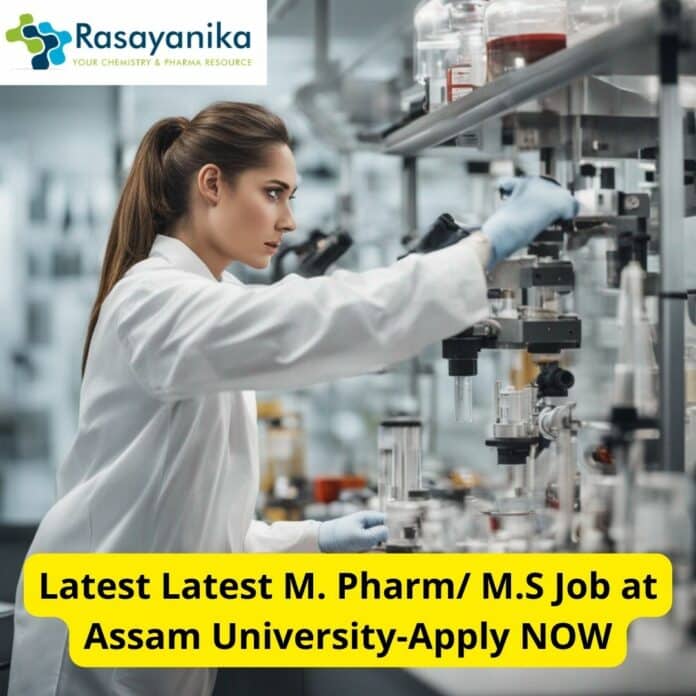 Latest M. Pharm/ M.S Job
Latest M. Pharm/ M.S Job. Latest M. Pharm/ M.S. (Pharm.) in Pharmacology Jobs at Assam University, Silchar. Interested candidates can check the details below and apply online.
Name of the Post: Project Assistant (PA)
No. of. Posts: 01
Title of the Project: In vitro breast cancer disease model: A refined translational tool to accelerate pharmaceutical drug screening
DEPARTMENT OF PHARMACEUTICAL SCIENCE
SUSHRUTA SCHOOL OF MEDICAL AND PARAMEDICAL SCIENCES
ASSAM UNIVERSITY
(A CENTRAL UNIVERSITY)
SILCHAR – 788011: ASSAM, INDIA
ADVERTISEMENT FOR THE POST OF PROJECT ASSISTANT (PA)
Advertisement No. 4/2023                                                                Date: 01/09/2023
An online walk-in-interview has been called on 09/09/2023 at 11:30 AM for the
recruitment of one Project Assistant (PA) at the Department of Pharmaceutical Science, Assam University, Silchar for the project 'In vitro breast cancer disease model: A refined translational tool to accelerate pharmaceutical drug screening' sponsored by the Science and Engineering Research Board (SERB), Department of Science and Technology (DST), 'Start-up Research Grant' Government of India.
Essential qualification: M. Pharm/ M.S. (Pharm
.) in Pharmacology/ M.Sc Biotechnology/ M.Sc Life Sciences. Experience in mammalian cell culture and Co-culture, Fluorescence microscopy, TransWell experiments will be an advantage. The dissertation thesis submitted candidates can also apply.
Age limit: As per DST norms.
Duration: Initial appointment is for one year, which is extendable up to 2 years solely based on the performance (from the start of the project 24/01/2022).
Monthly fellowship: As per DST Guidelines (Rs.20,000/- p.m. + HRA).
Terms and conditions: The service of the selected candidate will be as per the SERB-DST
guidelines. The project is purely temporary and co-terminus with the project.
Notes:
1. No TA/DA will be paid for attending the interview.
2. Eligible and interested candidates may submit self-prepared biodata along with
supporting documents to the email: [email protected] before the due date of
the interview.
3. The online link for the online walk-in-interview will be provided to the eligible
candidates.
4. Selected candidates will have to join duty immediately on receipt of the offer.
5. No registration for PhD will be offered through the project at the moment.
Here are few interview questions with answers to do good at the interview of Project Assistant at Assam University:
1:Can you briefly describe your educational background and any relevant research experience that makes you a suitable candidate for this position?
Answer: I hold a Master's degree in Pharmacology (M.Pharm) with a strong academic background in pharmaceutical sciences. During my academic journey, I gained hands-on experience in mammalian cell culture and co-culture techniques, which are directly relevant to this project. I have also conducted extensive research during my M.Pharm program, particularly in the field of drug screening and evaluation. My dissertation focused on a related subject, demonstrating my ability to work on translational research projects. Moreover, I have completed coursework in biotechnology and life sciences during my studies, further enhancing my qualifications for this role.
2:Could you discuss any specific projects or experiments you've been involved in that demonstrate your expertise in fluorescence microscopy and TransWell experiments?
Answer: Certainly. During my academic and research endeavors, I actively participated in several projects that honed my skills in fluorescence microscopy and TransWell experiments. One notable project involved the development of an in vitro model to study the migration and invasion of breast cancer cells using TransWell inserts. I conducted fluorescence microscopy to visualize and analyze the cell behavior. This project provided me with valuable experience in optimizing experimental conditions, analyzing microscopic data, and troubleshooting technical challenges associated with these techniques. Additionally, I collaborated on a research paper related to this project, which demonstrates my ability to contribute meaningfully to research initiatives.
3:How do you plan to adapt to the demands of a temporary and project-based role? Can you discuss your commitment to seeing this project through to completion?
Answer: I understand that this position is project-based and temporary in nature. I am fully committed to contributing my best efforts to the successful completion of the project within the stipulated timeframe. I have a track record of adapting quickly to new environments and effectively managing time-sensitive research tasks. I am highly motivated by the opportunity to work on this project, which aligns with my academic and career interests. I am prepared to work diligently and collaboratively with the research team to achieve our goals. Furthermore, I am open to the possibility of extending my tenure based on my performance, demonstrating my dedication to the project's success.
4:Can you explain your familiarity with the SERB-DST guidelines and how you plan to ensure compliance with them during the project?
Answer: I am well-versed in the SERB-DST guidelines, having conducted research under similar funding mechanisms during my academic career. I understand the importance of adhering to these guidelines to ensure the smooth progress of the project. To ensure compliance, I will actively stay updated on the specific requirements and reporting deadlines outlined by SERB-DST. Additionally, I will maintain clear documentation of project-related activities and expenditures, as per the guidelines. Regular communication and coordination with the project coordinator and administrative personnel will also be a priority to ensure that all administrative and reporting requirements are met in a timely manner. My goal is to ensure that the project operates in full accordance with SERB-DST guidelines to achieve its objectives efficiently.
Latest M. Pharm/ M.S Job
Follow RASAYANIKA for more chemistry and pharma related job updates.