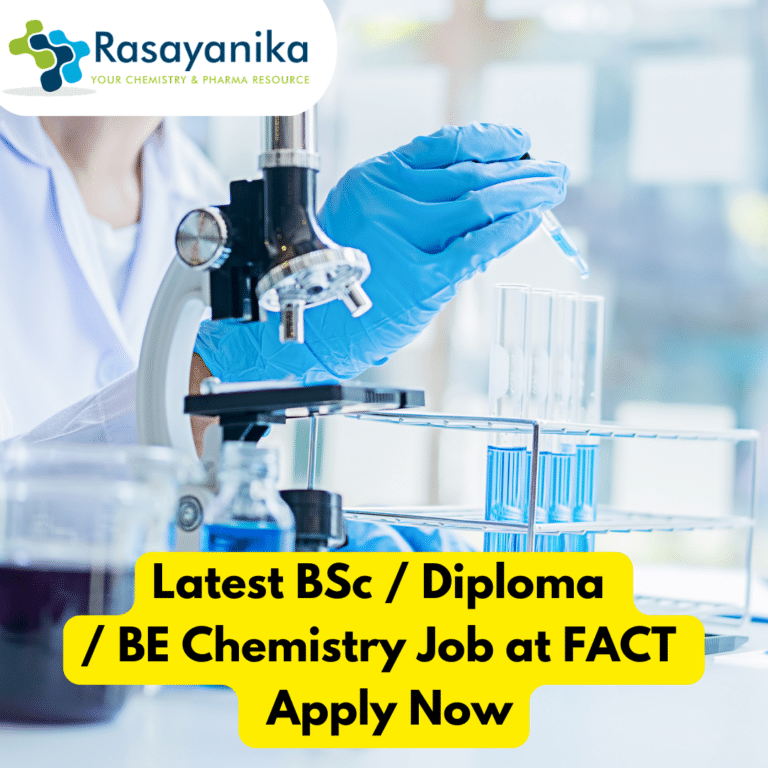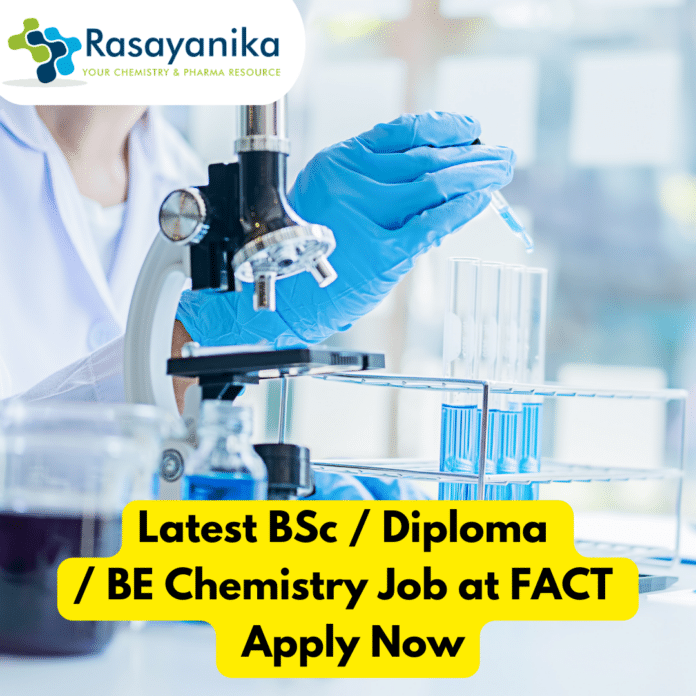 Latest BSc / Diploma / BE Chemistry Job at FACT – Check out the details below and Apply Now 
THE FERTILISERS AND CHEMICALS TRAVANCORE LIMITED
Schedule 'A' multi-divisional Central PSE
Recruitment Notification No. : 11/2023 dated 31.08.2023
The Fertilisers And Chemicals Travancore Ltd (FACT)., a multi-divisional Central PSE, and pioneers in the manufacture of Fertilizers, Chemicals and Caprolactam, with activities spread over Manufacturing, Engineering Design and Consultancy, Fabrication etc., invites applications from eligible candidates for engagement on Fixed Tenure Contract (Adhoc basis) to the following post:
Latest BSc / Diploma / BE Chemistry Job – Check below for more details
Post Code : 01
Post : Technician(Process)
Specification : B.Sc. Degree in Chemistry/Industrial Chemistry OR Diploma in Engineering [Chemical Engineering/Chemical Technology (including Petrochemical Technology)]
Maximum Age : 26 years (Relaxation applicable as in GOI directives)
Note:
Relevant date for determining eligibility with regard to all eligibility criteria such as
qualification, age, apprenticeship etc. stipulated in the notification will be "01.08.2023".
Only male candidates are eligible to apply; the post is not identified for PwBD.
General terms and conditions for appointment:
1. The engagement will be for a term of two years, renewable for a maximum period of 2
spells of
one year each, at the discretion of the Management, subject to requirement, performance, assessment etc. Engagement is also liable to be terminated by the Management with 15 days' notice, at its discretion without assigning any reason.
2. Candidates offered engagement as above will be paid a consolidated pay of Rs.25,000/- per month and an increase of 3% on successful completion of each year. Leave, ESI, Provident Fund, TA & DA for duty travel will be applicable based on eligibility, as per Rules of the Company.
3. Reservation for SC, ST, OBC (NCL), EWS and Ex-Servicemen category will be applicable as per Government Directives. EWS candidates shall submit EWS certificate of relevant year (income of 2022-23). OBC-NCL Candidates shall submit self-declaration along with the application, in the prescribed format provided in the website and if engaged, shall produce OBC-NCL certificate issued by competent authority within 6 months prior to joining.
4. Eligible candidates should have been born on or between 01.08.1997 and 31.07.2005. Relaxation in maximum age limit is permissible up to 5 years for SC/ST candidates and 3 years for OBC (NCL) candidates. Relaxation to Ex-Service personnel Recruitment Notification No 11/2023 dated 31.08.2023 Page 2 of 4 will be applicable as per GOI guidelines. Matriculation / School Leaving Certificate granted by Board of Secondary Education shall be the only acceptable document in support of proof of age.
5. Educational Qualification must be approved / recognized by UGC / AICTE /NCVT/AIU (Association of Indian Universities). Educational qualification shall be acquired by full time regular course. Those who have studied part time or through correspondence /distance/ private study/off campus course are not eligible to apply. (For Ex servicemen, the essential qualification acquired/awarded as part of their service and certificate issued by Armed Forces will be considered as eligible). Wherever the essential educational qualification has a mention of dual specialization, one of the specializations necessarily needs to be function specific, for the post notified.
6. Only Indian nationals are eligible to apply
7. Candidates provisionally selected will have to undergo pre-employment Medical Examination and to be certified fit by the Company's Medical Officer. Candidates should have sound health and should meet the physical / medical standards prescribed by the Company. Appointment of selected candidates is subject to receipt of satisfactory medical report from the Company's Medical Officer as per the medical standards of the Company. No relaxation in physical / medical standards will be allowed. The opinion of the Company Medical Officer in this regard shall be final.
8. The engagement will be subject to the candidate being fit and continuing to be fit during the period of contract as per the standards prescribed by the Company, and also subject to submission of Police Clearance Certificate.
9. Engagement under this notification is only for fixed term and will not in any way directly or indirectly confer any right for extension of term of engagement or for permanent appointment or preferential treatment in appointment in the Company.
10. Eligibility of candidates will be determined based on information furnished in application and documents submitted by the candidates. At all stages of the selection process, candidature will be provisional.
11. After preliminary scrutiny of documents submitted along with the application, candidates will be ranked on the basis of the following criteria in the order given below:
Completed Apprenticeship Training for Chemical trade in FACT and submitted COP (Certificate of Proficiency)/AOCP issued by Directorate General of Training/NCVT.
Earlier year of passing the relevant qualifications. (Year as mentioned in Course Certificate).
Earlier Date of birth.
12. Management reserves the right to
short list candidates by adopting such methods or criteria found suitable at the discretion of the Management
modify the mode of selection etc.. The decision of the Company about the mode of selection, requirements, eligibility criteria, shortlisting of candidates etc. shall be final and binding. No correspondence will be entertained in this regard.
13. Meeting the eligibility criteria / attending or being successful in the test (if any) by itself will not confer any right on the applicant for selection or to be included in the Panel or for engagement.
14. Engagement from the panels will be at the sole discretion of the Management, subject
to requirements, and reservation rules.
15. Interested candidates from the panel may be considered for engagement for periods of
shorter duration too, based on requirements of the Company at rates/ terms fixed by the Company for such engagement.
16. Candidates desiring to apply for the post against this notification shall fill and submit
their details in the Online Form by clicking the Online Registration link provided in the website www.fact.co.in >> Careers >> Job Openings >> Recruitment Notification 11/2023. The following shall be ensured while submitting the application through online method.
All necessary data shall be filled in the Online Forms as prescribed.
Application Form in the prescribed format (given as "Application Form" in the website along with notification), shall be printed, manually filled, signed, photo affixed and uploaded in PDF format in the prescribed place provided in the Online Form. Relevant data furnished in the Application Form shall not differ from that in Online Form.
After filling and uploading the Application, the Online Form shall be submitted by clicking the Submit button.
Printout of Uploaded Application Form in original (mentioned in (b) above) along with self-attested copy of
Proof of Date of Birth (Std X Certificate)
Certificates to prove educational qualification from Std X onwards (both mark sheet and Pass Certificate)
COP/AOCP issued by Board of Apprenticeship Training, if any
Training completion certificate issued by FACT Training School, if any
 Certificate showing proof of Caste / Ex-Servicemen etc., if reservation/relaxation is claimed on account of these
Self Declaration for OBCNCL candidates, if applicable (7) Aadhaar, shall be sent by Speed Post / Registered Post to DGM (HR), HR Department, FEDO Building, FACT, Udyogamandal, PIN – 683 501 so as to reach latest within 10 days from the last date of submitting online form.
Envelope containing the application shall be super scribed with "Application for the
post of Technician(Process) on FTB)-Ad. 11/2023".
 Applications received by post without submitting online Form and Online Form submitted, without uploading Application Form or not receiving Application or Application received late, will not be considered.
Last date for submission of Online Form will be 4.00 PM on 18.09.2023
How to Apply:
Stage 1: Submit Online Form / Upload Application on or before 4.00 PM on 18.09.2023
Stage 2: Send the original Application Form uploaded with all relevant certificates /
documents by Speed Post / Registered Post so as to reach us on or before 28.09.2023
17. Incomplete applications, applications without signature and photograph, and/or
without documents in proof of eligibility, is liable to be rejected. Originals of the
documents shall be furnished as and when called for.
18. All further notifications including corrigendum, if any, shall be through the Company
website and therefore candidates shall visit our website www.fact.co.in for updates. Individual communications to the candidates will be only through the e-mail id used for submitting Online Form and therefore candidates shall keep the said e-mail id, valid and functional at all times. Company will not be held responsible for failure of communication sent to the said e-mail id.
19. Applications and all connected documents of those applicants not included in the Panel will not be retained for more than one year and all documents related to this selection shall be preserved only for a period of two years from the date of publication of panel.
20. Any dispute with regard to recruitment against this notification will be settled in
courts within the jurisdiction of Ernakulam, Kerala State only.
Check out Rasayanika for Latest BSc / Diploma / BE Chemistry Jobs
Here are some interview questions for Latest BSc / Diploma / BE chemistry Jobs – Technician(Process) position at FACT:
Can you briefly describe your educational background and relevant qualifications for the Technician(Process) position?Answer: I hold a [B.Sc. Degree in Chemistry/Industrial Chemistry OR Diploma in Engineering in Chemical Engineering/Chemical Technology (including Petrochemical Technology)]. My academic background has equipped me with the foundational knowledge and skills necessary for this role.
What motivated you to apply for this position at FACT, and what do you find appealing about working in a multi-divisional Central PSE like FACT?Answer: I am excited about the opportunity to work with FACT because of its pioneering work in the manufacture of Fertilizers, Chemicals, and Caprolactam. The company's diverse activities spanning manufacturing, engineering design, consultancy, and fabrication present a dynamic and challenging work environment. I believe my skills and knowledge align well with the company's goals and operations.
Could you describe any prior experience you have in a similar role or any relevant technical work?Answer: While pursuing my [degree/diploma], I had the chance to gain practical experience through [mention any relevant projects, internships, or coursework]. This experience allowed me to apply my theoretical knowledge to real-world scenarios, and I am confident that it has prepared me for the responsibilities of this role.
What do you believe are the key responsibilities of a Technician(Process) in a manufacturing environment like FACT?Answer: A Technician(Process) plays a crucial role in ensuring the smooth operation of manufacturing processes. This includes monitoring equipment, conducting quality checks, troubleshooting any issues that arise, and following safety protocols rigorously. Additionally, maintaining accurate records and collaborating with team members is essential for efficient operations.
How do you handle situations where there is a need for quick decision-making in a fast-paced manufacturing environment? Can you provide an example from your previous experience?Answer: In a fast-paced environment, I prioritize safety and efficiency. I rely on my training and experience to make informed decisions swiftly. For instance, during my [mention relevant experience], we encountered [describe the situation], and I had to [explain your actions and decision-making process]. This experience taught me the importance of staying calm under pressure and making decisions based on established procedures
Explore Rasayanika for Latest BSc / Diploma / BE Chemistry Jobs
All the best!