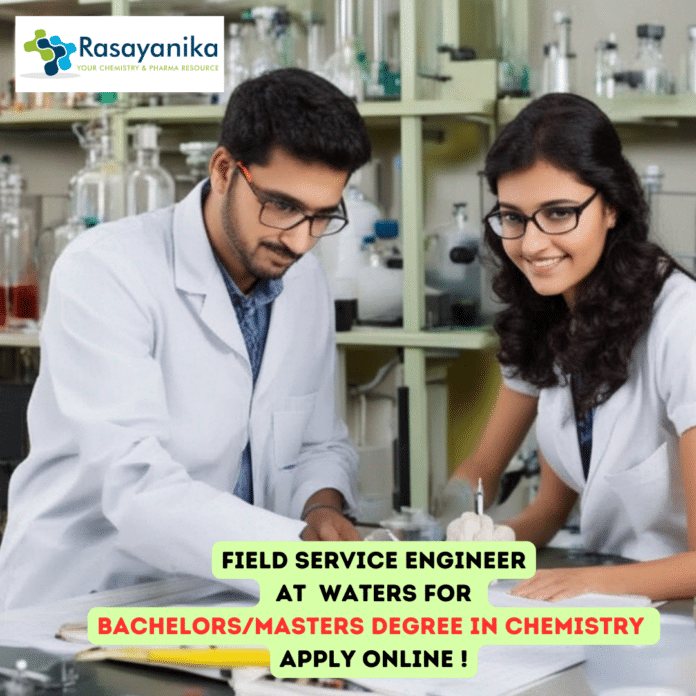 Latest position for Service Engineer at Waters Division , Interested and eligible candidates check out all the details given the same below
Job position : Field Service Engineer
Job Location : New Delhi. India
About company: 
Waters Corporation (NYSE: WAT), the world's leading specialty measurement company, has pioneered chromatography, mass spectrometry and thermal analysis innovations serving the life, materials, and food sciences for more than 60 years. With more than 7,000 employees worldwide, Waters operates directly in 35 countries, including 15 manufacturing facilities, with products available in more than 100 countries. Our team focuses on creating business advantages for laboratory-dependent organizations to enable significant advancement in healthcare delivery, environmental management, food safety, and water quality.  
Overview for Service Engineer at Waters Division
Waters, the world's leading specialty measurement company that cares about inclusion and diversity is seeking for a Field Service Engineer to support the very successful growth of our businesses across
Waters deliver benefits through innovation and people that enable customer success in the life, materials and food sciences. People create the Waters difference. By engaging with Waters our talented and diverse workforce we continuously evolve, develop and enhance our products. We believe in delivering innovative technology and system solutions to our
valued customers to enable their success. Our talented field sales/service and specialist teams have over the years delivered great and sustainable business results. With a constant focus on growth and by developing new markets we are able to increase the business even within very challenging economic circumstances.
Responsibilities: 
Installation, performance maintenance, troubleshoot and support Waters' product suite (LC, LC/MS, HPLC/UPLC, SFC, Informatics)
Establish and maintain effective relationships with external and internal customers ensuring their success
Manage customer expectations, by communicating work performed and providing follow up plan if needed
Ensure customer compliance regulations are followed
Deliver system level training at customer sites
Manage service inventory according to Waters policies
Issue field service reports daily to document work performed
Maintain sound knowledge regarding the technology and customers' application demands
Work with Sales team in respect to identifying future business development opportunities and needs for service contract sales
Ensure that quality system procedures and Health & Safety standards are adhered to at all times
Qualifications we seek in you for Service Engineer at Waters Division
Education:
Bachelors/Masters Degree in Chemistry or Biology, engineering or other science related field is desired, will also consider applications with equivalent experience, training and education
Experience for Service Engineer at Waters Division 
3 years of experience with installation, performance maintenance, troubleshooting, support and/or end user utilization of scientific instrumentation, preference for previous Waters product suite (LC, LC/MS, HPLC/UPLC, SFC, Informatics)
Ability to perform effective system level troubleshooting
Understanding of the scientific application workflow along with the scientific software systems (CDS, SDMS, LIM, ELN)
Skills:
Must possess a strong customer focus
Strong communication skills; ability to communicate effectively to a diverse audience with specific customer needs
Personal sense of integrity
Effective time management skills
System level approach to problem solving
Analytical mindset with a strong drive to resolve open issues
Excellent verbal and written communication skills
Travel:
This is a territory-based position with travelling within your designated territory, and occasional travels to other countries for activities such as governance of department, local business support, meetings and training.
Possible interview questions may be asked for Service Engineer at Waters Division
Can you explain your experience with scientific instrumentation installation and troubleshooting?
Answer: I have over 3 years of experience in installing, maintaining, and troubleshooting scientific instruments, particularly Waters' product suite like LC, LC/MS, HPLC/UPLC, SFC, and Informatics systems.
2. How do you ensure effective communication with both internal and external customers?
Answer: I believe in maintaining a strong customer focus. I ensure clear and concise communication tailored to the specific needs of diverse audiences, whether they are internal teams or customers.
3. Could you describe a situation where you had to perform system level troubleshooting?
Answer: Certainly. There was an instance where a customer's LC/MS system was showing inconsistent results. I systematically traced the issue to a faulty column and resolved it by replacing the column, ensuring accurate results
4. How do you manage your time effectively while handling multiple service requests?
Answer: Time management is crucial in this role. I prioritize tasks based on urgency and complexity. This ensures that I address critical issues promptly while also maintaining a high level of service for all requests.
5. Can you provide an example of a challenging customer situation you successfully resolved?
Answer: Of course. Once, a customer was struggling with integrating their CDS software with an LC system. Through effective communication and collaboration, I guided them step by step and resolved the compatibility issues, ensuring smooth operation.