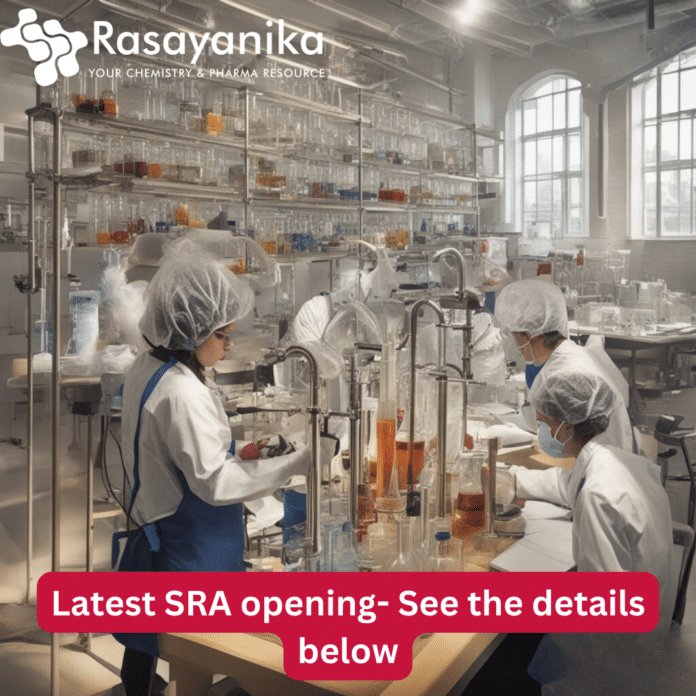 Sr Research Associate Analytical vacancy at Jubilant Ingrevia Fine Chemical Analytical. Please see the below given details and apply now for MSc Chemistry SRA Job.
Post – Sr Research Associate  – Analytical
Location – Greater Noida, Uttar Pradesh
Summary of Job – To assist R&D analytical work for Fine chemical and CDMO projects
Key Responsibilities – To carry out analysis of R&D/Plant trouble shooting /Customer/ competitor samples of Fine chemical intermediates & final sample
Key Competencies (Technical, Functional & Behavioral) – 
Knowledge of analytical methods
Wet analysis, Instrumental Analysis
Handling of GC, HPLC, Karl Fisher, pH Meter, electronic balance, Oven, Stability chamber etc.
Handling of gaseous cylinders like nitrogen, oxygen & hydrogen etc.
Method development & its validation
Handling of general chemicals solvent, acid, bases etc.
SOP, Specifications & COA preparation etc.
BAAN /LN /SAP
Maintaining of laboratory records
Good Computer knowledge
Good communication skills
Qualification & Experience for MSc Chemistry SRA Job – MSc (Chemistry) with 4-8 years of analytical experience of Chemical/API Industries in QC/ARD.
Greetings, dear friends! We have compiled a set of interview questions and corresponding answers to aid you in your preparation. Make the most of this resource to excel in your upcoming
interview for the MSc Chemistry SRA Job. Best of luck!
Question 1: Can you explain your experience with analytical methods and instrumental analysis, especially in the context of chemical and CDMO projects?
Answer: Certainly. In my previous roles, I've been extensively involved in utilizing analytical methods for characterizing fine chemical intermediates and final samples. I have hands-on experience with techniques like GC, HPLC, Karl Fisher, pH Meter, electronic balance, and more. This experience has enabled me to effectively troubleshoot issues, ensure product quality, and contribute to method development and validation processes.
Question 2: How familiar are you with handling gaseous cylinders and various laboratory equipment such as ovens, stability chambers, and electronic balances?
Answer: I'm well-versed in handling a variety of laboratory equipment, including gaseous cylinders like nitrogen, oxygen, and hydrogen. I'm proficient in the operation and maintenance of equipment such as ovens, stability chambers, and electronic balances. This familiarity ensures that I can perform tasks accurately and safely, maintaining the integrity of experiments and analyses.
Question 3: Could you provide an example of a situation where you developed a new analytical method or validated an existing one? What steps did you follow?
Answer: Certainly. In a previous project, I was tasked with developing an analytical method to determine impurity levels in a complex chemical mixture. I followed a systematic approach, starting with method planning, optimization, and validation. I collaborated closely with the team, conducted precision and accuracy studies, and ensured the method's robustness. As a result, we were able to provide more accurate and reliable data to support decision-making.
Question 4: How do you ensure compliance with SOPs, specifications, and COA preparation in your analytical work?
Answer: Ensuring compliance with SOPs, specifications, and COA preparation is a vital aspect of my work. I meticulously follow established protocols to maintain consistency and accuracy in my analyses. I cross-reference results with predefined specifications, and when preparing Certificates of Analysis (COAs), I ensure that all relevant parameters are documented accurately. This attention to detail helps maintain the quality and traceability of our analytical work.
Question 5: Can you describe your experience with using software systems like BAAN, LN, or SAP for managing laboratory activities and data?
Answer: I have experience working with BAAN, LN, and SAP systems for laboratory management. These software platforms have allowed me to efficiently track inventory, manage data, and maintain records. By utilizing these tools, I've been able to streamline processes, reduce errors, and ensure effective communication within the team and across departments.