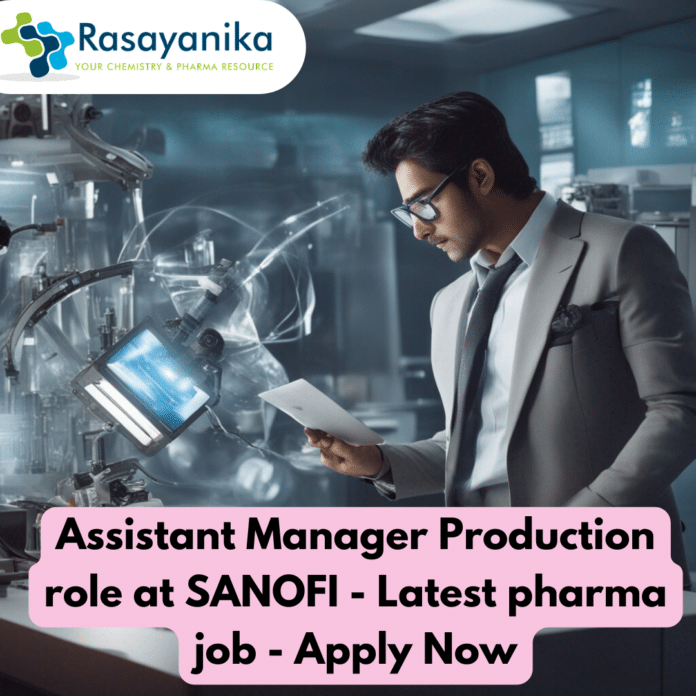 Assistant Manager Production role at SANOFI – Latest pharma job – Apply Now
Job title : Assistant Manager Production
Location : Verna
Time type : Full time
Job requisition id : R2711597
Education : B.Pharm / M.Pharm
About the job
Main responsibilities for the Assistant Manager Production role at sanofi :
Resource and Time Management
Allocation of scheduled activity to Operators in the shift as per Production Plan.
Allocation of Manpower to associated activity in the shift wherever needed.
Allocation of necessary accessories to the operator/manpower as and when needed for completion of the activity.
Maintaining discipline amongst the manpower resources at all times and be a role model by strictly abiding the rules and regulation mentioned in certified standing orders.
Ensure to complete the scheduled activity (output) within standard time.
Prioritize activity in order to provide continuous supply to PSC (market).
Shift handover and Vital Communication sharing
To communicate effectively with shift supervisors and sub-ordinates of the completed activity in the shift.
Share Vital Information regarding product critical to packing during shift handovers through Status Board and Direct Communication.
Management of SAP
Ensure creation of PO, Determination of Materials as per FIFO in SAP system.
Ensure Goods Issue slip for completed batches in SAP. Carry out consumption for required tertiary packaging materials consumed in manufacturing of the product.
Ensure that Finished Goods (FG) posting of the completed batches in SAP is carried out as per requirement.
Carry out Technically Complete (TECO) for finished process orders online.
Packing change parts and inventory
Maintain the inventory of change parts for Packing.
Ensure that required change parts for packing machine are available in spare due avoid downtime due to unavailability of spares.
Implement Process Excellence and Projects
Improve processes, cycle time, yields, optimum utilization of capacity in order to improve cost of goods manufactured.
Devise Action plan in co-ordination with other team members to improve the process, quality and productivity.
Update OEE and other equipment details in designated records from time to time and assist the Lean Management in gathering of required accurate data for process excellence.
About you :
Experience : Preferably 6-7 Years
Soft skills : MS Word, Excel, SAP, Power point
Technical skills : Blister Packing machine, carbonator machine, Track & Trace system, Check weighed system, Strip packing machine, Camera Systems
Languages : Must know English and able to write and communicate in English
CHECK OUT RASAYANIKA FOR MORE UPDATES
Here are some potential interview questions and answers for the Assistant Manager Production role :
1. Can you briefly walk us through your experience in production management, especially in the pharmaceutical industry?
Answer: Certainly. I have a strong background in production management within the pharmaceutical sector. Over the past 6-7 years, I've been involved in various aspects of production, including resource and time management, shift coordination, and ensuring adherence to regulatory guidelines. I have hands-on experience with SAP for material management and batch tracking. Additionally, I'm well-versed in managing change parts for packaging machines, optimizing processes, and implementing projects to enhance efficiency and quality.
2. Can you discuss a time when you successfully managed a complex production schedule to meet tight deadlines?
Answer: Of course. In my previous role, we had a situation where we had to expedite production due to increased demand for a certain product. I carefully allocated resources, adjusted shifts, and prioritized activities to ensure that the production plan was met within the required timeframe. This involved effective communication with shift supervisors and operators, as well as utilizing SAP for material planning and tracking. As a result of these efforts, we not only met the deadlines but also maintained product quality and consistency.
3. How do you ensure effective communication among different teams during shift handovers and throughout the production process?
Answer: Communication is key in production management. During shift handovers, I utilize status boards and direct communication to share vital information regarding critical products and ongoing activities. This ensures a seamless transition between shifts and minimizes the risk of errors. Throughout the production process, I encourage an open and collaborative environment where team members can freely communicate challenges, updates, and suggestions. This helps in addressing issues promptly and maintaining a smooth flow of operations.
4. Could you provide an example of a process improvement project you initiated and its outcomes?
Answer: Certainly. In a previous role, I identified an opportunity to optimize the blister packing process. By collaborating with cross-functional teams, we analyzed the existing workflow, identified bottlenecks, and introduced automation for certain steps. This led to a significant reduction in cycle time and increased output. The project also improved overall equipment efficiency (OEE) and reduced the risk of errors. It demonstrated my ability to drive process excellence and enhance productivity.
5. How do you ensure compliance with regulatory requirements and quality standards in a production environment?
Answer: Ensuring compliance and quality is paramount in pharmaceutical production. I have a deep understanding of Good Manufacturing Practices (GMP) and regulatory guidelines specific to our industry. I implement rigorous checks and controls at each stage of production to ensure that all processes are in line with these standards. Regular training sessions for the team, robust documentation practices, and meticulous adherence to SOPs contribute to maintaining the highest level of quality and compliance.
Good luck with your interview!