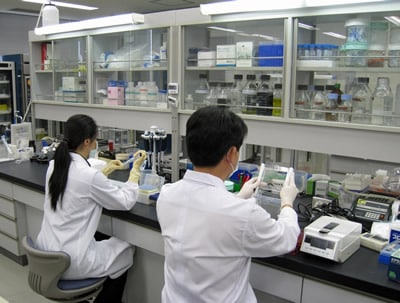 Pi Industries
Founded in 1946, we have a proven record of identifying new opportunities and building leadership positions by delivering innovative solutions to customers.
Job Title:    Jr./Sr. Research Assistant
No. of Posts:   1
Job Description
1. Position Purpose:
 Literature search and compilation
 Generating chemistry new approaches & simplification areas
 Experimentation, Documentation both hard copy and SAP entry
 Bounding of expt. Data sheets and analytical observations, Submission of Lab documents to Library,
SOP preparation
 Reports preparation
 Demo to PD & operation team
 Implementation of improvements at pilot & Commercial scale.
 Trouble shooting of the processes at Lab/PP/KL/Commercial stages
2. Key Responsibilities:
Strategic
• To understand the objective of project / chemistry / MSDS
• Search the additional literature as required.
• Inputs in planning of experiments/ man power / glassware/ raw materials/ analysis
• To ensure proper maintenance of lab equipment's.
• Proper house- keeping and use of PPE's.
• Use relevant MSDS for safe handling and disposals of toxic chemicals
Operational
• Bench scale experiments as per planning.
• Identification of critical parameters
• Co-ordination with QC for analytical support / development
• Prepare sample as per required quality
• Optimization of
process w.r.t. identified critical parameters
• Impurities characterization and synthesis.
• Understanding the parameters responsible for impurities.
• To guide subordinate for Execution of experiments
• Process validation by reproducing min. three consecutive batches.
• Prepare process write –up/ TOP / SOP
• Data entry in SAP
• Experimental observations and
• data compilation
• To maintain ISO document.
• Preparation of daily report / BFD of process / Man-hours utilization / FH Occupancy
• Demo batches to PD
• To check quality plan/ Plant SOP
• Use test of RM's
• Support to kilo lab/pilot plant/manufacturing site during technology transfer
• Trouble shooting during scale up
• Data compilation and time to time update of KL/ PP plant trials
Financial
• Contribute to budget proposals
• Contribute to budgetary controls within the area of responsibility.
People
• Utilization of all available sources for skill up-gradation
• Actively participation in problem solving sessions/ training programs
• To guide subordinates
Qualifications: 
Educational Qualification
•Master/Doctorate in Organic Chemistry from a reputed University / Institute
Experience
•0-6 Industrial Experience.
The Industry to be hired from
•Agro chemicals/fine chemicals/ pharma-API/ Specialty chemicals.
Skills
• Route scouting
• Literature Search
• Practical Experience of Lab working.
• Understanding of HSE
• Data Management
• Analytical interpretation
Competencies (behavioural skills) required
• Innovative
• Team Player
• Communication
• Quality Driven
• Reliable
• Stable
• Passionate to learn in new areas
Leadership Skills and Experience
• Relevant Scheme
• Research Vision
• Personal Development
• Research Experience & Potential
• Communication & Engagement Skills
• Leadership
• Profile & Influence