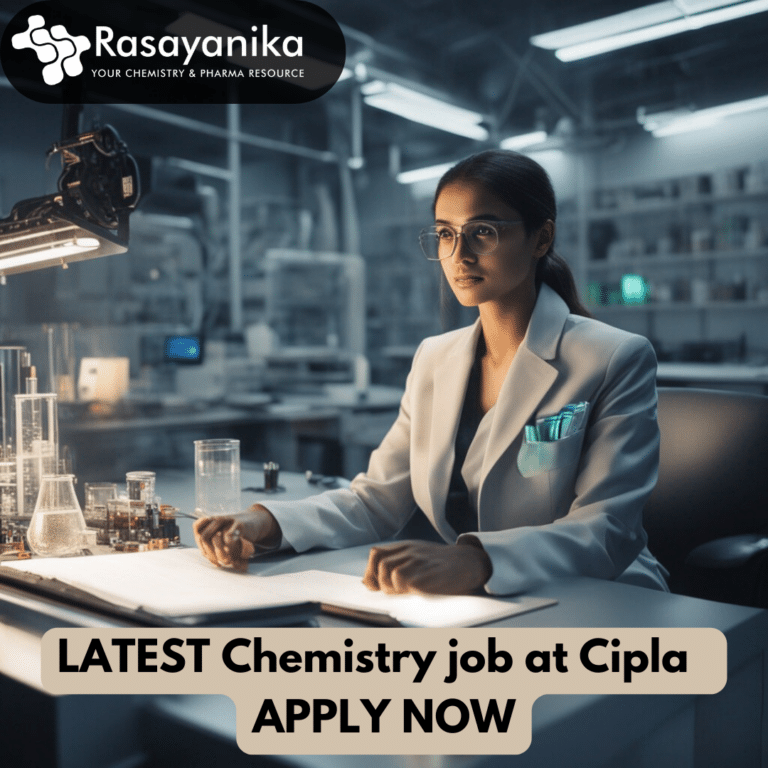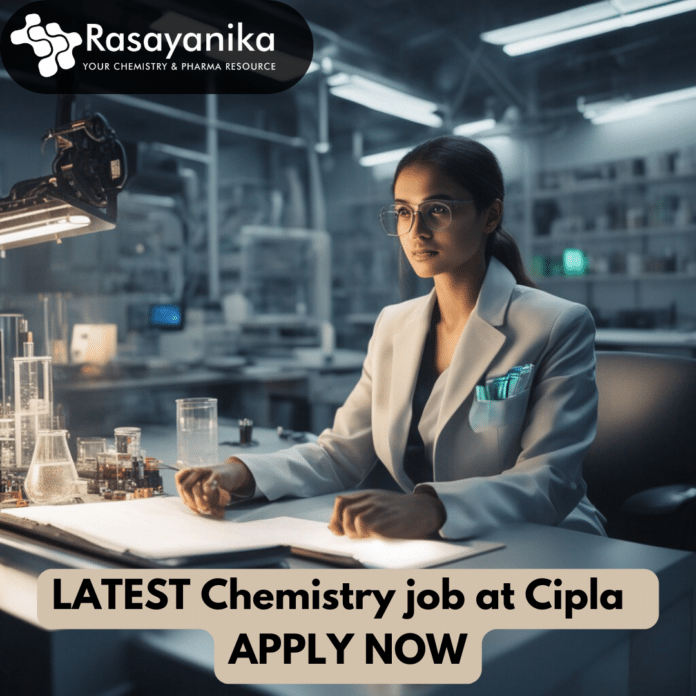 LATEST Chemistry job at Cipla – APPLY NOW
Role : Sub Group Leader – Characterization
Requisition ID : 77744 –
Location : India – Maharashtra – Mumbai
Division : IPD
Department : IPD
Employment Type : Permanent
Education Qualification : Master of Science (Organic chemistry/ Analytical Chemistry)
Job Purpose :
Plan and execute analytical work (routine and development) related to physicochemical characterisation (Polymorphism, Particle and surface characterisation) and structural elucidation in order to ensure timely submission of analytical report to the respective departments for smooth development of API and finished product
Accountabilities : 
Provide physicochemical characterization study of drug substance and drug product to support R&D, regulatory department and manufacturing unit in order to understand the physico-chemical properties and its impact on quality aspects of the finished product
Provide structure elucidation support to R&D, manufacturing units and regulatory department for qualifying the working standards
Interpret and report review of the physicochemical characterization data generated by the solid state characterization group members to the R&D for robust finished product development
Manage outsourced analysis support for finished product and NDDS development by communicating and arranging samples to the outsourced labs to ensure submission of requested results to R&D for finished product development
Identify and manage vendors to procure materials and consumables required for analysis to ensure continuous and smooth functioning of the analytical work/ instruments
Relevant Work Experience : 5 years of experience in physico-chemical / structure characterization area
Competencies/Skills required for the latest Chemistry job at Cipla- Sub Group Leader role :
Communication Skills (clarity of thought, comprehension)
Likely potential for growth
Job / Product / Technical Knowledge / Pharma domain knowledge
Presentation & Interpersonal skills (If applicable)
Managerial or People Management skills
Safety awareness (If applicable)
Relevance of Previous Experience
Comprehension, Analytical & Problem solving abilities
Productivity & Result Orientation (If applicable)
Attitude
Qualification fitment
Sales drive (If applicable)
Personality traits (Individualistic / Team player, Out spoken, Maturity level etc.)
Checkout Rasayanika for more updates
Here are some interview questions along with possible answers for latest Chemistry job at Cipla- Sub Group Leader role :
1. Can you provide an overview of your educational background and relevant experience for this role?
Answer: I hold a Master of Science degree in Organic Chemistry with a specialization in Analytical Chemistry. I have accumulated 5 years of experience in the field of physicochemical and structure characterization. My experience has been primarily focused on understanding the properties of drug substances and products, as well as providing structural elucidation support.
2. Could you explain your understanding of the role's responsibilities and how they align with your expertise?
Answer: The role of Sub Group Leader – Characterization involves planning and conducting analytical work related to physicochemical characterization and structural elucidation of drug substances and products. I have hands-on experience in conducting such analyses, interpreting data, and providing insights to support R&D, manufacturing, and regulatory activities. My expertise in analytical techniques and understanding of quality aspects directly align with these responsibilities.
3. How has your past experience in physicochemical and structural characterization prepared you for leading a team in this domain?
Answer: Over the past 5 years, I have not only performed hands-on analytical work but also collaborated closely with cross-functional teams, including R&D and regulatory departments. This exposure has given me insights into the collaborative nature of the pharmaceutical industry. Additionally, my experience has helped me develop strong leadership skills, effective communication, and the ability to guide a team in delivering accurate and timely results.
4. Can you share an example of a challenging physicochemical characterization project you've worked on and how you managed it?
Answer: Certainly. In a previous project, we encountered polymorphism-related challenges during drug development. Through thorough analysis and collaboration with our solid-state characterization team, we successfully identified different polymorphic forms and their impact on the final product quality. This required close coordination with manufacturing and regulatory teams to ensure a smooth development process and compliance with quality standards.
5. How do you ensure that your team's analytical work meets the quality standards and timelines required for drug development?
Answer: I believe in a structured approach to project planning and execution. I ensure clear communication of project goals and expectations to team members. Regular progress checks, data reviews, and interdepartmental collaboration are integral to maintaining quality and meeting timelines. Additionally, I emphasize the importance of attention to detail and adherence to regulatory guidelines to ensure accurate and reliable results.
ALL THE BEST !