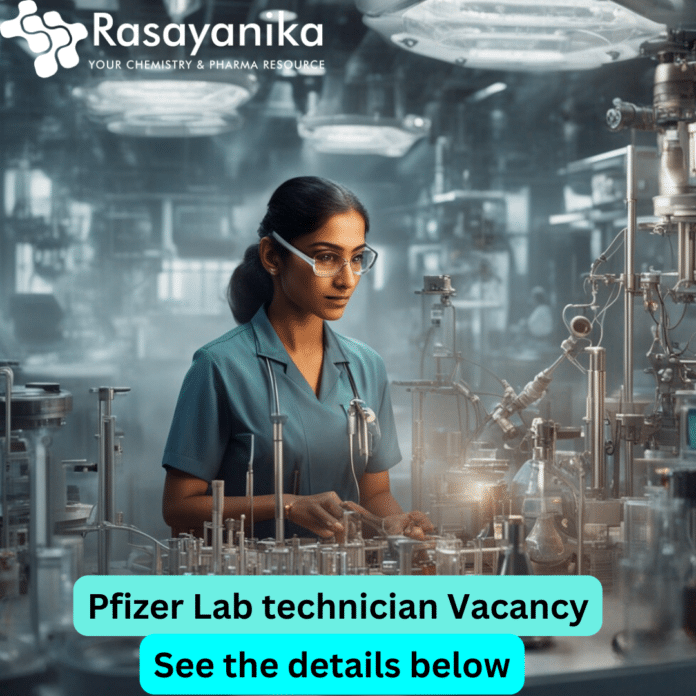 Pfizer BSc Chemistry Lab technician opening details are attached below. Apply now for the Job if your qualifications match.
Job role – Junior Associate-Lab technician
Location – India – Chennai
Job ID – 4892601
Roles and Responsibilities – 
Preparing solutions based on requirements. (CRD-weekly/ARD-daily).
Ordering from Ariba: Chemicals and solvents.
Coordinate with Sodexo person for Issuing chemicals from store and waste disposal.
Update chemical list and arrange chemicals based on the compatibility.
Cleaning sample record maintenance
Weekly check on Chiller & Rota vap.
Consistently adhere to company, site, and laboratory safety rules and immediately raises any safety issues with supervision as soon as they are identified.
Maintain desired stocking levels for CRD and ARD consumables.
Maintain in-lab equipment in optimal working order with maintenance, cleaning, and routine calibration.
Periodic check on the hood suction, eye wash and general safety checks.
Labelling of columns, solvents, and reagents.
Maintaining 5S within laboratory Column performance evaluation.
Liaise with vendors and instrumentation team for preventive maintenance, calibration, and maintenance of the instruments.
Vendor coordination for timely arrival of materials
Liaise with facilities to ensure the smooth operation.
Liaise with stake holders to arrange the shipping of materials where appropriate.
Coordinate internally for lab safety audits.
Qualifications for BSc Chemistry Lab technician- 
BSc with 2 years/fresh MSc in chemistry or a relevant science.
Experience working in a laboratory environment.
Demonstrated ability to troubleshoot equipment issues and problems.
Ability to work with scientific equipment
Handles multiple tasks concurrently and in a timely fashion
Self-motivated and work with minimal direction
Ability to work as part of a team or from own initiative as required.
Strong communications skills.
Greetings, friends! We have compiled a selection of interview questions and corresponding answers that you may encounter during your interview for BSc Chemistry Lab technician. We encourage you to make thorough preparations to ensure a successful performance during your interview.
Question 1: Can you describe your experience in preparing solutions and maintaining chemical compatibility in a laboratory setting?
Answer: In my previous role, I was responsible for preparing solutions according to specific schedules, such as CRD on a weekly basis and ARD daily. I ensured that the chemicals used were compatible by regularly updating and organizing the chemical lists. For instance, I would cross-reference the chemical properties to prevent any adverse reactions. This attention to detail helped maintain the accuracy and safety of our experiments.
Question 2: How have you demonstrated your ability to ensure laboratory safety and adherence to protocols?
Answer: Safety is paramount in a laboratory environment. I consistently followed company, site, and laboratory safety rules. For example, I actively conducted routine checks on equipment like hoods and eye wash stations, and promptly reported any concerns to my supervisor. In addition, I actively participated in lab safety audits and collaborated with stakeholders to address safety-related matters. This proactive approach contributed to maintaining a secure work environment.
Question 3: Can you share an instance where you effectively managed equipment maintenance and calibration?
Answer: In my previous role, I was responsible for maintaining lab equipment in optimal working order. I routinely cleaned, calibrated, and conducted maintenance checks on instruments. On one occasion, I identified a calibration discrepancy in a critical instrument. I promptly communicated this to the instrumentation team, and together, we ensured that the issue was resolved, preventing any potential inaccuracies in our experiments. This experience showcased my attention to detail and commitment to equipment reliability.
Question 4: How do you handle multiple tasks and prioritize your workload in a busy laboratory environment?
Answer: Working in a laboratory requires effective time management. I'm adept at handling multiple tasks concurrently. To prioritize my workload, I often set up a daily or weekly task list, ensuring that urgent tasks are addressed first while also considering the overall project timelines. This approach allows me to manage my time efficiently and ensure that all tasks are completed in a timely manner without compromising on quality.
Question 5: Could you elaborate on your experience in collaborating with cross-functional teams and external vendors for lab-related tasks?
Answer: Collaboration is key in a laboratory setting. I've collaborated extensively with various teams, including facilities, vendors, and internal stakeholders. For instance, I liaised with vendors to ensure timely material delivery, coordinated with facilities to maintain smooth lab operations, and worked with internal teams to arrange material shipping when needed. This experience highlights my ability to effectively communicate and collaborate with diverse groups to achieve common goals.