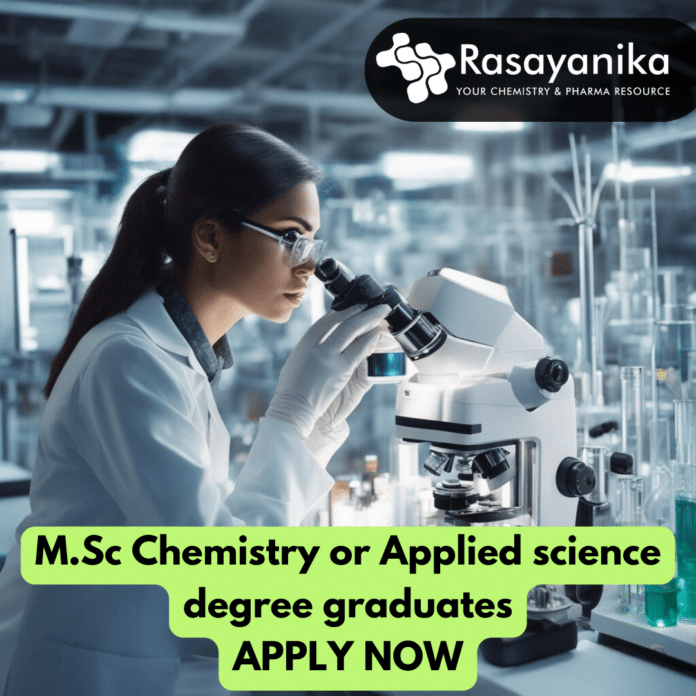 Title  : Deputy Manager – QA and QC
Requisition ID : 5085
Location : Nagda, MP, IN, 456331
Business Unit / Group Function : Flavors and Fragrances
Work Arrangement : Onsite
Level of Experience : Middle management
Qualification : M.Sc with chemistry or applied science degree
Job Highlights
Below are the Job responsibilities for the said position.
Ensuring Odor quality of Flavor and Fragrance (F&F) chemicals having In-depth experience of Olfactory analysis of F&F products.
Monitoring customer's complaints and resolving them by providing timely detailed RCA and CAPA report to the customers through Sales and Marketing
Providing regulatory related declarations/ solutions about F&F products to customers.
Accountable for quality assurance of raw material/packing material and finished products. Follow up for updating the material safety data sheet (MSDS) of raw material/finished goods. Accountable for vendor development process in the plant.
Check and control 'In Process Material' (semi-finished goods) of all the plants.
Coordinating with Instrument Manufacturers and service providers for quotations, servicing and indenting the needed instruments and spares.
Interacting with Sales, Marketing and Production functions on daily basis and
Responsible for providing market samples to new vendors for Business development task.
To ensure quality products are dispatched as per customer requirements and maintaining lab instruments for timely analysis.
Providing timely training all the Laboratory personnel's on technical skillset, documentation and olfactory evaluation
Supporting in QMS, food safety related and Internal On-site and virtual audits.
Supporting Global Procurement and Logistics team for developing new supplier and conduct supplier audit as per the audit calendar.
Requirements :
MSc with chemistry or applied science degree with > 8 years experience
Knowledge of all types of analytical instruments like GC, GCMS, UV-VIS, FTIR, Karl
Fisher titrator, Lovibond Tinto meter, pH meter & Basic computer knowledge.
Knowledge of English language, Effective communication skills, Knowledge of data processing, Basic Chemistry, Knowledge of hazardous chemical handling and Safety measures, Customer focus & Teamwork.
Knowledge of QMS, FSMS, ERP, Auditing, Documentation and olfactory analysis.
Must have worked for at least 3-4 years in the field of aroma chemicals, cosmetic ingredient industry.
Lean six sigma certifications will be an added advantage.
Knowledge of Qualitative and Quantitative analysis, GMP, 5S and Lean Methods
CHECKOUT RASAYANIKA FOR MORE UPDATES
Interview Questions and Answers for Deputy Manager – QA and QC Role :
Question 1: Can you describe your experience with odor quality assessment of Flavor and Fragrance (F&F) chemicals and your expertise in olfactory analysis?
Answer: Certainly. I have extensive experience in evaluating odor quality for Flavor and Fragrance chemicals. This involves conducting in-depth olfactory analyses to assess the sensory characteristics of F&F products. Through my years of work, I've developed a keen understanding of how different chemical compositions contribute to the final scent profile, enabling me to ensure consistent and high-quality products.
Question 2: How do you handle customer complaints related to product quality, and what steps do you take to provide effective resolutions?
Answer: When addressing customer complaints, I believe in a comprehensive approach. I carefully analyze the root cause of the issue through detailed RCA (Root Cause Analysis) and then formulate a CAPA (Corrective and Preventive Action) plan. This plan is communicated to the customer through our Sales and Marketing teams, ensuring transparent communication and resolving the concern promptly.
Question 3: Can you explain your role in providing regulatory solutions for Flavor and Fragrance products to customers?
Answer: Certainly. Regulatory compliance is crucial in our industry. I am responsible for offering customers accurate and up-to-date regulatory information and declarations related to our F&F products. This includes ensuring that our products adhere to various regulatory standards and guidelines, providing customers with the necessary information to meet their regulatory requirements.
Question 4: How do you ensure the quality assurance of raw materials, packing materials, and finished products?
Answer: Ensuring quality assurance involves a meticulous approach. I oversee the quality of raw materials, packing materials, and finished products by implementing comprehensive testing procedures, including using analytical instruments like GC, GCMS, UV-VIS, and more. I also collaborate closely with the vendor development process, maintaining a robust supply chain that adheres to our quality standards.
Question 5: Could you share an experience when you coordinated with Instrument Manufacturers and service providers to ensure proper maintenance and availability of lab instruments?
Answer: Certainly. In a recent project, I worked closely with Instrument Manufacturers and service providers to ensure timely servicing and availability of lab instruments. By effectively communicating our requirements, obtaining competitive quotations, and maintaining a well-organized inventory, we ensured that our lab operations ran smoothly, and accurate analyses were consistently conducted.
ALL THE BEST !