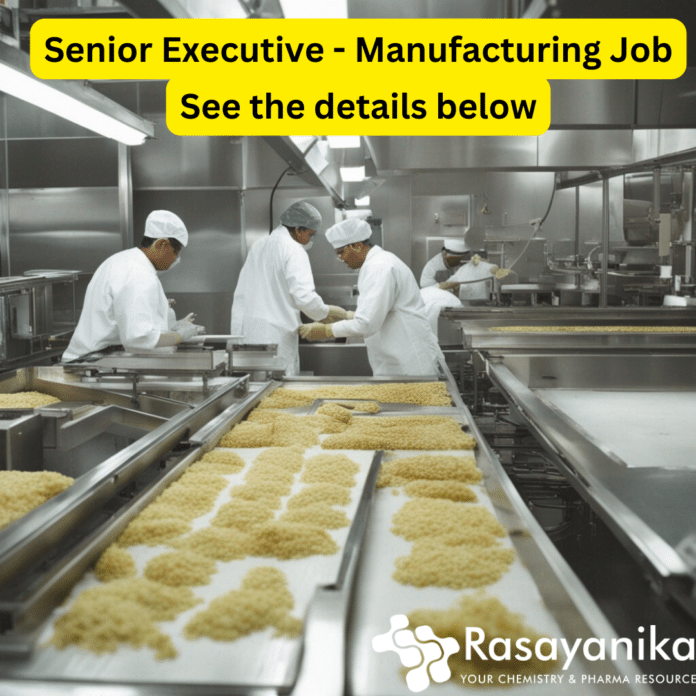 Diageo MSc Chemistry Manufacturing Job details are given below. Senior Executive – Manufacturing job apply online now.
Job ID – JR1086348
Job role – Senior Executive – Manufacturing
Location – Guwahati (Bramhaputra)
Job Description :
TYPICAL ROLE REQUIREMENTS – 
Qualification:
• Post Graduate caliber or equivalent – preferably in chemistry/Microbiology/Biochemistry /Biotechnology/Food Technology/DIFAT
Experience:
• 3-5 years of experience in the areas of Quality Assurance and Quality Systems on Food Processing / FMCG –Distillery, Brewery and Beverage Industry
Knowledge & skills:
• Hands-on experience and in-depth knowledge of quality management systems, developing quality-related SOPs and their control
• Experience in handling quality improvement projects
• Knowledge of Microsoft Office package Best Suited for Someone who Excellent coaching, influencing and communication skills
Areas of Responsibilities for MSc Chemistry Manufacturing Job :
1 Quality Operations –
• Analyze raw materials, Intermediate (Blends), EOL Finished Goods and report to the unit head on the findings
• Inspect packaging materials received at Units, Market & report to unit head
• Communicate to vendors on non-conformities and the issue of CAR to vendor
• Ensure online QC such as line startup/changeover from water treatment to final packing
• Coordinate with other departments for all rejection failures
at the unit
• Calibrate all lab equipment, arrive at calibration plan and manage operations as per supplier manual
• Responsible for maintenance of the equipment as per supplier recommendation
• Analyze samples received for customer/consumer complaints and provide a report on findings to the unit head
• Provide expertise in standardization of chemical reagents and calibration required for lab
• Analyze non-conformities using tools and arrive at CAPA desirable
• Assist quality manager for all quality jobs & MIS report preparation & submission to unit head Diversity statement.
Hello friends, we are attaching below some of the interview questions and answers that you can expect for the interview for the MSc Chemistry Manufacturing Job. All the very best for the interview.
Question 1: Can you elaborate on your educational background and how it aligns with the qualifications required for this role?
Answer: Certainly. I hold a Post Graduate degree with a strong focus on Chemistry. My academic background includes courses in Microbiology, Biochemistry, and Food Technology, which are directly relevant to the requirements of this role. This educational foundation has provided me with a comprehensive understanding of the scientific principles underpinning quality assurance in the manufacturing industry.
Question 2: Can you provide specific examples of your experience in handling quality improvement projects within the Food Processing or FMCG industry?
Answer: Of course. In my previous role, I spearheaded a quality improvement project aimed at optimizing the blending process of a beverage product. Through meticulous data analysis and process evaluation, I identified bottlenecks and inefficiencies, leading to a streamlined production process. This resulted in a notable reduction in production time and a significant decrease in product defects, ultimately enhancing overall product quality and customer satisfaction.
Question 3: How have you demonstrated your expertise in developing and maintaining quality management systems and related SOPs?
Answer: I have actively contributed to the development of quality management systems by creating and updating Standard Operating Procedures (SOPs) that govern various manufacturing processes. For instance, I developed a comprehensive SOP for routine equipment calibration, ensuring that it aligns with supplier recommendations and industry standards. This systematic approach has enabled consistent and compliant operations within the manufacturing environment.
Question 4: Can you share a situation where you effectively communicated non-conformities to vendors and managed the corrective action process?
Answer: Certainly. In a previous role, I identified a non-conformity in the packaging materials received from a vendor. I promptly communicated the issue to the vendor, providing clear details and documentation. Additionally, I initiated a Corrective Action Request (CAR) to address the non-conformity. Through continuous communication and collaboration, we successfully resolved the issue, leading to improved vendor relations and enhanced material quality.
Question 5: How do you ensure accurate analysis and reporting of samples received for customer/consumer complaints?
Answer: When analyzing samples related to customer or consumer complaints, I follow a rigorous process. I meticulously examine the samples, employing both qualitative and quantitative analysis techniques. Once the analysis is complete, I compile a comprehensive report that outlines the findings and potential causes of the complaint. This report is then presented to the unit head for review and decision-making. This approach ensures transparency, accuracy, and effective resolution of complaints.