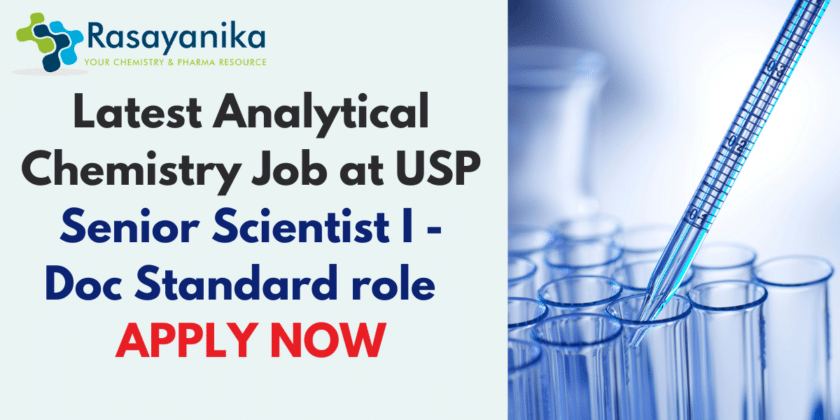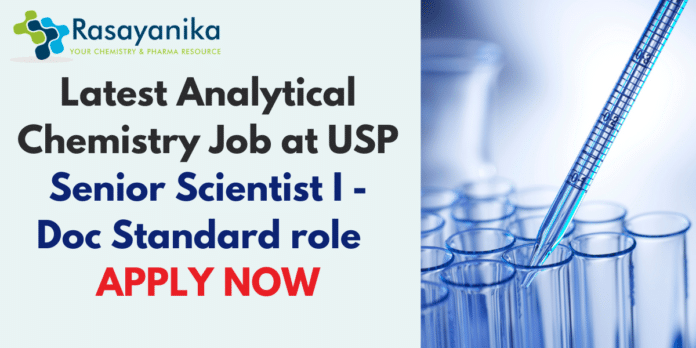 Role : Senior Scientist I – Doc Standard
Company name : United States Pharmacopeia Convention's (USP)
Location : Hyderabad, India
Job Category : Chemistry & Scientific Standards
Job Type : Full-Time
Description
Brief Job Overview of Senior Scientist I – Doc Standard role
This is a hands-on, non-supervisory, non-laboratory role in the India Biologics department.
The incumbent will support the reference standard program within the Global Biologics department.
The incumbent in this role will focus on supporting the suitability program, including preparing and reviewing CSU testing protocols, providing technical assistance to testing labs, reviewing analytical data and preparing summary reports to assist in confirming the continued suitability of USP Reference Standards (RS).
The incumbent will also participate in the development of replacement and new reference standards in support of USP's Mission and core business.
How will YOU create an impact here at USP?
Oversees and facilitates the development of standards and solutions to address analytical challenges associated with biological medicines.
Supports day to day operations of the Stability program covering the USP Biologics RS catalog inventory.
Reviews testing history and drafts test protocols for lab submission based off designated testing requirements and schedules.
Assists laboratories to ensure testing is completed accurately and in timely manner.
Reviews laboratory reports, evaluates results and compares to previous data and RS attributes to assess and conclude on RS suitability for use.
Compiles current and historical data and summary assessment into Stability testing and trending reports.
Maintains and updates various databases documenting laboratory data and program determinations on suitability and Stability interval updates.
Supports the RS Laboratory, Quality Assurance and Reference Standard Evaluation with investigation of unexpected stability testing results.
Works collaboratively with various USP departments as needed on test planning, data impact assessments and appropriate determination of next steps.
Reviews protocols and/or reports of other Scientists as assigned by manager.
Responds to stakeholder inquiries pertaining reference standards.
Who USP is Looking For?
The successful candidate will have a demonstrated understanding of our mission, commitment to excellence through inclusive and equitable behaviors and practices, ability to quickly build credibility with stakeholders, along with the following competencies and experience.
Ph.D. degree in Biochemistry, Analytical Chemistry or Biological Sciences . Minimum of five (5) years of post-educational work experience in recombinant therapeutic proteins, peptides and carbohydrates.
MSc. in Biochemistry, or Biological Sciences with minimum of 10 years of commensurate industrial experience.
Hands-on experience with analytical techniques of recombinant therapeutic proteins, peptides, and carbohydrates, such as HPLC, CE, cIEF, SEC MALS, IC and CD
Ability to write technical reports related to material characterization, references standard evaluations, and method development.
Additional Desired Preferences
Experience with analytical techniques of recombinant therapeutic proteins, peptides, and carbohydrates, such as LC-MS,ELISA, SPR an advanced PCR technology.
Experience in method development and characterization of products and impurities using a variety of physicochemical techniques and biological assays.
Excellent technical writing and oral communication skills required.
Must be able to communicate effectively with both internal and external customers.
Knowledge of USP products and services highly desirable.
Operates collaboratively at all levels of the organization in a highly technical environment.
Must be able to work in a fast-paced environment and respond to shifting priorities.
Well-developed interpersonal, negotiation and listening skills.
Must possess the ability to multi-task and to work effectively with a team.
Takes personal responsibility to ensure work is delivered on time and is of the highest possible quality.
Experience working in the compendial, pharmaceutical and/or biotechnology industry strongly preferred.
Supervisory Responsibilities: None
CHECKOUT RASAYANIKA FOR MORE UPDATES
Here are some potential interview questions along with sample answers for the Senior Scientist I – Doc Standard role at the United States Pharmacopeia Convention's (USP) :
1. Can you describe your experience in supporting reference standard programs and your familiarity with suitability testing?
Answer: Absolutely. I have been actively involved in supporting reference standard programs throughout my career. In my previous role at [Previous Company Name], I was responsible for overseeing the suitability program for USP Reference Standards (RS). This involved preparing and reviewing testing protocols, collaborating with testing labs, evaluating analytical data, and preparing comprehensive summary reports. I understand the critical role that reference standards play in confirming the quality and consistency of biological medicines, and I'm well-versed in ensuring the continued suitability of these standards.
2. Could you provide an example of a challenging analytical issue you encountered in your previous role, and how you addressed it?
Answer: Certainly. In one instance, we encountered unexpected stability testing results for a specific reference standard. This raised concerns about the standard's reliability and suitability for use. To address this, I led a cross-functional team involving the RS Laboratory, Quality Assurance, and Reference Standard Evaluation. We conducted a thorough investigation, reviewing historical data, comparing results, and utilizing our analytical expertise to identify potential root causes. Through collaborative efforts, we were able to determine the underlying issue, implement corrective actions, and restore confidence in the reference standard's performance.
3. How do you stay updated with the latest advancements in analytical techniques for recombinant therapeutic proteins and other biological molecules?
Answer: Staying updated with advancements in analytical techniques is crucial in my field. I regularly attend scientific conferences and workshops focused on analytical methodologies, such as HPLC, CE, LC-MS, and others. I am an active member of professional networks like the American Chemical Society (ACS) and the International Society for Pharmaceutical Engineering (ISPE), where I engage in discussions, share insights, and learn from experts in the field. Additionally, I follow reputable scientific journals and online platforms to keep myself informed about the latest developments.
4. How do you approach writing technical reports and documentation related to material characterization and reference standard evaluations?
Answer: Writing technical reports is an essential aspect of my role. I believe in a structured approach that starts with a clear outline. I gather all relevant data, ensuring its accuracy and completeness. I then organize the information logically, providing context, methods used, results obtained, and implications. I pay close attention to detail and ensure that the language is precise, concise, and accessible to both technical and non-technical stakeholders. I also include appropriate visual aids, such as graphs and tables, to enhance understanding.
5. Can you share an example of a situation where you had to work collaboratively across departments to achieve a common goal?
Answer: Certainly. In a previous project, we were tasked with developing a new reference standard for a complex recombinant therapeutic protein. This required close collaboration between the Analytical Chemistry team, the Biochemistry team, and the Regulatory Affairs team. We held regular interdisciplinary meetings to align on project milestones, share insights, and address challenges collectively. By combining our expertise, we successfully developed the new reference standard, ensuring its accuracy, reliability, and adherence to regulatory guidelines.
ALL THE BEST !