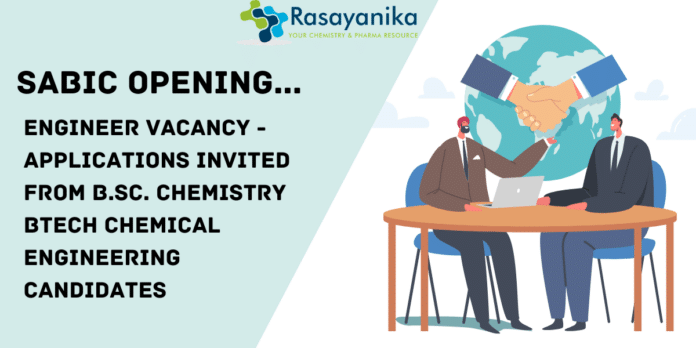 SABIC is a global diversified chemicals company, headquartered in Riyadh, Saudi Arabia. SABIC manufactures on a global scale in the Americas, Europe, Middle East and Asia Pacific, making distinctly different kinds of products: chemicals, commodity and high performance plastics, agri-nutrients and metals. The details of the BSc Chemistry Engineer Job are provided below.
Role – Engineer
Location- India-Bangalore
Job purpose –
Specialties SBU of SABIC offers a distinctive suite of unique chemistries that play an instrumental role in our customers' short and long-term product development cycles. To ensure continued leadership in this area, we need a constant flow of innovations coming to market. Purpose of this job to support engineer/scientist in scaling up these unique chemistries for process optimization and product and process validation.
Job responsibilities for BSc Chemistry Engineer Job- 
Execute experiments in Pilot Plant as per defined SOP.
Review P&ID, coordinate work with different departments (Mechanical, Electrical and Instrumentation) to complete project on time
Participate in Safety related activities like PHA/HAZOP/HIRA.
Help track operational aspects like spares and raw material inventory, maintenance schedules
Minimum education/experience requirements –
B.Sc. in chemistry with 5 years of relevant experience(most preferred) or BTech in Chemical engineering with 3-5 years of relevant experience
Relevant experience in operating batch pilot plants or in Specialty /Batch manufacturing Plants
Knowledge to operate the equipment's in a safe manner based on SOP, resolve operational issues, understand and execute experimental plan, Spares/Consumables inventory management
Knowledge management, Technical Expertise, Scientific Methodologies, Technical
Communication, Technical Innovation. Proficiency level should meet TCL Engineer/Chemist requirements.
Greetings! Enclosed herewith, you will find the anticipated interview questions and corresponding answers. When you embark on your application journey for the BSc Chemistry Engineer Job, utilize the provided assistance to ensure thorough preparation. Wishing you the very best in all your interview!
Question 1: Can you describe your experience with scaling up unique chemistries for process optimization and product validation?
Answer: Certainly. In my previous role at XYZ Company, I was responsible for scaling up various unique chemistries for process optimization and product validation. I successfully executed experiments in pilot plants following SOPs, collaborated with cross-functional teams including Mechanical, Electrical, and Instrumentation departments to ensure timely project completion, and participated in safety activities such as PHA, HAZOP, and HIRA. My experience also includes tracking operational aspects like inventory management of spares and raw materials, as well as maintenance schedules.
Question 2: How have you contributed to ensuring safety in pilot plant operations and projects you've been involved in?
Answer: Safety has always been a priority in my work. I actively participated in safety-related activities like Process Hazard Analysis (PHA), Hazard and Operability Study (HAZOP), and Hazard Identification and Risk Assessment (HIRA) to identify potential risks and implement appropriate mitigation measures. I consistently followed Standard Operating Procedures (SOPs) to operate equipment safely and maintained a strong safety record in all my projects. Additionally, I collaborated with cross-functional teams to ensure that safety protocols were integrated into the project execution process.
Question 3: Can you share an example of a challenging project you've worked on involving batch pilot plants or specialty manufacturing? How did you overcome the challenges?
Answer: Certainly. In one project, we were tasked with scaling up a unique chemistry for a specialty product in a batch pilot plant. The challenge was to achieve consistent product quality while optimizing the process for higher yields. To overcome this, I closely collaborated with the R&D team to understand the chemistry and process intricacies. I conducted thorough experiments, analyzed data, and identified key variables affecting product quality. By making controlled adjustments to the process parameters and refining the operating conditions, we successfully achieved the desired product quality and higher yields, overcoming the initial challenges.
Question 4: How do you manage technical innovation and knowledge management in your work?
Answer: I believe in the importance of continuous learning and innovation. To manage technical innovation, I stay updated on the latest industry trends and advancements by attending conferences, workshops, and relevant training programs. I encourage knowledge sharing within the team by documenting best practices, lessons learned, and process improvements. This not only fosters a culture of continuous improvement but also ensures that valuable insights are passed on to new team members. By combining technical expertise with a proactive approach to learning, I contribute to both personal and organizational growth.
Question 5: Can you provide an example of a situation where your technical expertise and effective communication skills played a crucial role in project success?
Answer: Certainly. In a project where we were optimizing a new batch manufacturing process, I encountered a challenge with a specific piece of equipment that was affecting the overall process efficiency. I leveraged my technical expertise to diagnose the issue, pinpointing a critical parameter that needed adjustment. To ensure smooth collaboration among the cross-functional teams, I communicated the issue clearly, providing data-backed insights into the root cause and proposed solution. By effectively conveying the technical details to non-technical team members, we were able to implement the necessary changes swiftly, resulting in improved process efficiency and project success.