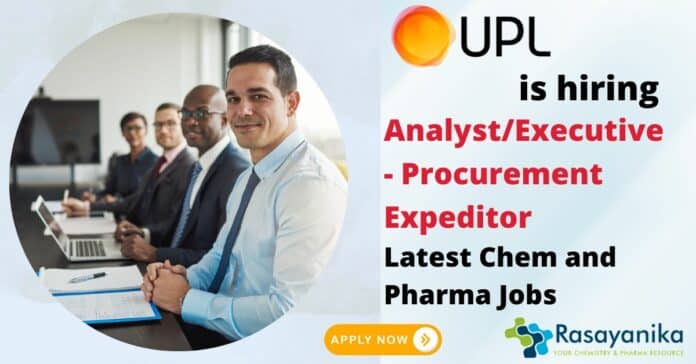 Analyst/Executive – Procurement Expeditor @ UPL. Analyst/Executive – Procurement Expeditor @ UPL- Latest Chemistry and Pharmacy Jobs-Apply Now
Job role: Analyst/Executive – Procurement Expeditor
Job ID: 7468
Job Location: Pune
Function: Direct Procurement
Employment Type: Permanent Full Time
Seniority Level: Executive
Job responsibilities:
This position will be responsible for on-time delivery of materials at the designated place from Supplier and their query resolution.
Supplier and other stakeholders' co-ordination, keeping track of delivery schedule, Inspections, PO Amendments, Project milestones, query resolution, post po management etc. are the large part of the job.
Determine the Expediting methodology and frequency
Expedite material requirement by exceptions – Critical/Urgent/ special request via mail/phone
Co-ordinate and resolve the Suppliers queries/concerns.
Keeping track of shipments, movement of material as per the PO Inco-terms till goods delivery / receipts
Ensure availability of Material at the Plant/designated location as per the Purchase order delivery commitment.
Coordinating with multiple stakeholders Finance, Logistics, End-Users, Projects, Buyers, Suppliers to complete its work on time in order to stay on schedule and meet deadlines.
Reporting Status to the stakeholders
Resolution to the Post Po issues such as delivery of material, services/goods receipts, invoice, payment, documentation etc.
Work closely with others in the procurement function and review opportunities for continuous improvement and business improvements
Use Expediting Tool/excel to track the end-to end expediting activity
Adhere, Monitor and Update the KPI/SLA
Relevant business/ commercial or manufacturing / engineering degree preferred
Good knowledge of Incoterms, LDs, LCs
Expeditors are organized trouble-shooters committed to keeping everything on track.
Paying attention to detail to ensure nothing slips through the cracks
Stakeholder management
Prior experience of using Service Now.
Technical Skills Requirement for Analyst/Executive – Procurement Expeditor:
3-7 years of expediting of material in direct materials in Chemical/ Pharma/ manufacturing industry
Experience in handling and maintaining Expediting tool/excel
Communication skill – Strong verbal & written communication skills; proficient in English & Hindi / Gujarati
Computer literate with advanced Excel skills/abilities
Working knowledge of local laws & regulations, imports etc.
Supplier site visits for expediting / inspections
Possible interview questions with answers for the interview of Analyst/Executive – Procurement Expeditor:
1:Can you describe your experience in handling post-Purchase Order (PO) issues? What steps do you take to resolve issues related to material delivery, services/goods receipts, invoices, payments, and documentation?
A:In my previous role as a Procurement Expeditor, I've encountered various post-PO issues that required prompt resolution. For instance, if there's a discrepancy between the delivered material and the order specifications, I engage with relevant stakeholders, such as suppliers, logistics, and end-users, to investigate the issue thoroughly. I work closely with the supplier to rectify the situation, which might involve arranging for returns or replacements. Throughout the process, I ensure that all documentation is accurate and up-to-date. My goal is to address these issues swiftly to avoid any disruptions in the supply chain and to maintain a seamless flow of materials.
2:How do you prioritize your expediting activities when dealing with a high volume of materials and urgent requests? Can you provide an example of a situation where your prioritization skills were crucial?
A:Prioritizing expediting activities is vital to ensure that materials are delivered on time. To do this, I first evaluate the criticality and urgency of each request. For example, if there's a sudden production delay due to a missing component, I would prioritize expediting that material to minimize downtime. On the other hand, if there's a routine material requirement that doesn't impact immediate operations, it might receive a lower priority. An instance where my prioritization skills were crucial was when a project's timeline was at risk due to delayed material delivery. By strategically expediting the critical components and communicating effectively with stakeholders, I managed to prevent a potential project delay.
3:Can you explain your experience with coordinating and collaborating with various stakeholders, such as Finance, Logistics, End-Users, Projects, Buyers, and Suppliers? How do you ensure effective communication and alignment among these different teams?
A:Collaborating with diverse stakeholders requires strong communication and coordination skills. In my role, I actively engage with different teams by sharing regular updates, participating in cross-functional meetings, and addressing concerns promptly. For example, when expediting a material, I keep the project team informed about its status, any potential delays, and revised delivery estimates. Additionally, I align with the finance team to ensure timely payment processing and with logistics to track the movement of materials. By maintaining open channels of communication and providing accurate information, I create a collaborative environment that facilitates timely decision-making and problem-solving.
4: Could you elaborate on your experience in using expediting tools and advanced Excel skills for tracking and managing materials? How have these skills contributed to your efficiency and accuracy in expediting processes?
A:Utilizing expediting tools and advanced Excel skills has been instrumental in enhancing my efficiency and accuracy in managing materials. These tools allow me to track the entire expediting process, from material request to delivery, in a structured manner. I can set up alerts for critical items and prioritize based on urgency. Additionally, Excel helps me analyze data and generate reports for stakeholders, which aids in informed decision-making. For instance, I've created dashboards that provide real-time updates on material status, helping the team to make timely adjustments if necessary. These skills ensure that I have a comprehensive overview of the supply chain, enabling me to identify potential bottlenecks and proactively address them.
Analyst/Executive – Procurement Expeditor
Stay tuned on RASAYANIKA for more chem and pharma related job updates.