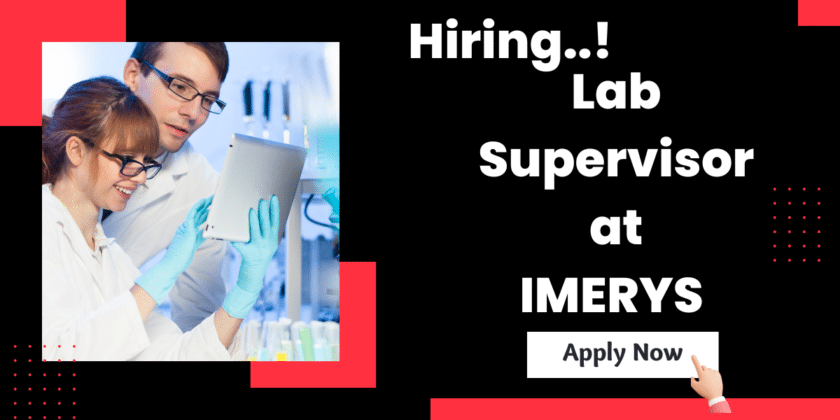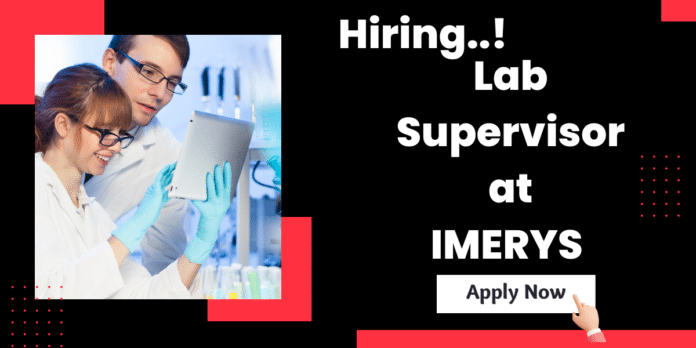 Looking for a Supervisor at IMERYS, check out all the details given the same below.
Job position: Lab Supervisor
Job location: Visakhapatnam, Andhra Pradesh, India
About Company
The world's leading supplier of mineral-based specialty solutions for industry with 14,000 employees, operations in more than 40 countries, and €4.3 billion in revenue in 2022.
Imerys delivers high-value-added, functional solutions to a great number of sectors, from processing industries to consumer goods. The Group draws on its understanding of applications, technological knowledge and expertise in material science to deliver solutions by beneficiating its mineral resources, synthetic minerals and formulations. Imerys' solutions contribute essential properties to customers' products and their performance, including heat resistance, hardness, conductivity, opacity, durability, purity, lightness, filtration, absorption and water repellency. Imerys is determined to develop responsibly, in particular by fostering the emergence of environmentally-friendly products and processes.
If you want to grow your skills and develop your career, find out more at www.imerys.com
Samples (Inhouse, line & raw materials) Analysis and check lab clean, equipment safety and personal safety. On time results & satisfy internal customers within the framework of environmental, health and safety and QA procedures, the Laboratory supervisor will be responsible for a wide range of activities including the day to day monitoring of the process plant, efficiency improvements, helping production trials and future development work.
Attending trainings of quality & safety, weekly safety dialogues
Identifying work hazard & apply control measures, using PPE and implementing RAM's
JOB SCOPE/DIMENSIONS
Satisfy internal customer(production team)
Equipment safety and cleaning, safe work environment
As per specification follow quality control plan
Handling chemicals based on MSDS, assisting during the training of products
Assists the development of manufacturing activities, through all type of laboratory work, conducting well defined process studies and participating in the administration of the laboratory works as one of a small team of technicians.
Quality control duties including the collection of samples, testing and recording resulting QC database and keeping work area and equipment clean and in good order
KEY TASKS AND RESPONSIBILITIES
List also the main Key Performance Indicators on which the incumbent on which be evaluated
Health and Safety
Maintains high level of health and safety within laboratory area
Takes part and encourage the use of Behavioural Safety Audits in the Workplace
Respect all site safety rules including those applicable for the safe engagement of laboratory contractors
Comply with the requirements of all relevant legislation, including those applicable to chemical safety
The holder may be required to be a qualified First Aider and must ensure compliance with all relevant acts and regulations as required
Reviewing risk assessments
Quality Assurance
Assures test method integrity through equipment and method control
Manages application of EN 14647, ISO 9001:2008 and other applicable standards within the laboratory
Ensure regular exchange between customer services and packaging on finished product quality and production on in-process quality
Receive and process UK quality customer complaints, following the complaints handling procedure
General Tasks
Quality Control duties including the collection of samples, testing and recording results in QC database and keeping work area and equipment clean and in good order. Quality Assurance of material for despatch
Development of section duties including light machine maintenance/fault finding/programme analysis (on-line robotic sampling, X-Ray, and laser).
Assists the development of manufacturing activities through all types of laboratory work; conducting well defined process studies and participating in the administration of the laboratory. Works as one of a small team of technicians
Assisting during the trailing of products
Environmental Management
Complies with Company Policy and participate in audits and reviews as required by the Environmental Policy and Systems.
TECHNICAL PERFORMANCE CRITERIA for Supervisor at IMERYS
Knowledge of product and tests
PC and IT tools: Sample Manager, Business Objects, JDE, MS, Lotus Notes
Following QC trends: interpret bi-monthly trends and take corrective action where appropriate
Equipment troubleshooting of laboratory, analytical and auto-sampling equipment
Knowledge on XRF, XRF
Qualifications we seek in you for Supervisor at IMERYS ! 
BSC/MSC – Chemistry
4 to 7 years' experience on laboratory (Preferably Cement Industries)
Possible interview questions may be asked for Supervisor at IMERYS ! 
1. Can you briefly explain your experience and knowledge related to laboratory operations and quality control?
Answer: Certainly. I have a Bachelor's/Master's degree in Chemistry and have accumulated 4 to 7 years of experience working in laboratory settings, particularly within the cement industry. During this time, I've gained hands-on experience in various aspects of quality control, including sample analysis, equipment troubleshooting, data interpretation, and ensuring compliance with relevant standards.
2. How do you ensure a safe working environment in the laboratory and adhere to health and safety regulations?
Answer: Safety is a top priority in laboratory settings. I maintain a high level of health and safety within the laboratory area by adhering to site safety rules and guidelines. I encourage the use of Behavioral Safety Audits and ensure compliance with all relevant legislation, especially those applicable to chemical safety. I have also undergone training in First Aid to be prepared for any emergency situations.
3. Can you explain your experience in quality assurance and maintaining test method integrity?
Answer: Quality assurance is essential for accurate results. I ensure test method integrity by carefully controlling equipment and methods used in testing. I am well-versed in applying standards such as EN 14647 and ISO 9001:2008 within the laboratory. This includes managing quality standards for finished products and in-process quality through effective communication between customer services, packaging, and production teams.
4. How do you handle customer complaints and contribute to resolving quality-related issues?
Answer: Resolving customer complaints effectively requires a systematic approach. I receive and process customer complaints, ensuring compliance with our complaints handling procedure. I also initiate regular exchanges between various teams to address quality concerns and implement corrective actions. This collaborative approach helps in identifying root causes and implementing effective solutions.
5. Can you discuss your experience in maintaining the cleanliness and functionality of laboratory equipment?
Answer: Maintaining laboratory equipment is crucial for accurate testing. I have experience in routine equipment troubleshooting, maintenance, and calibration. I ensure that all laboratory equipment is kept clean, in good working order, and follows a regular maintenance schedule. This approach helps prevent errors and ensures reliable results.