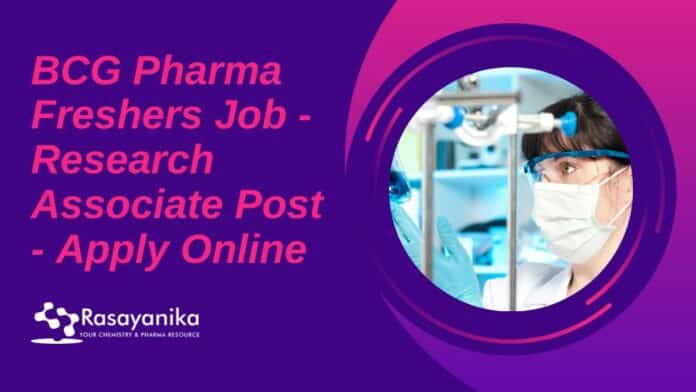 BCG Pharma Freshers Job BCG announces job opening for pharma candidates. Freshers pharma job opening 2023, Research Associate job opening 2023, Pharma research freshers job opening 2023, Intrested and eligible candidates may check out all the details on the same below:
Job Title: Research Associate – Healthcare
Elibgility Criteria:
Undergraduate degree minimum (Pharmacy) with a high academic record
0-1 years of relevant working experience, in Pharma, healthcare, medical devices and Biotech domain. Basic understanding of the health care space with prime focus on pharmaceuticals
Excellent English; verbal and written
Ability to work with wide array of platforms including Excel, Word, and PowerPoint; to be able to provide insights in most user-friendly format
YOU'LL WORK WITH
As the Research Associate, you will collaborate with other knowledge and research specialists of BCG across your hub to bring expertise and capabilities to the service of our clients. Our team is made up of a diverse pool of knowledge and research positions that allow us to pursue exciting, innovative research careers.
WHAT YOU'LL DO
As a Research Associate within BCG's Data and Research Service (DRS) function, you will ensure delivery of error-free and insightful research projects within our Health care practice area. You will
gain expertise in leveraging wide range of research resources, information portals and approaches in delivering research outputs that are meaningful for your requestors. You will display your ability to synthesize data and draw insights in the context of the 'research ask', accurately. Over a period of time, you will engage with seniors in the team on a regular basis to grow your understanding of the Practice Area and deliver deep insights to our Case and Knowledge teams.
BCG's Health Care practice serve clients across the health care value chain, including the world's leading pharmaceutical and biotech companies, medical technology companies, health care payers and providers, health care systems and services, as well as trusts and foundations serving a global health mission.
YOU'RE GOOD AT
Ensuring consistent high-quality research outputs
You will ensure complete and error-free delivery of research requests
Gain expertise in leveraging a wide range of research resources, information portals and approaches in delivering research outputsDemonstrate your ability to synthesize (draw insight/conclusion) and package research output that directly address the problem in a clear and structured way
Opportunistically contribute to BCG publications and KN materials; in partnership with RAs/SRAs
Developing and demonstrating 'client-responsiveness'
Develop capabilities to understands and anticipate case team research needs (understanding case-team asks, client contexts, etc. to tailor research accordingly). Continuously engage with RAs and SRAs to discuss the same
Demonstrate speed-to-output and client-orientation in delivery (improving on effectiveness in research completion)
Strong ownership and able to manage (ability to identify priority) multiple requests at the same time
Focus on customer satisfaction as primary goal
Possible Interview Questions:
Can you discuss your academic background and how it aligns with the requirements for the Research Associate – Healthcare position at BCG Pharma?
Answer: Absolutely. I hold an undergraduate degree in Pharmacy, which not only meets the eligibility criteria but also provides me with a foundational understanding of the pharmaceutical domain. My academic performance has consistently reflected my dedication to excellence in the field.
Could you provide an example of a project or coursework that highlights your ability to work with research resources and data analysis tools, as mentioned in the job description?
Answer: Certainly. During my academic journey, I undertook a research project focused on [mention the project topic], where I extensively used platforms like Excel, Word, and PowerPoint to analyze and present data. This experience honed my skills in working with research tools and presenting insights effectively.
How do you perceive the role of a Research Associate in delivering meaningful insights within the pharmaceutical and healthcare domain?
Answer: As a Research Associate, my role would be crucial in providing accurate and insightful research outputs. By leveraging a range of research resources, I can synthesize complex data into valuable insights that address specific research requests. This aligns with BCG's goal of delivering tailored solutions to clients in the health care space.
The job description mentions the importance of "client-responsiveness." How do you interpret this aspect and how would you ensure your research aligns with the needs of case teams and clients?
Answer: "Client-responsiveness" refers to understanding the unique requirements of case teams and clients and tailoring research outputs to address their specific contexts. This involves effective communication with teams and continuous engagement to ensure research outcomes align with their needs. By actively collaborating with RAs and SRAs, I can ensure my research is aligned and responsive.
Could you elaborate on a situation where you had to manage multiple research requests simultaneously? How did you prioritize and ensure the quality and timeliness of your deliverables?
Answer: Certainly. During my internship at [mention the organization], I often had to handle multiple research requests concurrently. To prioritize effectively, I assessed the urgency and impact of each request, allocating time and resources accordingly. By maintaining a structured approach and efficient time management, I successfully met deadlines and ensured the quality of each deliverable.
BCG Pharma Freshers Job Looking for latest chemistry and Pharma job openings, follow Rasayanika Facebook and Telegram and subscribe to our youtube channel for the latest updates on chemistry and Pharma job.