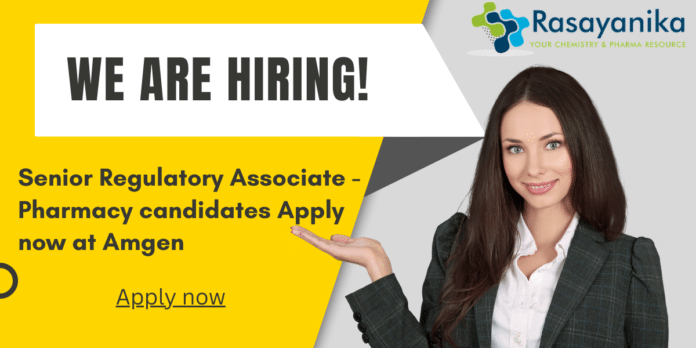 Amgen is one of the world's leading independent biotechnology companies. For over 4 decades, Amgen has pioneered biotechnology breakthroughs, to bring state-of-the-art medicines from laboratory to the patient. Now there are hiring a Senior Regulatory Affairs in  Mumbai, India. Please go through the details of the Latest Pharma RA Job and apply now.
Post – Senior Associate, Regulatory Affairs
Job ID – R-167921
Location – Mumbai, India
Job details – 
The Local Regulatory Representative (Sr. Associate) is assigned to one or more Amgen products and may support a LRR or lead a program under the supervision of an experience Local Regulatory Lead. The product(s) assigned have medium complexity programs/strategies and medium impact to Amgen.
Main Responsibilities for Latest Pharma RA Job:
Assist in aligning local regulatory requirements with Amgen's corporate standards.
Contribute for the filing plan (MA and Lifecycle maintenance), advising and discussing with the local cross-functional team. With close supervision, implementing the filing plan (MA and Lifecycle maintenance) for the country(ies), where applicable.
Provide country specific / regional (as applicable) input to and implement regulatory strategies.
Plan and lead local regulatory submissions in compliance with corporate standards and local regulatory requirements.
Provide guidance on local mechanisms to optimize product development and regulatory approvals
Ensure local labels are developed and maintained in line with local legislation and Amgen standards and procedures.
Act as the point of contact with regulatory agencies.
Qualifications –
Degree in LifeSciences, Pharmacy or Biomedical field and 3-5 years of relevant regulatory experience
Knowledge of Regulatory principles.
Working with policies, procedures, and SOP's.
Comprehensive understanding of regulatory activities and how they impact other projects and/or processes.
Good knowledge of Indian regulations on new product registration, lifecycle management and clinical trials, SUGAM portal handling.
General awareness of the registration procedures/challenges in the country(ies) for CTAs, MAs and all lifecycle management activities.
Knowledge and experience in the country(ies) regulatory environment relevant for product area and development stage.
Understanding of drug development.
Hello there, we are providing you with some of the interview questions and answers that are expected at the interview for the Latest Pharma RA Job. Prepare well and do best at the interview.
Question 1: Can you describe your experience in aligning local regulatory requirements with corporate standards and implementing regulatory strategies?
Answer: Certainly. Throughout my regulatory career, I have consistently worked to align local regulatory requirements with the established corporate standards of the organizations I've been a part of. I believe that this alignment is crucial for maintaining regulatory compliance and achieving successful product approvals. I've been actively involved in crafting and implementing regulatory strategies that take into account both the local regulatory landscape and the broader corporate goals. This approach ensures that our regulatory submissions are not only compliant but also strategically aligned with the company's objectives.
Question 2: How have you ensured compliance with local regulatory requirements while planning and leading local regulatory submissions?
Answer: Ensuring compliance during local regulatory submissions is paramount. I have a systematic approach to this, where I thoroughly research and understand the local regulatory guidelines and requirements for each submission. I meticulously cross-reference these with our corporate standards to create a submission plan that adheres to both sets of guidelines. Additionally, I maintain open communication channels with cross-functional teams to ensure that everyone is aware of the compliance expectations and that the submission plan aligns with the overarching strategy.
Question 3: Can you share an example of a situation where you had to handle challenges related to local labels and ensure compliance with local legislation and corporate standards?
Answer: Certainly. In a previous role, I was responsible for a product's local labels. I encountered a situation where a local regulatory change required modifications to the product label. To handle this, I closely collaborated with legal, regulatory, and labeling teams to ensure that the label changes not only complied with the local legislation but also aligned with our global corporate standards. This involved careful review, coordination, and approval processes to guarantee that the updated label maintained regulatory compliance while reflecting our company's consistent messaging and branding.
Question 4: How do you stay updated with the evolving regulatory landscape in India, especially concerning new product registration, lifecycle management, and clinical trials?
Answer: Staying updated with regulatory changes is a priority for me. I continuously monitor regulatory authority updates, attend relevant industry conferences, and participate in workshops to enhance my understanding of the evolving Indian regulatory landscape. Specifically, I am well-versed in SUGAM portal handling, which is pivotal for successful interactions with regulatory agencies. This proactive approach enables me to adapt regulatory strategies to align with changes and efficiently manage product registrations, lifecycle activities, and clinical trials.
Question 5: Could you elaborate on your experience in serving as a point of contact with regulatory agencies?
Answer: Certainly. Serving as a point of contact with regulatory agencies requires clear communication and effective relationship management. Throughout my career, I've successfully fulfilled this role by fostering transparent and collaborative interactions with regulatory authorities. I've represented my organizations in regulatory discussions, meetings, and submissions. By maintaining open lines of communication and understanding the regulatory landscape, I've been able to address queries, provide necessary information, and ensure that our submissions align with agency expectations, ultimately facilitating smoother regulatory processes.