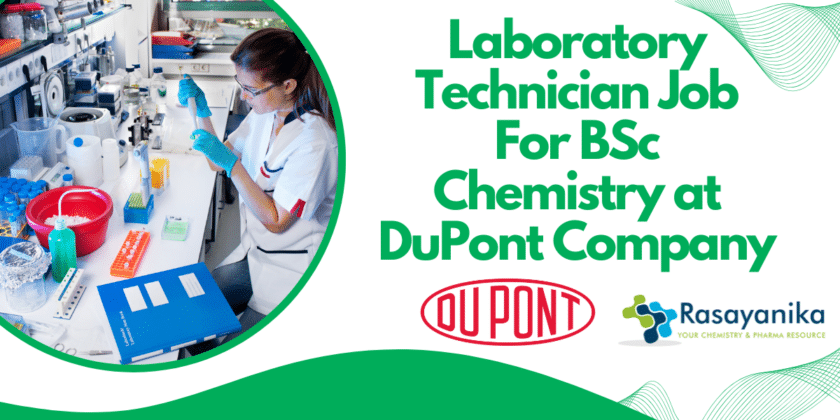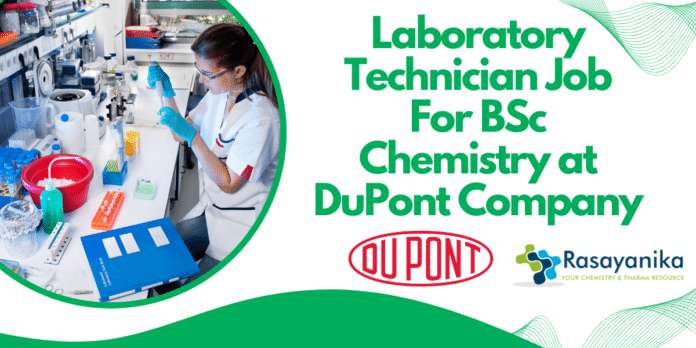 Laboratory Technician Job For BSc Chemistry Candidates at DuPont Company
Laboratory Technician Job For BSc Chemistry Candidates at DuPont Company. Interested Candidates check out the details below and Apply Online
Job title: Laboratory Technician
Job Location: Hyderabad, Telangana, India
Job id: 234472W
Job Type: Hybrid
JOB DESCRIPTION:
ROLE DEFINITION​
DuPont Electronics & Industrial business has an open position as a Laboratory Technician for MOLYKOTE® Specialty Lubricants. This position will be located in Hyderabad, India. MOLYKOTE® specialty lubricants are designed and engineered to solve lubrication-related problems and save energy by reducing friction and wear. We offer a broad portfolio of specialty lubricants including greases, anti-seize pastes, multipurpose oils, specialty compounds, dispersions, anti-friction coatings and more, for a wide range of applications in automotive, industrial, appliance and maintenance.
The Laboratory Technician will work within the MOLYKOTE® Specialty Lubricants Technical Service and Development (TS&D) team that supports MOLYKOTE® business growth in India. The incumbent will conduct lubricant testing and support new application and product development, assessment of new materials, technologies and applications, performance evaluation, process improvement and troubleshooting, etc. The incumbent will also be responsible for lab management, including lab documentation, equipment maintenance and chemical inventory, and help build new lab capabilities to
support business growth needs.
Key Responsibilities:
Conduct a variety of tribology (friction and wear) testing, support new application and product development, assessment of new technologies, materials and applications, performance evaluation, process improvement and troubleshooting, etc., and document/analyze data properly.
Conduct technical training and demos for end-users/customers on all lubricant tests.
Work with TS&D to provide technical support for the complete range of lubricant products to existing and new customers.
Occasionally visit customers (individually or as a team with TS&D) to address, troubleshoot and solve technical issues.
Collaborate with TS&D in the development of new experiments and test methods.
Support TS&D to build lab capabilities including new equipment and processes where needed.
Responsible for equipment set-up, maintenance, calibration, and documentation. Liaise with vendors and coordinate the acquisition/installation of new equipment. Responsible for procurement of chemicals and lab supplies.
Maintain chemical inventory, lab records, and documentation. Ensure lab operation compliant with SHE and site requirements.
Maintain a high level of safety awareness. Seek opportunities to improve the safety of lab operation and efficiency of tasks.
Qualifications
Required Education, Experience and Qualifications:
A Bachelor's Degree in Applied Chemistry, Material Science, Chemical Engineering, or related science background is required. Experience with tribology testing, specialty lubricant products, technologies and applications is a plus.
Ability to define, organize and plan an experimental approach in collaboration with TS&D.
Strong background in problem solving.
Ability to prioritize activities and handle multiple tasks.
Meet deadlines and be able to respond in a professional manner.
Good interpersonal skills and English communication skills.
Highly motivated, self-directed, well organized, and attentive to the quality of work.
Must be able to work well in teams and to work independently with limited supervision.
Laboratory Technician Job For BSc Chemistry at DuPont Company. Here are five interview questions along with their possible answers :
Question 1: Can you describe your experience with tribology testing and its relevance to the role of a Laboratory Technician at MOLYKOTE®?
Answer: Sure, I have hands-on experience in conducting various tribology tests, which involve studying friction and wear behaviors of different lubricants. This experience aligns well with the role of a Laboratory Technician at MOLYKOTE® since the position requires performing tribology testing to support product development, performance evaluation, and troubleshooting. I understand the significance of these tests in optimizing lubrication solutions and reducing energy consumption through friction reduction.
Question 2: How do you ensure the accuracy and integrity of lab documentation and data analysis?
Answer: Maintaining accurate and well-documented lab records is crucial to ensure the validity of research outcomes. I am meticulous about recording test procedures, observations, and results systematically. I use digital tools and databases to store and organize data, making it easily accessible for analysis and reporting. By adhering to proper documentation practices, I can confidently assure the reliability of the data I produce.
Question 3: Can you provide an example of a complex technical issue you've encountered during your work and how you approached its resolution?
Answer: Certainly, during a project involving the development of a new lubricant formulation, we faced a challenge with inconsistent friction reduction results across different testing conditions. To resolve this, I collaborated closely with the TS&D team to review the experimental setup and parameters. By systematically varying the test conditions and analyzing the outcomes, we identified the optimal conditions that consistently yielded the desired friction reduction. This experience highlighted the importance of collaboration and systematic troubleshooting in achieving reliable results.
Question 4: How do you stay updated with the latest advancements in lubricant technologies and industry trends?
Answer: Staying informed about the latest advancements in lubricant technologies and industry trends is vital to excel in this role. I regularly participate in industry webinars, conferences, and workshops to learn about emerging technologies and best practices. Additionally, I follow reputable scientific journals and publications related to tribology and materials science. By staying connected with the broader industry landscape, I can bring fresh insights and innovative approaches to the lab.
Question 5: Can you discuss a time when you had to manage multiple tasks and prioritize activities to meet deadlines?
Answer: Certainly, in a previous role, I was responsible for coordinating multiple ongoing experiments, while also assisting in troubleshooting ongoing technical challenges. To manage this effectively, I created a detailed project plan outlining tasks, timelines, and dependencies. I prioritized tasks based on their urgency and impact on project goals. By maintaining clear communication with team members and adapting to changing priorities, I successfully met project deadlines without compromising the quality of work. This experience enhanced my organizational and multitasking skills, which are crucial for the Laboratory Technician role at MOLYKOTE®.
Subscribe Rasayanika for more Chemistry and Pharma job updates.