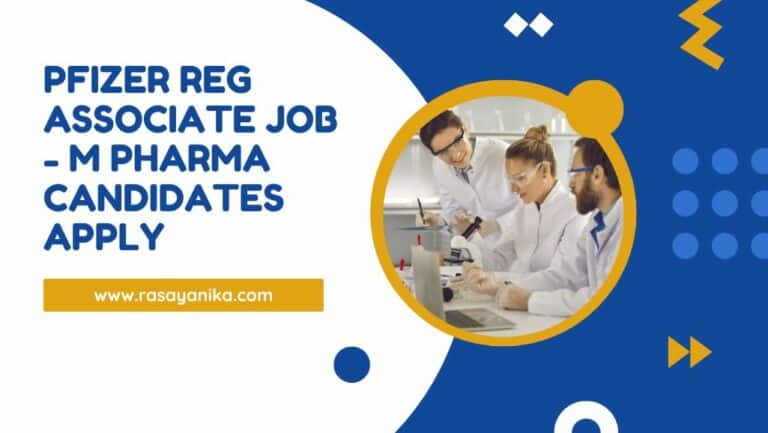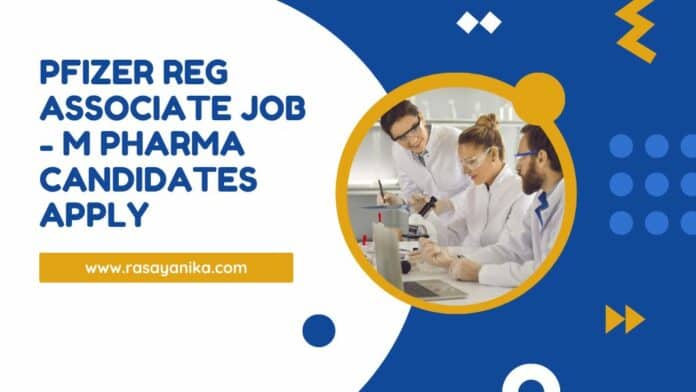 Pfizer Reg Associate Job. M Pharma job opening 2023, Pharma job opening 2023, Pharmacy job opening 2023, Pfizer job opening 2023, Ofizer job opening. Check out all the details on the same below:
Job Title: Associate I, Reg Strategy, TAPS
Education: Post Graduate in Pharmacy or Science. 2 to 6 years of experience preferred.
Skills – Required – excellent written, listening and verbal communication skills, ability to problem solve, technical aptitude ability to quickly learn and use new software, regulations and quality standards, attention to detail, ability to work independently with appropriate level of supervision, experience in customer service environment, aptitude in project management and logistics
Preferred – knowledge of regulatory processes and documents, knowledge of therapeutic areas
JOB SUMMARY :
Managing individual projects of benefit to therapeutic area teams within the group
Day to day provision of general assistance to Strategists in the compilation of regulatory dossiers, coordination of marketing applications and responding to regulatory questions received from health authorities, as well as compilations of responses to queries that can serve multiple purposes.
Support for use of regulatory systems and managing documentation and information, including setting up standard formats or reports for recurring requests and status updates as needed
.
Job Responsibilities:
Author and Maintain Regulatory Product profile documents by updating as requested by strategist when key milestones occur. Including status of product indications supplement status per AG settlement
Generate Pearl reports, WWRS reports etc, in support of Renewals, launches and health authority queries on need basis.
Author and QC electronic applications, cover letters, submission packages as requested by Strategist in support of life cycle maintainence of products.
Support registration of new products by Dossier QC, CCS QC, gap analysis, anticipated health authority query tracker and coordination between stake holders.
Quality check of submission packages like NDA AR, PADER, PSUR, DSUR, CAR and PBRER.
Author and maintain Global Regulatory Strategy Documents as requested by strategist.
Support data analysis, data mining, report generation using various Pfizer internal systems like GDMS, Pearl, Label Central, CAL-ODW, Epalms etc.
Support data remediation activities like Pearl Remediation etc as requested by cluster group.
Support GDMS archivals, ROC creation using SCC support, GDMS folder creation etc., in support of archving agency correspondences in GDMS.
Create, maintain and update internal trackers for cluster, product variation trackers etc as requested by strategist and cluster group
Upload on going clinical study documents into Pfizer Trial Master file as requested by strategist.
Provide targeted documentation searches in GDMS in support of responding to Health Authority queries and/or internal queries (such as AG settlement information search or searches to support medical information responses)
Support for harmonization of Core Data Sheet (CDS) documents (multiple CDS per product) by preparing label comparison documents
Complete data entry for PEARL updates as needed based on email template from PCOs
Prepare label chronology document for Pfizer products as requested by Strategist
Prepare draft meeting notes, archiving meeting minutes and action item lists for
Labeling and Rapid Response Team (RRT) meetings as needed
Pfizer Reg Associate Job Pfizer Reg Associate Job Looking for latest chemistry and Pharma job openings, follow Rasayanika Facebook and Telegram and subscribe to our youtube channel for the latest updates on chemistry and Pharma job