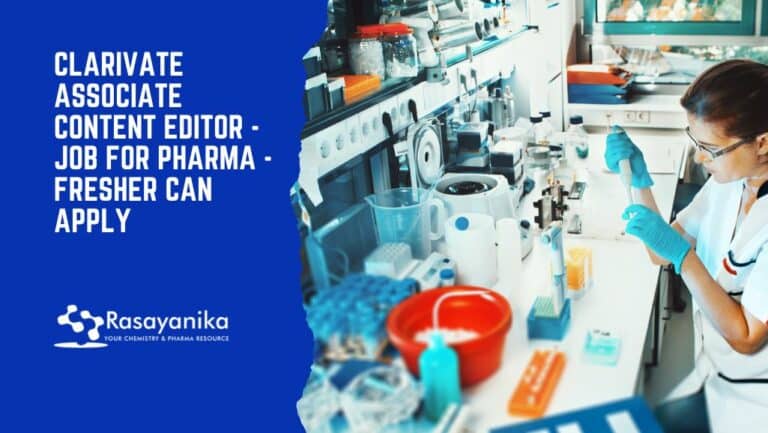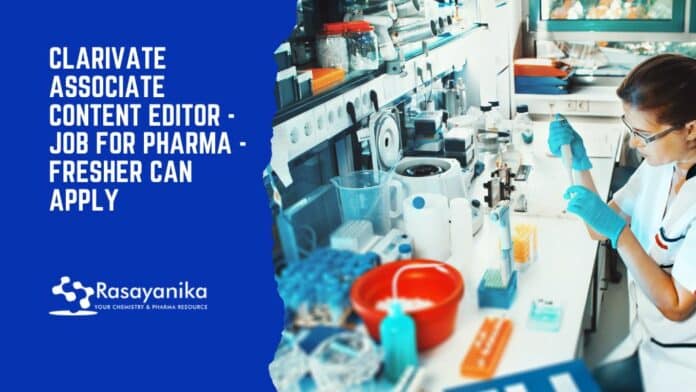 Clarivate Associate Content Editor – Job For Pharma – Fresher Can Apply. Pharmacy Job. Apply online for the Associate Content Editor vacancy at Clarivate. Interested and eligible applicants can check out all of the details on the same below:
Hey there, if you are interested in this role of Associate Content Editor – Biomedicine at Clarivate then make sure you check out some interview questions along with their answers that we have listed at the bottom of the page
Job Title: Content Editor – Clinical Studies
City, ST: Hyderabad, TG
We are looking for an Associate Content Editor /Content Editor to join our Clinical Studies team in Hyderabad. This is an amazing opportunity to work on Cortellis Clinical Trial Intelligence and Cortellis Drug Discovery Intelligence. We have a great skill set in Clinical and we would love to speak with you if you have skills in Clinical/Drugs
About You – experience, education, skills, and accomplishments
Education (B Pharma/M Pharma)
Work experience (0 – 1 year of experience in analyzing and updating clinical reports)
Knowledge, skills, or abilities (In-depth knowledge of clinical trials, pharmaceutical drug pipelines, drug development and clinical phases)
Excellent English written and verbal communication skills.
It would be
great if you also had . . .
Experience in secondary research related to clinical information
What will you be doing in this role?
Maintain Clarivate database with up-to-date and accurate Clinical trials information from a range of information sources
Accountable for the delivery of weekly targets
Ensure quality standards are observed
Ability to understand and interpret complex and detailed Trials & Drugs related information from source material
An inquisitive, analytical mind with strong problem-identification and solving skills
About the Team
Biomedicine team analyzes scientific journals, patents, congress abstracts, clinical trial documents and FDA documents and provide content to CDDI. External stakeholders would be scientists interested in identifying, validating and prioritizing targets and biomarkers. The Biomarkers Module of CDDI provides continually updated information that supports biomarker research at every stage of drug research and development.
Hours of Work
40 hours/per day 9:00 AM to 6:00 PM IST.
At Clarivate, we are committed to providing equal employment opportunities for all persons with respect to hiring, compensation, promotion, training and other terms, conditions and privileges of employment. We comply with applicable laws and regulations governing non-discrimination in all locations.
We know you are here all eager and wanting all of the answers, so read on below to read and absorb some of the interview questions for the role of Associate Content Editor – at Clarivate
Can you describe your experience and knowledge in the field of biomarkers and mutation nomenclature? Answer: I have a strong foundation in life sciences, with a focus on biomarkers and mutation nomenclature. I have studied these subjects extensively during my Master's/Ph.D. program and have a solid understanding of the principles and techniques involved.
How would you fetch relevant content from scientific sources like journals, patents, congress abstracts, clinical trial documents, and FDA documents? Answer: I would employ comprehensive search strategies, using relevant keywords and filters, to identify and gather the necessary content from scientific sources. I would analyze and extract the pertinent data, ensuring accuracy and relevance to the biomarkers and genomics domain.
Can you explain the process of reviewing scientific publications and entering data into the BMK and Genomics database using controlled vocabulary and defined data fields? Answer: When reviewing scientific publications, I would focus on identifying data related to biomarkers/genes, their uses in different diseases, and the techniques employed. I would then enter this information into the database using a controlled vocabulary and defined data fields to ensure consistency and standardization.
How would you index genetic variants and their effects by analyzing articles and patents? Answer: I would carefully analyze articles and patents to identify relevant information about genetic variants and their effects. I would extract and index this data, taking into account the specific requirements and guidelines for accurate representation of genetic variants in the database.
Can you explain how you would interpret complex content from different sources, specifically biomarker-related information from patents and articles? Answer: When faced with complex content, I would carefully read and analyze the information, breaking it down into key components and concepts. I would utilize my knowledge and understanding of biomarkers to interpret and extract the relevant information, ensuring its accuracy and proper representation.
Note: The answers provided are samples and can be tailored based on the individual's actual experience and knowledge.
Clarivate Content Editor Looking for latest chemistry and Pharma job openings, follow Rasayanika Facebook and Telegram and subscribe to our youtube channel for the latest updates on chemistry and Pharma job