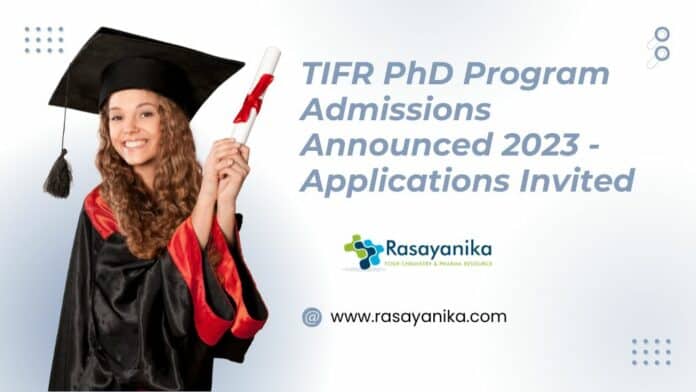 PhD Program Admissions 2023 The Ph.D program at TIFR Hyderabad aims to foster an interdisciplinary approach toward answering scientific question. The department-less structure, an open-lab culture, a flexible course selection and the freedom to join any lab in the institute, combined with world-class facilities and cutting-edge research, creates a stimulating research environment and enables students to pursue interdisciplinary research. Students are admitted through either of the following three subject boards: Physics-oriented, Chemistry-oriented, or Biology-oriented. The choice of the subject board depends on the student's previous degree and his/her research interests.
Eligbility Criteria: 
Subject Board:
Chemistry-oriented
Ph.D: M.Sc (Chemistry) / M.Tech (Chemical Sciences)/M.Pharma or equivalent science/engineering/Medical degree
Integrated M.Sc–Ph.D: B.Sc/ B.E./ B. Tech/ B.Pharma or equivalent Science/Engineering/Medical degree
In addition, the candidate must have qualified in any of the following examinations in the Chemical Sciences/Engineering:
How To Apply: 
Through TIFR Entrance Exam (GS ): Based on the academic performance and the results of GS TIFR entrance exam, shortlisted candidates will be invited for the interview.
Through GATE/JAM/CSIR–UGC NET: Candidates fulfilling the eligibility criteria should apply through our online portal.
TIFRH Chemistry interviews will be conducted tentatively in May–June 2023 (for both Ph.D and Int M.Sc-Ph.D candidates). The exact dates for the
on-campus interview will be mentioned in the call letter.
If you have any other queries, please write to [email protected] with 'Inquiry: Graduate School Admissions 2023' as the subject of the email.
NOTE: If you are not able to apply online, please click here to download the application form, print, fill and mail it in an envelope superscribed 'GS-2023 Interviews – (Subject and Program)' to the following address:
Academic Co-ordinator
Tata Institute of Fundamental Research
36/P, Gopanpally Village, Serilingampally Mandal,
Ranga Reddy District, Hyderabad 500046
+91 40 2020 3028/3001
Please note that if you have already filled the online application, you are not required to send a hard copy to us.
PhD Program Admissions 2023 PhD Program Admissions 2023 Looking for latest chemistry and Pharma job openings, follow Rasayanika Facebook and Telegram and subscribe to our youtube channel for the latest updates on chemistry and Pharma job