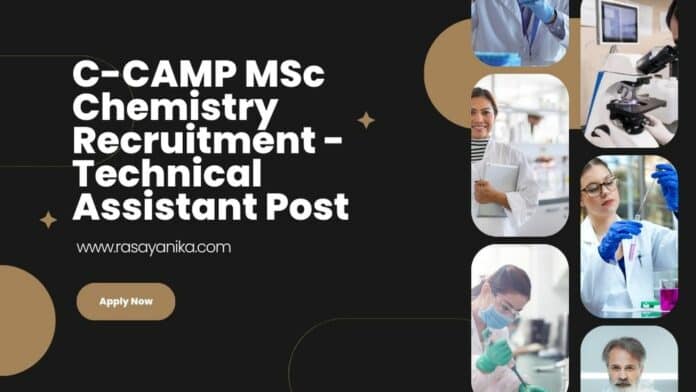 CCAMP MSc Chemistry Recruitment Centre for Cellular and Molecular Platforms (C-CAMP), is a Dept. of Biotechnology (Govt. of India) initiative and a not for profit organization based in Bangalore. We act as an enabler of Bioscience Research, Innovation and Entrepreneurship by providing Research, Development, Training and Services in State Of The Art Technology Platforms. As a part C-CAMP's mandate of promoting entrepreneurship and innovation, C-CAMP has created and fostered an entrepreneur-friendly culture in and around academic/research environment through its involvement in seed funding schemes for Startups, Entrepreneur Mentorship program and Bio-incubation facility.
Check the space below for vacancies. Please note vacancies are arranged in chronological order of their deadlines.
JOB TITLE: Technical Assistant in Mass Spectrometry facility
Number of positions: 2
We are accepting applications for the position of Technical Assistant at our Mass Spectrometry facility. C-CAMP is an integral part of the Bangalore Life Sciences Cluster (BLiSC) and is renowned as one of the country's leading technological platforms. It serves the scientific community by providing high-end technologies and research expertise as Services and Training through its in-house facilities.
C-CAMP's state-of-the-art mass spectrometry (MS) facility is well-known for its discovery-driven experiments and targeted workflows, which enable sensitive and quantitative monitoring
of molecules. The facility specializes in the identification and quantification of molecules in various areas such as biologics, proteomics, metabolomics, and lipidomic.
To meet the requirements of individual research projects, the facility constantly develops and customizes sample preparation techniques, MS approaches, and software, offering cutting-edge solutions to researchers.
Responsibilities:
To handle liquid chromatography- Mass Spectrometer (LC-MS).
Data analysis and report generation
Troubleshooting of analytical instruments like LCMS, HPLC and other analytical supporting instruments.
Good oral and written communication skills.
Good knowledge of Microsoft office programs
Support to manage the day-to-day activities of MS facility.
Vital supporter of expanding Mass spectrometry facility capabilities across the basic biology and clinical research.
To maintain the lab updates such as: procurements, lab cleaning and safety, management of scheduler, log books for the instruments.
Position 1
Education / Experience:
M.Sc in chemistry or B.Tech in relevant field Minimum 2 years of hands-on experience in handling mass spectrometry instrument like QTOF, Orbitrap or triple quadrupole mass spectrometer.
Position 2
Education / Experience:
M. Sc in chemistry or equivalent Minimum 4 years of hands-on experience in handling high resolution mass spectrometer like Orbitrap, QTOF and/or triple quadrupole mass spectrometer.
Compensation: Based on merits of the candidate
Tenure: On contract for one year. Further extension will be based on performance.
To apply, send your detailed CV to "[email protected]" on or before August 12, 2023.
CCAMP MSc Chemistry Recruitment Looking for latest chemistry and Pharma job openings, follow Rasayanika Facebook and Telegram and subscribe to our youtube channel for the latest updates on chemistry and Pharma job