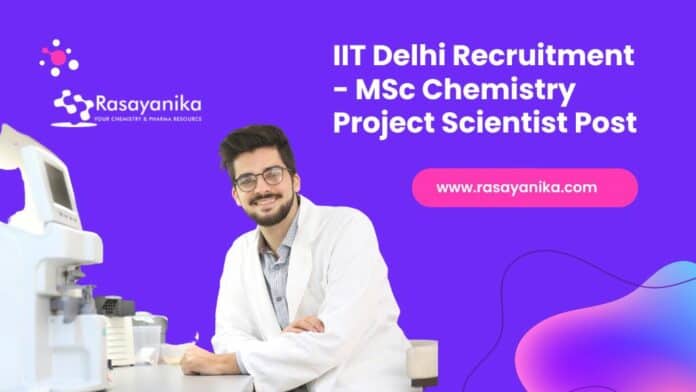 Applications from lndian nationals are invited for Project Appointment under the following project, Appointment shall be on contractual basis with consolidated pay, renewable yearly or upto the duration of the project, whichever is eartier
Brief Details of the project: Renewable energy expansion provides benefits including an increase in energy security, economic development, climate goal achievemenl, enhancement of 1ob opportunities, carbon trading, and enhancementof energy equity. o The materials requirement embodied energy for emerging solar photovoltaic and
hydrogen technologies, economic feasibility assessment using Energy Return on lnvestment (EROI), Energy Payback Time (EPBT) and Levelized Cost of Energy (LCOE), and environmental impacts during the mining, manufacturing, etc. in its value chain are very important to study Applications for the post of Senior Project Scienlist
are invited from candidates who must have good knowledge and experience in Photo-voltaic, Electrolyzers, Fuel Cell, Hydrogen, Energy Security, Energy materials, Energy & Environment Assessment, Life Cycle Assessment, and relevant areas of Renewable Energy
Job Title: Sr. Project Scientist (2)
Salary: Rs.45,000-48,200-51,400- 55 400-59,400-63,4001 p. m
plus HRA @ 24o/o
Eligbility Criteria: 
Ph.D. or M.Tech, with a minimum 7.0 CGPA with 1 year relevant experience or B.Tech./M.Sc. with a minimum 7.0 CGPA with 3 years of relevant
experience
, with a degree in Energy Science & Engineering/ Materials Science and Engineering/ Chemical Engineering/ Chemistry/Mechanical Engineering and equivalent. Ihe candidate must have good knowledge and experience in Photovoltaic, Electrolyzers, Fuel Cell, Hydrogen, Energy Security, Energy Materials, LCA, and relevant areas of Renewable energy.
The post may be downgraded as per discretion of the Selection Ctmmittee if none of the candidate is found suitable for the post
The candidates who are interested to apply for the above post should download Form No. IRD/REC-4 from the IRD Website (http://ird.iitd.ac.in/rec) of llT Delhi and submit the duly filled form with complete information regarding educational qualifications indicating percentage of marks/division, details of work experience etc. by email with advertisement No. on the subject line to Prof. K.A. Subramanian at email id: [email protected]
or [email protected]. in llT Delhi reserves the right to fix higher criteria for short-listing of eligible candidates from those satisfying advertised qualification and requirement of the project post and their name will be displayed on web link
(http://ird.iitd.ac.in/shortlisted) alongwith the online interview details Only short-listed candidates will be informed for online interview.
The last date for submitting the completed applications by e-mail is 03/08/2023 by 5:00 pm
IIT Delhi Recruitment IIT Delhi Recruitment Looking for latest chemistry and Pharma job openings, follow Rasayanika Facebook and Telegram and subscribe to our youtube channel for the latest updates on chemistry and Pharma job